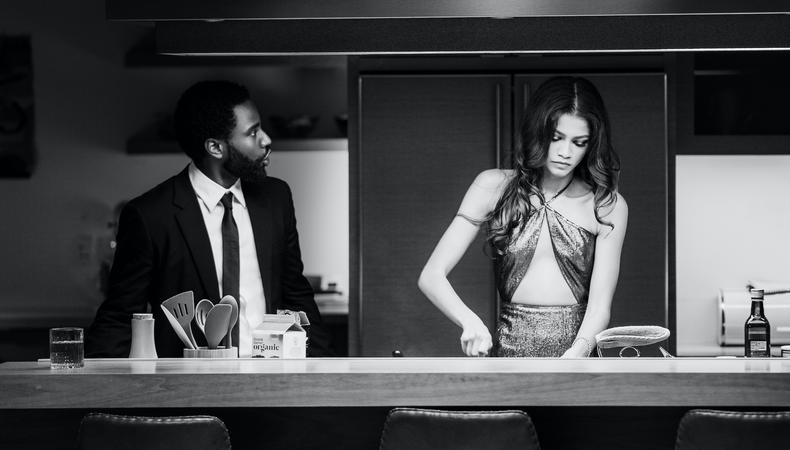 Like most great filmmaker-performer partnerships, Sam Levinson and Zendaya have their on-set shorthand down pat. "We can do a take and I can walk up to her and say, 'Why are you acting?' and laugh, and she'll laugh, too, and know exactly what I mean," Levinson explains. "And what I mean is, she either feels it or she doesn't."
After first working together (to Emmy-winning results) on HBO's "Euphoria," which Levinson created, the actor has now become somewhat of a muse for the writer-director. And who could blame him?
"First and foremost, she's kind and practical, and I don't ever have to bullshit her," he adds. "It's either real or it's not. She doesn't mask emotion with technique." That confidence, a "formidable" one, as Levinson describes it, is exactly why he wrote one of the two title roles for her in his new feature "Malcolm & Marie."
Hitting Netflix Feb. 5, the film is many things: a two-hander co-starring John David Washington that's shot entirely in black and white and occurs over the course of a single night, in a single setting, following a single conversation that unfolds instantaneously. In other words, its director's fingerprints aren't exactly invisible.
"First and foremost, she's kind and practical, and I don't ever have to bullshit her. It's either real or it's not. She doesn't mask emotion with technique."
But it was the latter prospect in particular, with its inherent risk of stagnation, that carried the biggest risk. "Honestly, that was the most terrifying aspect of shooting the film, and the easiest trap to fall into," Levinson says of the 100-minute-long film, which was shot with a skeleton crew in the early days of the pandemic. "Because this is an argument that essentially takes place in real time, it had to have an energy that worked in concert with the performances.
"We also had to make sure that we didn't burn our location too quickly," he adds, "that it had a slow reveal in the same way that a character would." That location, by the way, is a jaw-dropping, almost entirely glass home in the Hollywood Hills that, in tandem with the lighting, gives the film what Levinson calls "an almost haunting or ominous feel."
As far as the film's overall vibe is concerned, it pretty much starts and ends with the black-and-white production style, which certainly has precedent in the horror genre but is more commonly associated with Golden Age Hollywood—an era that is basically devoid of Black actors.
READ: John David Washington's Most
Valuable Acting Advice
"It felt like an interesting way to reclaim the glamour and iconography of that time and frame it in a different light," Levinson says. Additionally, black-and-white immediately helps divorce the audience from reality, creating space for the film's ideas to take center stage, "rather than the pure reality."
Levinson also credits his actors' sensibility in that regard. "[All] that matters is what's on camera and what's in the editing room and what feels true—not to life, but to the emotional logic of the film," he says. That's especially important for volatile scenes, of which "Malcolm & Marie" has plenty. "A lot of the time, it's about protecting the actor from their own self-criticisms, their own expectations, and letting them know that you're in no rush and you're happy to figure it out," Levinson adds. "You've got to be patient and kind and approach it with no ego."
Unsurprising, then, is that managing one's ego is also the advice he gives to emerging creatives. "I wish I could go back and tell my younger self that having a successful, creative life is about growth, experimentation, learning from your mistakes, and constantly evolving," Levinson says. Having been on both sides of the audition table himself, he offers similar guidance to actors: If you can, find a way to use your demons in the interpretation of the material, rather than against it.
"Auditioning sucks. It's terrible, it's artificial, it's nerve-racking, and it tends not to bring out the best in actors," he says. "The only thing in your control is how emotionally open you are, and maybe the one thing that I look for the most is emotional malleability. If you can take the anxiety, frustration, fear, humor—whatever you're feeling about the audition—and put it into the character, even if it's not the right emotion for the scene, I'm interested and I'm fascinated."
Looking for remote work? Backstage has got you covered! Click here for auditions you can do from home!