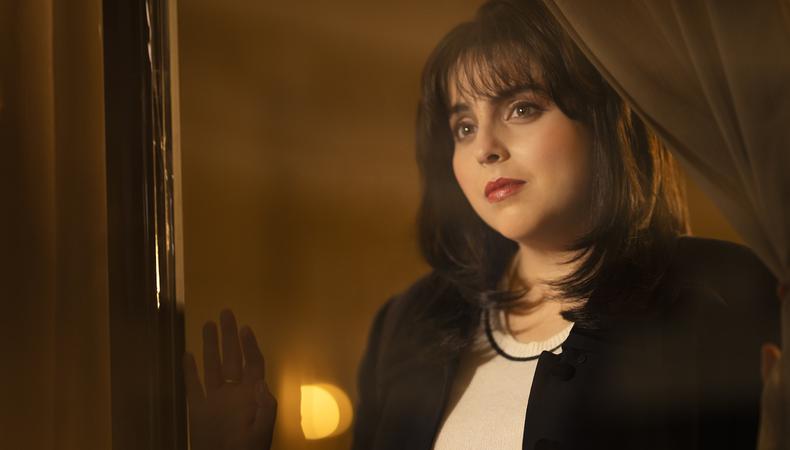 That one of the biggest news stories in history was spurred by women who are "typically ignored" is exactly why Sarah Burgess was compelled to create a series around them.
Of "American Crime Story: Impeachment," FX's latest installment in the Ryan Murphy anthology, Burgess says, "I realized this was a story about these female bureaucrats in D.C., these sort of office ladies who are pretty invisible. The fact that a seemingly mundane office friendship between Monica and Linda could become the thing that nearly took down the head of state, that really grabbed me. And the voices of those characters, it felt like something I could write."
Anyone who was sentient in the 1990s will infer that the Monica and Linda to which Burgess refers are Lewinsky and Tripp (played on the series by Beanie Feldstein and Sarah Paulson), two of the most prominent figures in the scandal that led to the impeachment of then-President Bill Clinton. At the time, Lewinsky was an early-20s White House intern who was accused of having sexual relations with Clinton. She was villainized, humiliated, and bore the general misogynist brunt of the madonna-whore complex. (You can guess which side.)
It isn't by chance that the series arrives in a moment of reckoning and what Burgess calls a "cultural re-appraisal" in regards to the past treatment and experiences of women in the public eye. "Everything that happened with her and Bill Clinton," Burgess says, "it felt like our whole culture, there were one of two reactions: 'She's lying,' or the other was, 'Maybe she's not lying, but we don't care.' It was never taken seriously."
"It felt like our whole culture, there were one of two reactions: 'She's lying' or the other was, 'Maybe she's not lying, but we don't care.' "
Like "Crime Story" seasons before it "The People v. O.J. Simpson" and "The Assassination of Gianni Versace," which both also detailed highly publicized historical events, "Impeachment" provides perspectives largely eluded in the original coverage. The holistic narrative isn't meant to exalt or demonize any one party, Burgess explains, but rather to show how multifaceted every player and their actions truly were.
"What I found exciting and what I wanted to do was take the points of view of Monica, Linda Tripp, Bill Clinton, [and] Paula Jones and present that to the audience," she says. "It was always the idea that I would tell the story from multiple points of view and [show] that all those people did many complicated things." She adds, for the female figures in particular, "it felt like with the distance of a couple decades that we now have, people might be able to look at this story differently when placed in the lens of storytelling like this."
It should be noted that the real Lewinsky is a producer of the series, if that tells you anything about the playing field which the show attempts to level.
Of course, crafting a multi-perspective, morally ambiguous, historically accurate 10-part series was no simple task, particularly given the fact that "Impeachment" marks Burgess' first time as a series creator and showrunner and first real foray into television altogether. Trained mainly as a playwright (her "Dry Powder" was a hit at the Public Theater in 2016), working in the episodic space has been an "incredibly intense, challenging experience."
"As a playwright, there's one production, there's one person writing. It's the same director. It's a small group," she says. "This for me was a lesson in being one of the consistent people through 10 months of shooting with different directors. I've had to learn a level of assertiveness." There are also more than 100 characters featured at different points throughout the series; in addition to Feldstein and Paulson, the ensemble includes Clive Owen as Bill Clinton, Edie Falco as Hillary Clinton, Annaleigh Ashford, Margo Martindale, Blair Underwood, Cobie Smulders, and many others.
"It took me a minute to learn to take charge, not hesitating about some of the ideas I had," she says. "I've worked with people who have helped me to come out of my shell in that way, and I've really appreciated that, and it's a lesson I'll take with me going forward. Just the rhythm of being on set and learning how each of the actors prefer to work and how they'll come in and when to give a note, that's been something I know I'll take with me, too."
Looking for remote work? Backstage has got you covered! Click here for auditions you can do from home!