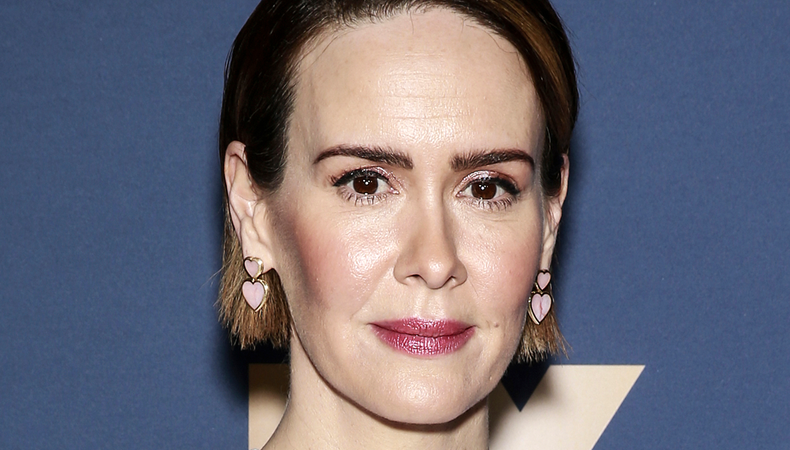 "In the Envelope: The Actor's Podcast" features in-depth conversations with today's most noteworthy actors and creators. Join host and Awards Editor Jack Smart for this guide on how to live the creative life from those who are doing it every day.
Narrowing down an actor's artistic philosophy to one all-encompassing statement can be tricky, especially if that actor is as prolific as Sarah Paulson. Her hour-long "In the Envelope" interview may only scratch the surface, but if there's a credo always guiding her creative decisions, it's this: "I only think about what is truthful. What is the truth of the scene, the moment?"
In particular, Paulson eschews factoring the final product into her performance process. "The more you forget about what the hoped-for result is, the more you're just living it," she explains. "I'm much less interested in the result, in terms of how it hits a particular person when watching it." Case in point: she's never seen her Emmy-, Golden Globe-, and SAG Award–winning work as Marcia Clark on "American Crime Story: The People v. O. J. Simpson." "I get very, very fixated on the mistakes," she says, before correcting herself—"the things I perceive as mistakes."
How can actors focus on being in character without fretting over how they look, sound, or come across? It's tricky, Paulson admits, especially for auditioning actors. "When you're actually asking someone to choose you, you are actively working for a result," she says. "You're spending all day and night prepping and working towards being chosen. It's very hard to unlearn that."
Every bit of wisdom Paulson offers her fellow artists here—and there are quite a few—has been hard-won throughout her remarkable career. Raised in New York City and trained at LaGuardia High School, Paulson began acting professionally even before graduating, working Off-Broadway and claiming her SAG card on "Law and Order." She steadily climbed the industry ladder, earning seven Emmy nods and creating compelling screen characters in "Game Change," "12 Years a Slave," "Carol," "Blue Jay," "The Post," "Ocean's 8," "Bird Box," "Glass," and on "Studio 60 on the Sunset Strip" and "Mrs. America," plus on Broadway in "The Glass Menagerie" and "Collected Stories," and in upwards of 10 different roles on Ryan Murphy and Brad Falchuk's FX anthology "American Horror Story."
She now executive produces Evan Romansky's hit Netflix drama "Ratched," starring as "One Flew Over the Cuckoo's Nest" villain Nurse Mildred Ratched. She also recently led Hulu's thriller film "Run," from writer-director Aneesh Chaganty, as a terrifyingly overbearing mother. Without meaning to, Paulson has become an expert on acting in the horror genre. "The irony is not lost on me. I am scared of my own shadow," she declares. "The thing that's so spectacular about it is that the stakes [are] always exceedingly high. So you have real permission to go full tilt boogie. And that is always going to be really exciting for an actor."
Going "full tilt boogie," however, enacts a cost. Particularly since the disruption of the COVID-19 pandemic, Paulson has been giving more weight to the idea that performing emotional, high-stakes material requires real recovery. "There is nobility in what artists do, and actors do put themselves in the line of personal fire," she says, "to create these environments and these worlds that people can drop inside and then come back into their own lives. It costs something. For me, anyway."
If you're an artist looking to create your own environments and worlds, says Paulson, it's your responsibility "to keep the channel open, be available to all the impulses that move you—not that are moving everybody else." She cites a famous letter Martha Graham wrote to Agnes de Mille about the simple fact that "there is only one of you in all of the world and time and space.... Be true to yourself and your worldview and your take on something. And you don't have to do it in the way you assume is the most castable."
One last tip from Paulson: Use Backstage to help your career in the arts. "I still remember being a kid on the subway reading Backstage," she says. "I remember feeling like an actor when I had the paper in my hand.... There's something very powerful about knowing that you and I are having this conversation and that someone like me, out there in the dark, might be listening to this, and it might either comfort them or give them a tiny bit of hope. That is a pretty powerful thing to consider."
Hear Paulson's full interview wherever you tune into podcasts, and stick around for Christine McKenna-Tirella's update on all things Backstage casting.
Listen now on:
Looking for remote work? Backstage has got you covered! Click here for auditions you can do from home!