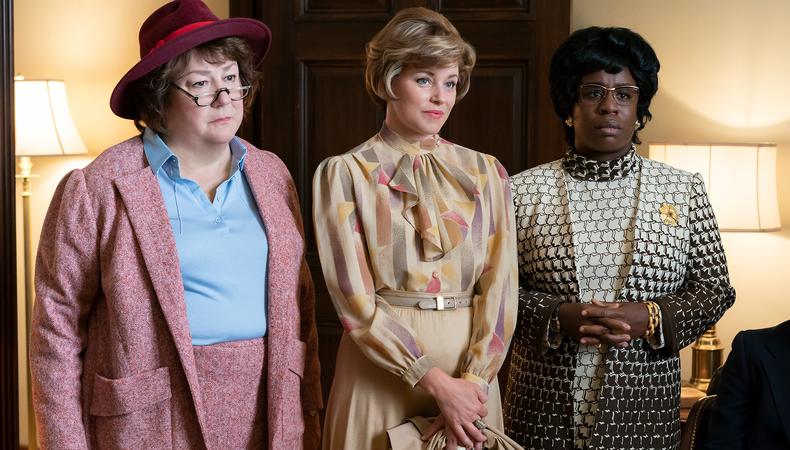 "How do we all know about Watergate and we don't know about the Equal Rights Amendment?" asks Dahvi Waller.
That question, years ago, compelled the "Mrs. America" creator to put pen to paper on a series about the women's movement, and, specifically, the amendment that gives women equal protection under the law in the U.S. Constitution—or it would, if it had ever been ratified by the requisite 38 states and then passed. To this day, it has not.
"Obviously, television is primarily entertainment, but knowing this will be a lot of people's first introduction to the Equal Rights Amendment battle, and for many, their first introduction to the women's movement and to Phyllis Schlafly," Waller says, "I did feel a responsibility to get that right and portray them in a way that's honest."
"There was a sisterhood on set where everyone was like, 'We're trying to make something bigger than ourselves."
In November 2016, Waller was at work on a draft of the pilot and, as you may recall, another event also took place that month. Though she'd always wanted to tell a serialized political story—particularly one that not only centered on women but was written and directed by them, bucking the boys' club of political dramas she grew up on—her scope then shifted.
"After the election results, that was when I pivoted to tell a broader story: the takeover of the Republican Party by the far right in 1976, and how Phyllis Schlafly's backlash movement fed into the Reagan revolution," Waller recalls. For those who don't know (and many still don't), Schlafly was not only an architect of the anti-ERA movement but an indelible architect of today's far right. That she is portrayed on the FX on Hulu miniseries by Cate Blanchett only makes her a more tantalizing TV antihero.
"Great villains have moments where you feel sympathy for them," Waller says. "She was a human being, and I tried approaching her as a therapist, really figuring out what made her tick and where those inner conflicts inside of her were—finding what's emotionally compelling about this person [while] at the same time not wanting to shy away from what is villainous about her."
Blanchett being the first actor to sign on also threw the casting door wide open because, as Waller notes, "Who doesn't want to be her scene partner?" With the show's expanded focus on the key players of '70s feminism, Waller was able to assemble a first-rate ensemble built entirely around women. In addition to Blanchett, there's Rose Byrne as Gloria Steinem, Uzo Aduba as Shirley Chisholm, Tracey Ullman as Betty Friedan, and Margo Martindale as Bella Abzug, with Elizabeth Banks, Ari Graynor, and Sarah Paulson in other pivotal roles.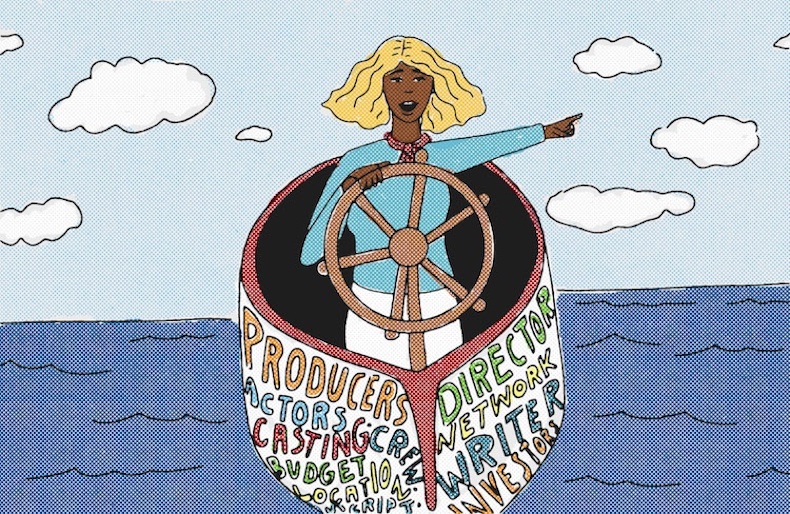 How to Become a Showrunner
"What really excited me about this cast was I'd never gotten to see Cate Blanchett and Tracey Ullman in a scene together. What material is out there that would have them in a scene together?" Waller remarks. "Cate always agreed she wanted it to be an ensemble and not just 'her' series. Every single woman is at the top of their game and there was this camaraderie. There was a sisterhood on set where everyone was like, 'We're trying to make something bigger than ourselves'; I felt it with the writers and I felt it with the actresses."
Of course, with anything historically rooted, there is always a balancing act in staying true to what occurred while still ensuring that every minute of the project—nine episodes, in this case—makes for captivating television.
As Waller describes it, sometimes you get lucky and events line up for great dramatic storytelling. Other times, "the history gods are not smiling on you." For example, the real Steinem refused to meet the real Schlafly, "and for very good reason," Waller insists. However, "that really made my job as a writer difficult, that I could never put Rose Byrne and Cate Blanchett in a scene together. That's when you're like, 'Thanks a lot, history.' "
This story originally appeared in the July 9 issue of Backstage Magazine. Subscribe here.
Looking for remote work? Backstage has got you covered! Click here for auditions you can do from home!