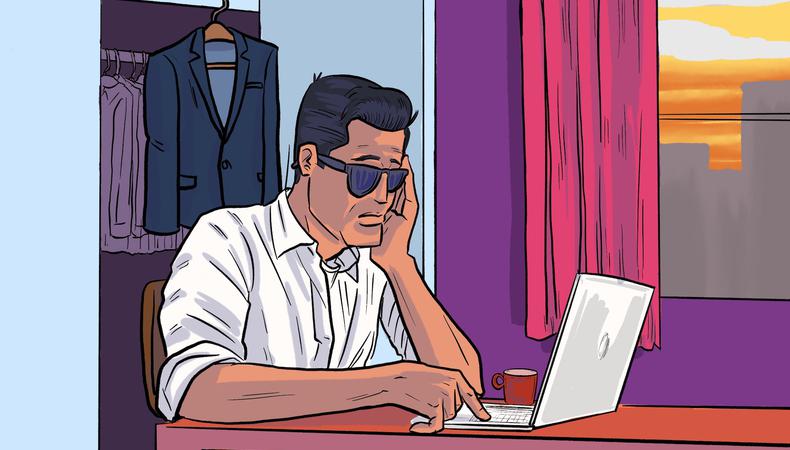 I've always loved the movie "Groundhog Day." For you younger readers who don't know Billy Murray: First of all, shame on you. But excellent, more recent iterations with the same conceit include "Palm Springs," "Happy Death Day," "The Map of Tiny Perfect Things"—the list goes on! Point is: As in those movies, I have had moments this year when I felt stuck in a repeating cycle I did not create.
This year began on a dark note with all the madness that took place at the Capitol and the never-ending reports about surging COVID-19 numbers. By spring, our future started to look brighter. Then we realized that brightness was a fake-out—a soft left meant to distract us from the right hook that was about to slam us in the face.
During the last 10 months, I've had the same conversation with all of my clients: Are things getting better? Are they getting worse? Will I ever see a casting director in person again? These questions have been relentless, and I don't see them stopping any time soon.
The problem is that the casting process has drifted so far from normal that I can't see a future in which the business returns to where it was before the pandemic. Hell, I can't even say the word "normal" without a smirk on my face. It's been my experience that once the genie is out of the bottle, there's no putting him back in.
It's unfortunate. I have clients who light up the room when they walk in. They always end up chatting with the casting director before and after their audition. That level of personal connection is now a distant memory. Every single audition is a request for an actor to self-tape at home. Then, callbacks are virtual. That means you get to pour your heart out for a gallery of small faces on your monitor, and every callback starts with those faces telling others to unmute.
The breakdowns we submit to clients now have notices about COVID-19 vaccination requirements for Zone A employees, which is the inner circle of the actual shoot. That means I had to ask every single one of my clients if they were vaccinated. Most answered yes, but a few protested and told me I had no right to ask. Those actors were dropped. My patience for nonsense is stretched pretty thin these days.
On the plus side, every production has a strict policy that involves multiple COVID-19 tests, and actors get paid for those! I have a client who worked on a futuristic show this year that needed her for several extra days of fittings and prosthetic work. She actually made more getting tested for COVID-19 than she earned as a performer. How's that for a new world order?
As for agents, some of us are back in the office and some aren't. My life is a mix of both. Working from home has some benefits, but I miss the energy of being around a team of people focused on a common goal. Plus, my suits are getting dusty.
So what happens next? I asked my magic eight ball if the industry would ever get back to normal. It responded: "Signs point to yes."
That's not much to go on, but after the year we've had, I'll take what I can get.
This story originally appeared in the Oct. 14 issue of Backstage Magazine. Subscribe here.
Looking for remote work? Backstage has got you covered! Click here for auditions you can do from home!