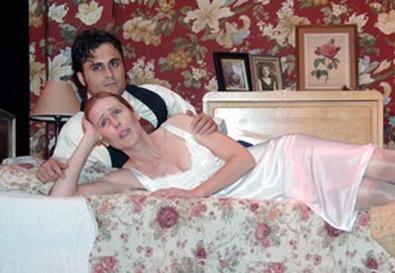 By now, graphic images of the Holocaust are part of our collective conscience, and any reminder engenders righteous anger toward those who inflicted such pain on the millions who suffered the agonies of war. In this poignant rendering of Barbara Lebow's involving play, director Shashin Desai delivers food for thought as he focuses on characterization.
In 1930, patriarch Mordechai Weiss (Larry Eisenberg) takes his young daughter Rose (Laura Howard) out of Poland but leaves behind his wife (Julia Silverman) and daughter Luisa (Liza de Weerd), as she has scarlet fever. With the escalating war, neither his wife nor Luisa are able to get out; his wife dies in Auschwitz and only Luisa survives. Now, in 1946, Luisa has been found and is coming to live with her very Americanized sister, an occurrence Rose nervously opposes because of their long separation.
Lebow's use of flashbacks invests the actors with opportunities for contrasting the past with the present. De Weerd is marvelous as the newly arrived immigrant, played with reserved warmth and controlled suffering—certainly belying her horrific trials, including losing her mother, best friend Hanna (Erin Anne Williams), and tiny daughter to the death camp. Luisa is also separated from her husband, Duvid (Charles Pasternak). Howard is likewise excellent as she evolves in her understanding of Luisa's trials and their family history. Eisenberg is a convincing autocrat. The entire cast works well together, especially as they transcend time and place. Pasternak is particularly memorable as the young, vital husband who appears later as the victim of war's cruelty.
Kim DeShazo's costumes add to the story, particularly Luisa's shabby contrast to Rose's colorful vitality. Also notable are the choices of music that accompany the story, well-executed by light and sound designer Chris Kittrell. The emphasis on optimism and love's ability to withstand many tests makes the play more than simply a condemnation of war. Desai chooses restrained passion over melodrama, and the result packs a powerful punch.
Presented by and at International City Theatre, Long Beach Performing Arts Center, 300 E. Ocean Blvd., Long Beach. June 11–July 3. Fri.–Sat., 8 p.m.; Sun., 2 p.m. (Additional performance Sat., 2 p.m., July 3.) (562) 436-4610. www.internationalcitytheatre.org.