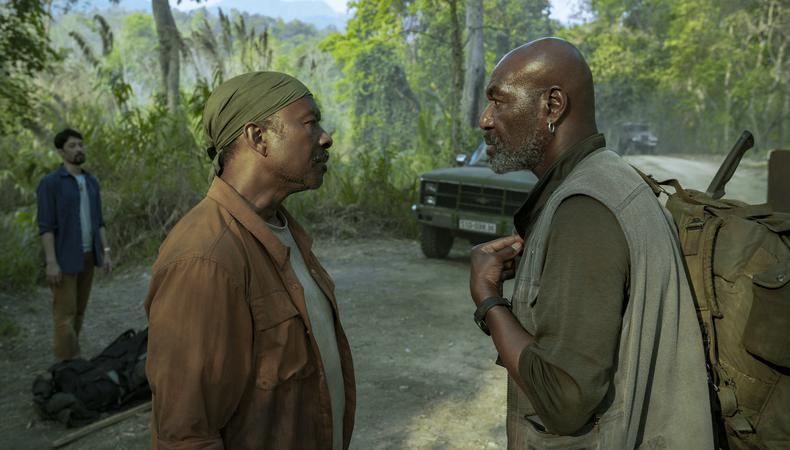 Spike Lee has, for decades now, used his Hollywood influence to meaningfully shape real-world narratives. The morning before our phone call brings just the most recent example: The New York Times had published an article revealing the U.S. Army's carelessness around recognizing one of the first Black Special Forces officers, Capt. Paris Davis, with a Medal of Honor. The Vietnam veteran was shot multiple times, lost his trigger finger, and still managed to save four lives and survive. Despite an immediate nomination for the recognition, the Army lost the recommendation. When his commander resubmitted it, it somehow went missing again. Fifty-six years later, Davis is still waiting.
When I point out that Lee's latest, Netflix's "Da 5 Bloods"—a film that's laser-focused on Black Vietnam veterans getting their due—likely has something to do with the renewed awareness of Capt. Davis' story, the filmmaker is self-effacing. "Well, I don't know about that," he quips, "but I know it's shenanigans on behalf of the United States Army!"
Lee often redirects focus from himself in a way that doesn't feel avoidant, but rather reinforces his work's intent and not its executor. Still, after four decades in film—from his first theatrical feature, 1986's "She's Gotta Have It," at the time a rare look at Black feminism and an onscreen Black experience divorced from crime or drugs, to his 2018 white supremacy-bucking "BlacKkKlansman," for which he won a screenwriting Oscar—his cinematic commentary and influence continue to sway tides on- and off-set.
John David Washington ("BlacKkKlansman") calls Lee an energy genius when it comes to reading spaces and people. DeWanda Wise (Netflix's "She's Gotta Have It" series) praises his ability to give actors exactly what they need in the moment, whether that's technical context for camera movements or a personal assistant to free up brain space for the real work.
"You can get anybody just to, you know, just say lines, but I want more than that. I wanna have life! And actors bring these characters to life." —SPIKE LEE
When asked about his philosophy regarding actors, Lee flips the question again: "I just try not to get in the way." Eventually, he does offer a few specifics: "My philosophy is very simple: Cast the best people you can. I know it might sound boring," he says, laughing, "but that's the truth! You want to get the best people in front of the camera to bring those words—the black letters on a white sheet of paper—to life."
How about once the casting—done alongside his longtime CDs Kim Coleman, Robi Reed, and Aisha Coley—is finished? How does he get those performances out of everyone, from Denzel Washington and Edward Norton to, for "Da 5 Bloods," a sprawling ensemble made up of newcomers and seasoned actors from four different countries?
"I approach it as if I'm a coach—football, basketball, baseball manager—to try to put people in the best position so they can succeed," he says. "What the best teams have is the fusion of the seasoned, grizzled veterans, and you gotta have youth. I love that mixture, because it plays against [itself and] gives me what I need: that friction, that tug with the different dynamics going against each other and with each other. Another thing, to maybe help you understand my process: A lot of it is just the vibe. It's the vibe; it's the energy. Are we on the same frequency? And if you're not on my frequency, can we find the right [one] together?"
READ: Jonathan Majors on 'Da 5 Bloods' + His
Acting Approach
That friction is used to great effect in "Da 5 Bloods," whose cast includes Jonathan Majors, Isiah Whitlock Jr., Norm Lewis, the late Chadwick Boseman, and Delroy Lindo. The film landed a SAG Award ensemble nomination and an Oscar nomination for best original score. Lee responded to the picture and performance snubs from the Academy with a "WE WUZ ROBBED (AGAIN!)" poster sale on Instagram.
But, as ever, Lee's true accomplishments extend beyond accolades to the widespread recognition of the flesh-and-blood folks that are at the root of his stories—not to mention the rich characters his actors get to play as a result.
"Without the actors, it ain't gonna happen," he says. "I've been blessed to work with some of the greatest of the greats. It's a blessing. It's a blessing. It's a blessing."
This story originally appeared in the April 15 issue of Backstage Magazine. Subscribe here.
Looking for remote work? Backstage has got you covered! Click here for auditions you can do from home!