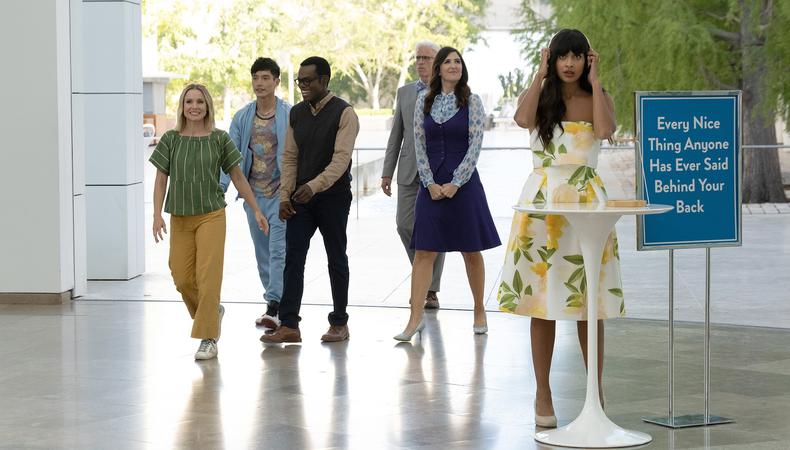 On the heels of its final season, "The Good Place" costume designer Kirston Mann reflects on her already iconic contribution to the canon—we all know Janet's purple dress will be a Halloween costume for years to come—and the difference between fashion and costumes.
How would you describe the role of the costume designer on a television series?
It's different depending on who the show creators are, and I am so fortunate here. I'm so lucky that I work with Mike Schur; I have a lot of freedom, I'd say, to work with the actors in creating their characters. That would be my No. 1 goal: to make sure that everybody is happy. But I would say my personal goal is to make the actor feel like they're in their character. Their job is to work on the inside, making whatever they're doing believable. And my job is to make the outside, making their job easier because they feel as if they're the person by way of their costume.
What are the specific ways you work with the actors to find their characters?
For "The Good Place," Ted [Danson] and I always said that in our fitting, when we found that bow tie, he was kind of transformed. He's so fun, by the way. He puts on his bow tie and he literally gets into character and starts saying his lines. He felt it in that moment. I wish I had a video of it, because it felt like, Oh, this is how I can contribute to him feeling like he's Michael instead of Ted. And then, say, Janet, I really had that vision of that little skirt suit-vest situation, because it reminded me of stewardesses. They're all amazing actors. I think costume just helps inform. On TV, things have to sometimes be a quick read and, at the same time, settle. You never want it to be about the costume; you want it to be about the character.
"I'm not concerned so much with the construction of the clothing. I look at it more like a palette. I'm always thinking of it more like a painting."
From when you get a script, what is the process for putting looks together?
It helps when there's a cast. For instance, Kristen Bell: I start to visualize what I think she's doing and visualize what she's wearing. I come up with ideas, I do some sketching, and then I go through books. I just feel like I recognize the character in photography. I have a huge library of photo books. With "The Good Place," I bring them to Mike Schur, and he is so decisive. He also has them visualized, and we're so lucky we've been working together so many years, so we have a shorthand because we did "Parks [and Recreation]" together, "Brooklyn Nine-Nine" together, pilots together. So that's kind of how it goes—I do a lot of research. And, as a New Yorker, I'm literally looking at people in the street all day long. That's the beauty of living here. If you just take in people's clothes, if you just go and sit in that coffee shop, you're looking at the characters and how little things make a difference. Little things are so telling.
What advice would you give someone who wants to pursue costume design?
I am a person who takes a lot of interns and hires a lot of PA-type people trying to get them in. A lot of people think they want to do costumes. I would say to take some time and work in a costume department on a lower level and make sure [it's what you want], because it's not a glamorous job. There's a big difference between fashion and costumes. A lot of people imagine that it's like you're just shopping for clothes all day or that you have great taste, so you'll be good at it. Taste matters, but character also matters. Reach out to a costume designer and see if somebody will take you under their wing for a few days to make sure you understand what it is, because there's cleaning shoes, there's aging, dyeing—you get your hands dirty. It's different than the fashion world, and I've worked in both. I started out styling in New York and it was a totally different world, and it didn't suit me at all. I didn't like labels; I liked character.
How did you get started in costume design?
I was here in New York, and I was going to Parsons. I started working in production, and I was hoping to be a production designer. I started working in the art department, and I was always looking over at costumes like, "What are they doing?" So I jumped ship and I started working in costumes. And I feel like it was incredibly helpful to me, because I'm not concerned so much with the construction of the clothing. I look at it more like a palette. I'm always thinking of it more like a painting; in the scenes, I'm looking at how each character's colors will play off the other ones and designating how they're moving through the film. I'm trying to picture what they're looking like as moving art pieces in addition to characters. I come at it from a more production [and] design angle.
That makes sense, since the costume and production design departments work so closely with each other.
Yes, and I love working with the production designers, too—the whole art department. That's where, initially, my interest was. I love thinking about their tablecloths and my costumes. And in our group at "The Good Place," we had all been together for a lot of years, and there was just a way that we were all in sync together. We all worked on the same floor, and we'd always be wandering into each other's offices, trying to see how it was all going to work together. It's like doing a huge group art project every day of your life. It's a dream. You're making me miss work!
This story originally appeared in the Aug. 27 issue of Backstage Magazine. Subscribe here.
Looking for remote work? Backstage has got you covered! Click here for auditions you can do from home!