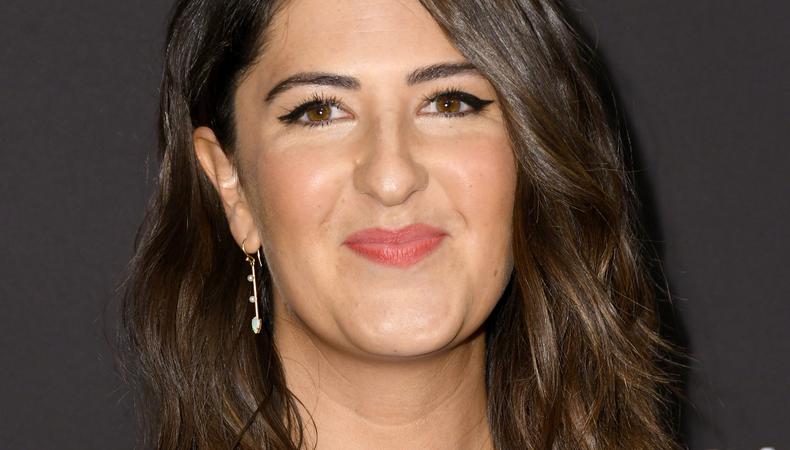 "In the Envelope: The Actor's Podcast" features intimate, in-depth conversations with today's most noteworthy film, television, and theater actors and creators. Full of both know-how and inspiration, "In the Envelope" airs weekly to cover everything from practical advice on navigating the industry, to how your favorite projects are made, to personal stories of success and failure alike. Join host and Awards Editor Jack Smart for this guide on how to live the creative life from those who are doing it every day. This episode is brought to you by HBO.
"Oh my gosh, it's so bleak thinking back on those days," says D'Arcy Carden of her early acting career. She sighs. "But also so lovely."
Bleak-but-lovely summarizes many (if not most) actors' earliest years attempting to break into the biz. Carden did local theater in her hometown of Danville, California, graduated from Southern Oregon University, and moved to New York City with stars in her eyes. What followed was a period of studying acting, getting by with survival gigs, and developing resilience that went on for what sometimes felt like an unbearably long time before finally booking the role of Janet on "The Good Place."
"Occasionally, I would take a look around and have that feeling of: 'Everybody's doing the thing that they're supposed to be doing except for me,' " says Carden in her "In the Envelope" interview. "You don't have it every day. You don't have it every second. But when you have it, it hits you hard." It took years to learn the lesson she wants other artists to remember: "Your timeline is your timeline."
Was she aware of how much rejection and struggle pursuing such a career path would entail? "I was aware of the rejection, for sure," Carden says. "At the same time I think, to get into this business—tell me if I'm wrong, I might be—there's equal parts delusional and also confident. You have to be like, 'I know what the stats are, but I'm going to be the one who breaks through.' Otherwise, how can we keep going?"
Luckily, she had help navigating those early days in NYC: Carden and her friends would share copies of Backstage, finding open calls to attend and reading up on resources. "When you're an actor, you learn how to act, but you don't learn how to do any business of acting," she says. "It's just such a mystery, and you learn by your community, and you learn by something like Backstage.
"So much of being an actor is not actually acting. It's all the stuff that leads up to the moment where you get to act, and that's so much of what this job is. Having a place where you can find opportunities to get to do the acting...it was invaluable."
Carden also remembers a few of her many survival jobs, including working for an interactive tour guide company, as well as a particularly painful audition experience. "Auditions probably live somewhere on some cloud or whatever, but you walk out of that door and you can just never think about it again," she advises her fellow performers. "Walk out and go on to the next thing and just pretend it never existed. Until you're talking on a podcast and you have to recount it."
Leaving an audition is easier said than done, of course, especially if the job in question is as desirable as "The Good Place" was for Carden. Mike Schur's critically acclaimed NBC ensemble comedy starring Kristen Bell, Ted Danson, William Jackson Harper, Jameela Jamil, and Manny Jacinto, which aired its fourth and final season this year, was Carden's "dream job" throughout the many callbacks she endured in 2016 to earn the role of Janet, cheerful virtual assistant of the afterlife.
"I knew with 100 percent certainty that I wasn't getting the job," she remembers. "I was like, 'I am going to absolutely put everything into this audition in the hopes that Mike remembers me and maybe casts me in an episode in Season 3 or something like that. I want to be on his radar, but there is no possible way'...I was excited to be in the room, meet him, and maybe make him laugh."
As is often the case with working actors, Carden's casting on one buzzy TV show coincided with another: Bill Hader's award-winning HBO comedy "Barry," for which Carden was among the nominees of a Screen Actors Guild Award for outstanding comedy ensemble. (In a strange coincidence, Carden worked for years as a nanny for Hader in NYC and remained close with his family in Los Angeles.)
"If you didn't know me at the time, you would be like, 'She's on two shows, good for her,' " says Carden with a laugh. Other than appearances on "Broad City," in "Other People," and creating short videos with her fellow Upright Citizens Brigade comedians (and now the upcoming TV reboot of "A League of Their Own"), as she emphatically puts it, "I had nothing!"
So Carden's best advice for artists in the early stages of their career is simple: "Do your best, put in the work, and forget about it." And, of course, celebrate and commiserate together through every highest high and lowest low. "I love actors and I love our little weird community. So much of what we learn is from each other."
Listen now on:
Looking for remote work? Backstage has got you covered! Click here for auditions you can do from home!