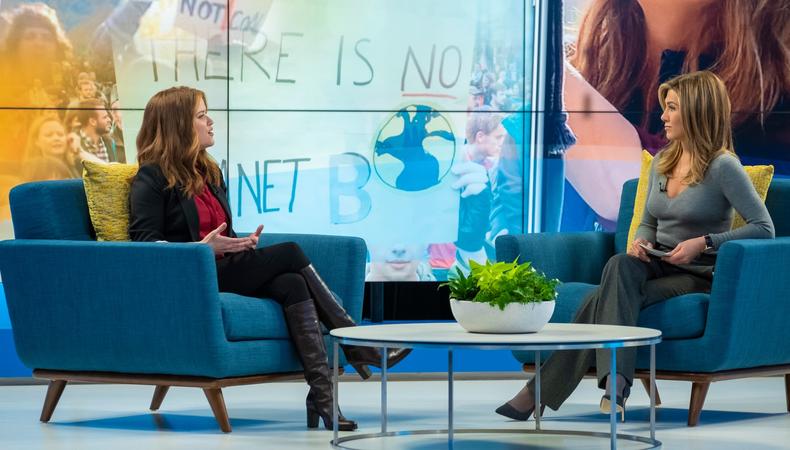 Mimi Leder's Emmy-winning work has been defining the small screen's "golden age" since long before such a thing was ever written in the parlance, having helmed canonical giants like "ER" and "The Leftovers." And still, Apple TV+'s "The Morning Show"—on which she serves as executive producer in addition to directing a number of episodes, including the pilot—presented the industry veteran with an experience she never before had in television.
"All except one of our executive producers are women. Actors would come into our casting sessions and go, 'Whoa, I've never seen a room like this before,' " Leder says. "A room of all women."
The gender makeup of those behind the scenes befits "The Morning Show," which was just nominated for three Golden Globe Awards, just as "The Morning Show" is befitting of this moment in television. Inspired by journalist Brian Stelter's 2013 nonfiction book "Top of the Morning," which investigates the world of morning talk shows, the series was able to lure Leder before it even had a script for one very large reason—actually, two: stars Reese Witherspoon and Jennifer Aniston.
READ: How to Sell Your TV Show, According to This Hulu Prodigy
"They were attached and there was no script. I have never signed on to a project with no script," she recalls. "But I did. It's a world we've all grown up with: morning television being on and being welcomed into this place where you feel safe in the morning. But to me, it's really this character piece about these strong and powerful women with strong and powerful actors. What is the real story behind this subculture of people who live these vampire-like existences? I really wanted to explore it—and then the #MeToo movement happened."
"The Morning Show" depicts the ousting of a morning talk show host who is revealed as a serial predator (played by Steve Carell); that the series was picked up as one of the new Apple streaming service's first shows prior to the late-2017 revelations that sparked today's vast cultural revelation is all the more thrilling (or chilling, depending on how you look at it).
"What was an already interesting subject became far more interesting," Leder says. But despite the show's precedent in reality, its world-building was as ground-up as any other new series on which Leder has worked. Luckily, here, she had crucial input from the actors—one in particular. "When you direct a pilot, you're creating a show from scratch; you're creating the look, the color palette, the camera style," she explains. "When you're building that world, usually the actors are not involved. But in this case, Jen Aniston was very involved in the set dressing, and that was great because not only did it help us, it helped her in defining who her character was."
READ: How Karen Pittman Got Cast on 'The Morning Show'
Similarly, Leder has found, actors are frequently informative about a new series' characters, often before they're even cast. That's been especially true for "The Morning Show," which boasts an ensemble that also includes Billy Crudup, Gugu Mbatha-Raw, Mark Duplass, and Karen Pittman.
"Sometimes, you just don't know it until you see it, and you look at these characters and go, 'Who is he, really? Who can this actor truly embody?' " Leder says. "You know the character, and then you read these actors and they just bring it to life. You're not just looking for one thing. You're looking for, 'Does this person have humor? Is this person a more dramatic actor? Can this person do both?' You look at all that stuff in casting, and then you also have to ask, 'Where are these characters going?' You look at the actor to get a good idea if they can do a lot—or if they can surprise you and do so much more."
This story originally appeared in the Dec. 19 issue of Backstage Magazine. Subscribe here.