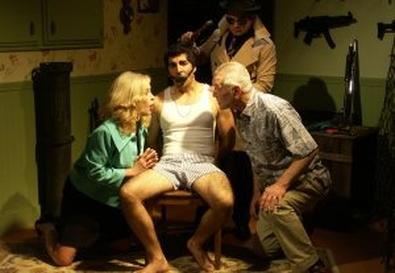 The grammatically confused title seems entirely fitting. Playwright Christopher Durang is up to his familiar tricks of skewering sacred cows and wallowing in iconoclastic dramatic devices in this absurdist farce, buoyantly directed by Daniel Henning in its West Coast premiere. Among the myriad satiric themes are warped macho notions extolling violence; shallow cultural values; and a universe riddled with terrorism-fueled paranoia. Underneath all the bloodshed and betrayal, this is a rom-com, albeit one with a distinct difference.
Felicity (Rhea Seehorn) is startled to wake up in a hotel bed beside handsome but edgy Zamir (Sunil Malhotra). Worse yet, he shows her their new marriage certificate and suggests that he tricked her into taking date-rape drugs. Before long, she begins to fear he could be a Middle Eastern terrorist, despite his claims to be Irish. What's a forlorn young maiden to do? Annulment could provide the answer, but how do you spring that news on a bipolar terrorist? Felicity seeks help from her parents, but there's little hope of a rational solution there. Daddy dearest (Mike Genovese) is a radical bigot, stockpiling weapons and frying squirrels with a napalm blaster; mommy (Christine Estabrook) is an empty-headed theater buff addicted to "Wicked" who lives in a domestic dream world and can't carry on a coherent conversation. The plot thickens when daddy Leonard receives false information that Zamir is planning a multicity terrorist attack.
This is the sort of comedy that asks us to laugh at severed body parts and make light of terrifying global woes that threaten the survival of mankind. Durang succeeds in making the grotesque funny through his anarchic approach to our typical notions of drama, creating a cartoonlike milieu. The spirited cast is up to the zany high jinks, particularly Genovese's self-righteous lunatic, Estabrook's Martha Stewart on speed, and Malhotra's gleefully oblivious loose cannon. Seehorn brings a perfect deadpan to her damsel in distress, and Catherine Hicks garners guffaws as Leonard's right-wing accomplice. Nicholas Brendon is a laugh riot in the role of an erstwhile minister who doubles as a porn producer, and droll Alec Mapa shines in multiple roles, including a deranged spy prone to emulating "Looney Tunes" voices. Design elements are solid, and Henning's approach to the shenanigans is fast, furious, and unfailingly hilarious.
Presented by the Blank Theatre Company at the Stella Adler Theatre, 6773 Hollywood Blvd., Hollywood. Feb. 6–March 14. Thu.–Sat., 8 p.m.; Sun., 2 p.m. (323) 661-9827. www.theblank.com.