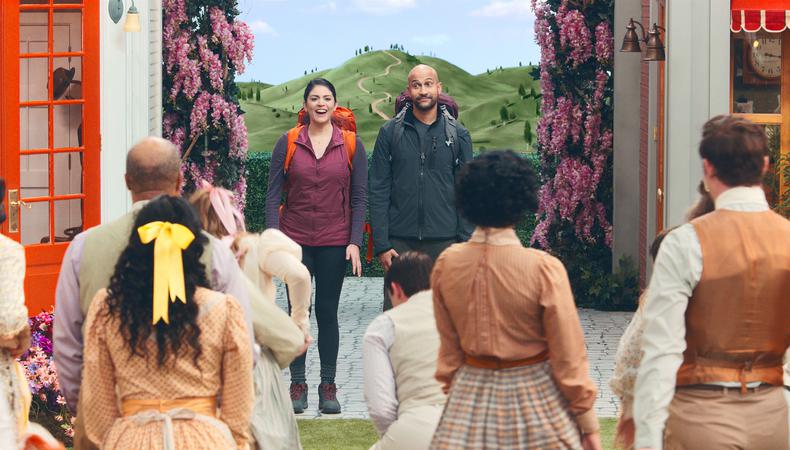 Television doesn't sleep. Backstage is breaking down, month by month, the buzzy shows and performances that merit attention from awards voters and couch potatoes in the ever-growing landscape of the small screen.
Other than beach trips and frozen beverages, the best way to beat the heat in July is watching summer TV (with air conditioning blasting). This month brings a variety popsicle pack of premiering and returning shows, including a reboot of 2000s fave "Gossip Girl," a new Ryan Murphy anthology series, a "What We Do in the Shadows" spinoff, and a new musical comedy on Apple TV+—not to mention the return of beloved series like Apple TV+'s award-winning "Ted Lasso," Netflix's "I Think You Should Leave With Tim Robinson," and Freeform's "Grown-ish." Read on for your ultimate July TV rundown.
"Gossip Girl"
The rebooting of beloved millennial series continues apace with a follow-up to the CW's 2007 hit "Gossip Girl," starting July 8. In a rare move, the HBO Max series will also stream on its original network's digital platform. The new show picks up nearly a decade after Serena van der Woodsen and Blair Waldorf walked out of our lives, featuring a new brood of privileged Upper East Side teens and their many dramas. Kristen Bell will return to voice the titular Gossip Girl, who now tracks the doings of high schoolers via an anonymous Instagram page. The reboot features a much more diverse cast than its forebear, including Jordan Alexander, Eli Brown, Thomas Doherty, Tavi Gevinson, Emily Alyn Lind, Evan Mock, Zion Moreno, Whitney Peak, and Savannah Lee Smith. Joshua Safran, who wrote on the original series, serves as showrunner.
"Wellington Paranormal"
Following the success of the FX TV adaptation of "What We Do in the Shadows," original film writers Taika Waititi and Jemaine Clement are bringing a new spinoff from their bizarre horror-comedy universe to the CW. Premiering July 11, "Wellington Paranormal" follows two cops in Wellington, New Zealand, who are tasked with dealing with otherworldly events in their town. The show will employ the same deadpan mockumentary style as its predecessors, as the officers contend with everything from ghosts to werewolves to zombies. Mike Minogue and Karen O'Leary star, reprising their roles from the 2014 "Shadows" film.
"The White Lotus"
Cult comedy writer Mike White ("Enlightened," "School of Rock," "The Good Girl") created and directed this limited series, which hits HBO on July 11. The ensemble dramedy follows a motley crew of vacationers at a Hawaiian resort whose lives are falling apart in various ways—a mother who crashes her son's honeymoon, a man coming to terms with his testicular cancer, and a lonely woman who becomes fixated on a spa employee. The cast is a rogue's gallery of comedy and acting greats, including Connie Britton, Steve Zahn, Jennifer Coolidge, Molly Shannon, Natasha Rothwell, and Jake Lacy. Who doesn't love a dark comedy in a tropical paradise?
"American Horror Stories"
Ryan Murphy's iron grip on the TV landscape continues with "American Horror Stories," a new anthology series in the "American Horror Story" franchise. Premiering July 15 on both FX and Hulu, the series, helmed by Murphy himself, will feature a different creepy tale each week, in a noted departure from the usual "AHS" season-long arcs. Though the plots of each episode are being kept under wraps at the moment, we do know that the series will star Kevin McHale, Dyllón Burnside, Charles Melton, and Nico Greetham; also, longtime Murphy collaborator Sarah Paulson will step behind the camera to direct a few episodes. (And for those who prefer a longer yarn, never fear: "American Horror Story: Double Feature" is hitting FX in August.)
"Dr. Death"
The trend of adapting podcasts for television continues with "Dr. Death," premiering July 15 on Peacock. The miniseries, based on Wondery's true-life podcast, centers on the titular Dr. Christopher Duntsch, a Texas surgeon who left 31 of his patients maimed and two more dead before being convicted of major malpractice. Joshua Jackson plays the sinister doctor, whose colleagues do everything in their power to shut him down as his casualty count rises. The series also stars Alec Baldwin, Christian Slater, Grace Gummer, Carrie Preston, and Dominic Burgess. Patrick Macmanus ("Marco Polo," "Happy!") created and executive produced the project.
"Schmigadoon!"
Musical theater and comedy fans alike are in for a delicious piece of candy with the new series hitting Apple TV+ on July 15: "Schmigadoon!" Keegan-Michael Key and Cecily Strong star as a couple on a hiking trip who stumble upon an all-singing, all-dancing town straight out of an old-school musical and become trapped there. The show stars Broadway and comedy favorites including Alan Cumming, Kristin Chenoweth, Jane Krakowski, Aaron Tveit, and Fred Armisen. Co-created by Cinco Paul and Ken Daurio, the six-part "Brigadoon" send-up will follow the lovers as they adjust to life in the bizarre town and struggle to keep their relationship alive.
Acorn TV
July 12 – "Jack Irish" Season 3
Amazon Prime Video
July 15 – "El Cid" Season 2
July 30 – "The Pursuit of Love" premiere
AMC/AMC+
July 5 – "The Beast Must Die" premiere
July 15 – "The North Water" premiere
July 22 – "Ultra City Smiths" premiere
Apple TV+
July 15 – "Schmigadoon!" premiere
July 23 – "Ted Lasso" Season 2
BET/BET+
July 15 – "First Wives Club" Season 2
The CW
July 11 – "Wellington Paranormal" premiere
July 15 – "The Outpost" Season 4
July 18 – "Dead Pixels" Season 2
July 26 – "Roswell, New Mexico" Season 3
July 30 – "Burden of Truth" Season 4
Disney+
July 21 – "Turner & Hooch" premiere
Freeform
July 8 – "Grown-ish" Season 4
July 14 – "Good Trouble" Season 3
HBO/HBO Max
July 8 – "Gossip Girl" premiere
July 11 – "The White Lotus" premiere
Hulu
July 9 – "This Way Up" Season 2
July 15 – "American Horror Stories" premiere
IMDb TV
July 9 – "Leverage: Redemption" premiere
Netflix
July 1 – "Generation 56K" premiere
July 1 – "Young Royals" premiere
July 2 – "Mortel" Season 2
July 6 – "I Think You Should Leave With Tim Robinson" Season 2
July 7 – "The Mire" Season 2
July 7 – "The War Next-Door" premiere
July 9 – "Atypical" Season 4
July 9 – "Biohackers" Season 2
July 9 – "The Cook of Castamar" premiere
July 9 – "Virgin River" Season 3
July 15 – "Never Have I Ever" Season 2
July 23 – "Masters of the Universe: Revelation" premiere
July 23 – "Sky Rojo" Season 2
July 28 – "The Snitch Cartel: Origins" premiere
July 30 – "Outer Banks" Season 2
PBS
July 11 – "Professor T" Season 3
July 11 – "Unforgotten" Season 4
Peacock
July 15 – "Dr. Death" premiere
Showtime
July 18 – "The End" premiere
Spectrum Originals
July 12 – "Eden" premiere
Starz
July 18 – "Power Book III: Raising Kanan" premiere
Sundance Now
July 8 – "Motherland" Season 3
TBS
July 13 – "Miracle Workers" Season 3
TNT
July 11 – "Animal Kingdom" Season 5