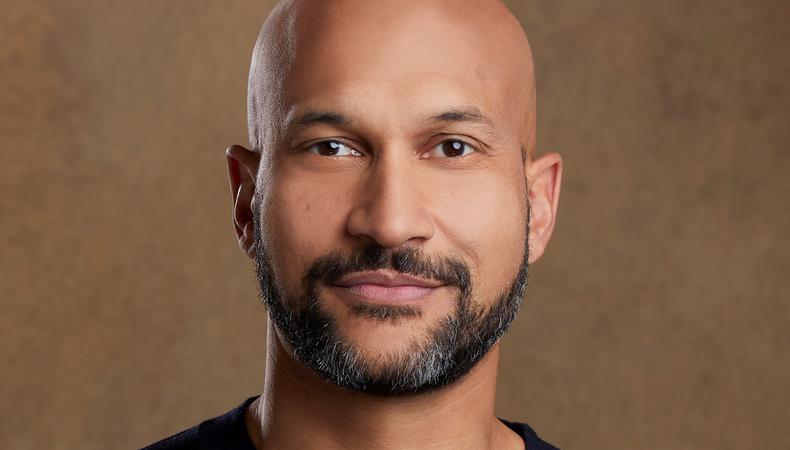 "In the Envelope: The Actor's Podcast" features intimate, in-depth conversations with today's most noteworthy film, television, and theater actors and creators. Full of both know-how and inspiration, "In the Envelope" airs weekly to cover everything from practical advice on navigating the industry, to how your favorite projects are made, to personal stories of success and failure alike. Join host and Awards Editor Jack Smart for this guide on how to live the creative life from those who are doing it every day. This episode is brought to you by National Geographic's "Brain Games."
Recorded only a few weeks into lockdown amid the COVID-19 pandemic crisis, Keegan-Michael Key's "In the Envelope" interview is full of thoughts on our new, uncertain world—plus advice for actors, writers, and especially actor-writers, on how to navigate it.
"I'm wondering if people are going to subconsciously start writing bottle episodes and block movies," he muses. "Where everything takes place in this room, or everything takes place in this house, or as they used to say, on the block." The projects that result from these tumultuous times could have a high degree of originality because, as Key points out, "it's permeating every part of our lives."
The kind of boredom born out of having to shelter in place, he adds, breeds creativity. "I think sometimes we find ourselves in feedback loops, even in our entertainment, because everybody's saturating their brains at all times with stimulus, stimulus, stimulus. You sometimes just need to be bored and just do a technological detox every now and again."
Born and raised in Michigan, Key attended the University of Detroit Mercy before studying theater at Pennsylvania State University. He is probably best known as a sketch comedy artist, for his breakout work on "Mad TV" and opposite Jordan Peele on Comedy Central's "Key and Peele," earning him eight total Primetime Emmy nominations and a 2016 win for outstanding variety sketch series. He's appeared on "Playing House," "Fargo," "Friends From College," in feature films "Keanu," "Don't Think Twice," "Dolemite Is My Name," on New York theater stages in "Hamlet" and Steve Martin's "Meteor Shower," and in countless voiceover roles including last year's "Toy Story 4" and "The Lion King." Key also currently hosts "Brain Games," National Geographic's science and celebrity game show.
Key's various strengths—conceiving and executing sketch comedy, easy chemistry with scene partners, full-bodied physicality in his commitment to characters both comedic and dramatic—come from a distinct combination of inspirations. "The embryonic beginnings of what the power of comedy was," as he puts it, was watching "The Bugs Bunny Show" as a kid. "My father, a grown man, would just laugh uproariously at the roadrunner and the coyote," he remembers. "You're a child, so your parents are godlike to you. 'This material on the television is disarming my father.' That's powerful. Why is it so powerful?"
Then it was a fascination with theater and playwriting ("Everybody else had gone to see 'Dirty Dancing' and I had gone to see 'My Beautiful Laundrette,' " he says of his college years) and an audition for an improvisation troupe that eventually led to working at both the Detroit and Chicago locations of comedy collective Second City. Asked how writing scripts and improvising overlap, Key says, "a playwright or a screenwriter is simply a person who's improvising with themselves.
"Improvisation is creating a player doing instantaneous playwriting," he explains. "It's creating a moment, creating relationships, creating an environment, creating a conflict—instantaneously. Then it's ethereal. It vanishes. Theater is something that you're trying to build in reactions to behavior. The ideal in theater is that one would know the material in their marrow, so that every night you're picking up on the nuances of the other performers in such a way that you are having organic, instantaneous, brand new experiences in the moment."
Key also breaks down the science behind different types of sketch writing, revealing the way he and Peele harnessed their instant connection to mine comedy gold. "There's the character sketch, where most of the comedy is deriving from the behavior and the belief system or value system of the character: What makes them tick?" he says. "Then [there's] a high concept, or as we say in the improv, in the sketch community, 'heavy game.' Does a sketch have heavy game? Then a third sketch is what Jordan Peele and I would call a 'peas in a pod' sketch, which is usually based a lot on excitement.... Sketch comedy, or any kind of comedy for that matter, falls under one of those categories or some sub-category therein."
As one of the stars of Ryan Murphy's upcoming Netflix film adaptation of Broadway musical "The Prom," Key also provides an update on a longtime pressing issue for thespians: when his co-star Meryl Streep might return to the stage. "I want to see her do theater again so badly. It was like, 'Keegan, stop asking her when she's going to do theater.' She just said she didn't know. She said it has to be just exactly the right thing."
For more brilliant insights from Key, tune into his exclusive "In the Envelope" at any of the podcast platforms below.
Listen now on:
Looking for remote work? Backstage has got you covered! Click here for auditions you can do from home!