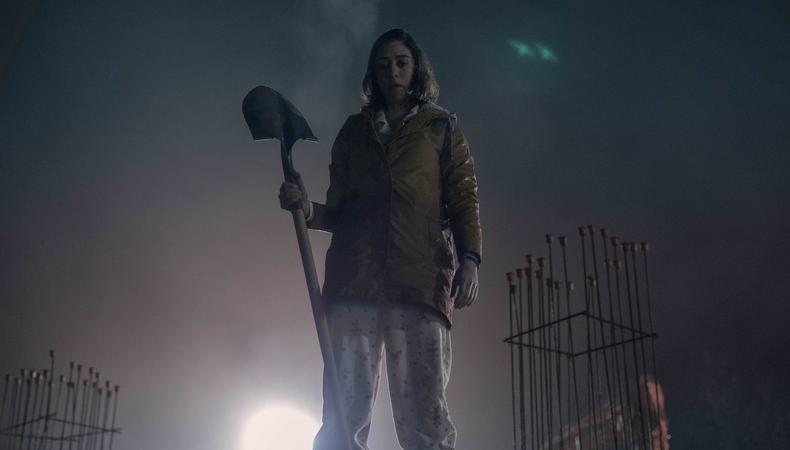 Television doesn't sleep. The sheer amount of content—over 450 scripted programs aired in the year 2017!—can prove overwhelming for even the most dedicated TV buffs. Television Academy voters make Emmy selections in August, and SAG-AFTRA members vote on SAG Awards in January, but their job requires tuning in all year long. Backstage is breaking down, month by month, the buzzy shows and performances that merit awards attention in the ever-growing landscape of the small screen. Mark your calendar and become a couch potato along with us!
With its fall debuts and more than a few spine-tingling, hair-raising series, there is no mistaking what month it is when it comes to TV.
The CW premieres about a dozen different series in October, ranging from comic book adaptations to teen dramas, including fan favorite "Riverdale." The other major broadcast networks are finishing out their fall premieres with a few procedurals and comedies, while streaming services welcome back big stars and critical darlings; Billy Bob Thornton returns for Amazon's "Goliath" and Netflix drops Season 2 of "The Kominsky Method" starring Oscar winners Michael Douglas and Alan Arkin. And in the spirit of Halloween, AMC's "The Walking Dead" returns, both Hulu and Netflix add zombie series of their own—"Zomboat!" and "Daybreak," respectively—and USA premieres its second season of horror series "The Purge." But this month is not all monsters and mayhem; it also features the return of HBO's beloved "Silicon Valley" and Fox's newest comedy "Almost Family."
Amazon Prime Video
Thornton reprises his Golden Globe-winning role as Billy McBride in legal drama "Goliath," coming to Amazon Oct. 4, starring alongside Dennis Quaid, Amy Brenneman, Beau Bridges, Griffin Dunne, Sherilyn Fenn, and Illeana Douglas in this third season. The Emmy-winning streaming service also unveils its newest anthology series, based on the New York Times column "Modern Love." The show of the same name features distinct episodes and features stars like Anne Hathaway, Tina Fey, John Slattery, Sofia Boutella, Catherine Keener, Gary Carr, Brandon Victor Dixon, Andrew Scott, Cristin Milioti, Shea Whigham, Andy Garcia, and Dev Patel.
AMC
Beloved zombie apocalypse drama "The Walking Dead" returns for its 10th season Oct. 6, starring Danai Gurira, Norman Reedus, Melissa McBride, and more stars both alive and dead.
CBS
David Boreanaz vehicle "SEAL" makes its Season 3 debut Oct. 2 alongside procedural "S.W.A.T.," which returns for its own third season the same night. Oct. 6 marks the final return of Téa Leoni's "Madam Secretary," which is set to run for a shortened final season of 10 episodes.
The CW
It's a big moment for CW. Oct. 6 features a superhero and teen drama lineup that typifies the network, first with new series "Batwoman" starring Ruby Rose, followed by the Season 6 premiere of Melissa Benoist's "Supergirl." On the 7th, football teen drama "All American" starts its season alongside Season 3 of Cress Williams' "Black Lighting." Another superhero drama, "The Flash" starring Grant Gustin, returns on the 8th, and on the 9th new Kennedy McMann–starrer "Nancy Drew" premieres alongside Season 4 of beloved teen soap "Riverdale."
"Legacies," a spin-off of "The Originals" which itself spun off from "The Vampire Diaries," returns for Season 2 Oct. 10, which also marks the premiere of the 15th and final season of Jensen Ackles and Jared Padalecki's "Supernatural." The "Charmed" reboot starts its second season on the 11th, and on the 15th, Stephen Amell's "Arrow" comes back for its eighth and last season.
Facebook Watch
This young on-demand service releases a second season of "Sorry for Your Loss" Oct. 1, following Elizabeth Olsen as a young widow reevaluating her life after the loss of her husband, co-starring Kelly Marie Tran, Jovan Adepo, Mamoudou Athie, and Janet McTeer. Facebook Watch also launches two new series this month: monster drama "The Birch" on the 11th and "Limetown," adapted from the popular podcast and starring Jessica Biel, on the 16th.
FOX
On Oct. 2, Fox premieres its newest program, "Almost Family," starring Brittany Snow and Timothy Hutton. An adaptation of the Australian show "Sisters," "Almost Family" follows a woman locating new siblings after her father admits to using his sperm as a fertility doctor to father over 100 women. Megalyn Echikunwoke and Emily Osment also star.
HBO
The premium channel launches a new adaptation of the classic comic book series "Watchmen" on the 20th. Unlike the 2009 feature film, this drama tells a new story in the Watchmen universe featuring an all-star cast: Regina King, Don Johnson, Jeremy Irons, Frances Fisher, Tim Blake Nelson, Jean Smart, and Louis Gossett Jr.
HBO offers up two miniseries this month: first, "Catherine the Great" on the 21st, a historical drama highlighting the later years of the titular monarch's rule. Catherine is played by Helen Mirren alongside Grigory Potemkin, Rory Kinnear, Joseph Quinn, Richard Roxburgh, and Gina McKee. And on the 27th, "Mrs. Fletcher," based on Tom Perrotta's novel of the same name, stars Emmy nominee Kathryn Hahn and features women directors throughout its run. Closing out the month, critical darling "Silicon Valley," starring Thomas Middleditch and Kumail Nanjiani, returns for its sixth and final season also on the 27th.
Hulu
On the 17th, the highly anticipated miniseries "Looking for Alaska," adapted from John Green's bestselling novel of the same name, debuts on the streaming network. Hulu has also obtained exclusive rights for cult Canadian comedy "Letterkenny," which joins the network for its seventh season. Just in time for Halloween, zombie apocalypse comedy "Zomboat!" premieres on the 25th; but not before a return to Stephen King's anthologized adaptation-mashup of characters from his books—"Castle Rock" Season 2 arrives Oct. 23 and stars Tim Robbins, Elsie Fisher, Barkhad Abdi, and Lizzy Caplan as notorious nurse Annie Wilkes.
NBC
James Spader and Megan Boone return to NBC for the seventh season of "Blacklist," debuting on the 4th of the month.
Netflix
Netflix kicks off October with Season 5 of BAFTA-winning historical crime drama "Peaky Blinders," on the 4th, as well as "Raising Dion," a new supernatural drama adapted from Dennis Liu's comic book of the same name, starring Alisha Wainwright, Ja'Siah Young, Michael B. Jordan, and Jason Ritter. On the 11th, dark comedy "Insatiable" returns for Season 2. And in case you forgot it's October, Netflix offers up zombie apocalypse series "Daybreak" Oct. 24. Closing out the month, Douglas and Arkin reprise their SAG Award-nominated roles for Season 2 of Hollywood comedy "The Kominsky Method" on the 25th.
PBS
On the 6th, PBS launches "Press," a drama series starring Charlotte Riley and Ben Chaplin about working in the newspaper industry in contemporary London.
USA
On the 6th, the Emmy-winning Rami Malek of "Mr. Robot" returns for a fourth and final season. The series adaptation of popular horror movie franchise "The Purge" begins its second season on the 15th. That same night, the cable network launches action drama "Treadstone," another film spin-off, this time from the "Bourne" film franchise.
Youtube Premium
Season 2 of sci-fi drama "Impulse," starring Maddie Hasson, is added to the streaming service on the 16th.