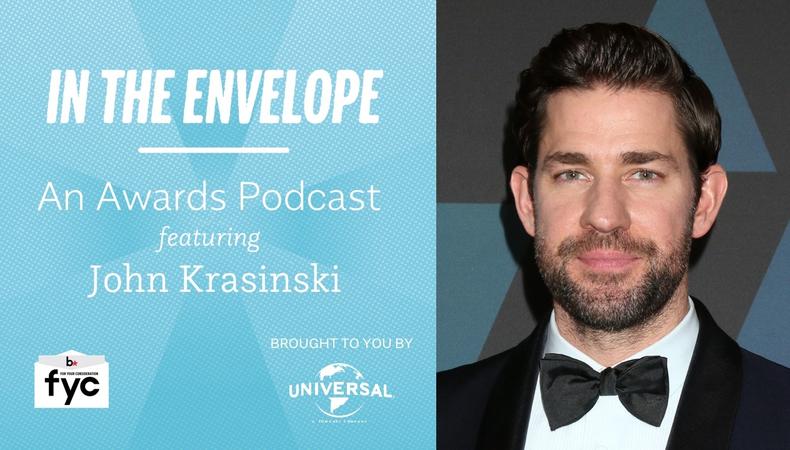 "In the Envelope: An Awards Podcast" features intimate interviews with award-winning actors and other creatives. Join host and Awards Editor Jack Smart for a front row seat to the industry's most exciting awards races, and valuable acting and career advice from contenders! This episode is brought to you by Universal Pictures.
John Krasinski may be forever known for his Jim Halpert on the SAG Award-winning "The Office," for which he's more than grateful—as he says, he's been "shot out of a cannon," career-wise.
But as his in-depth "In the Envelope" interview suggests, he's as much a writer-director-producer as a comedic star. Inspired by his education at Brown University and the National Theater Institute, where he gravitated toward the arts and realized the epic responsibility that entails, the Boston–born Krasinski has worked relentlessly in pretty much every aspect of the film, television, and theater industries. His company Sunday Night Productions is named after his post-grad meetings in New York City diners with fellow aspiring artists, a reminder of that passion and the hard work it requires. Starring in "License to Wed," "Leatherheads," "It's Complicated," "Away We Go," "13 Hours," collaborating on "Promised Land," "Manchester by the Sea," and even the Emmy-nominated reality hit "Lip Sync Battle," and directing "Brief Interviews with Hideous Men," "The Hollars," and in 2018, the Paramount Pictures horror hit "A Quiet Place," the multihyphenate is always trying to "stay intimidated," well outside his comfort zone.
READ: John Krasinski on 'A Quiet Place' + 'Power of Performances Without Words'
"A Quiet Place," in fact, presented challenges almost as terrifying as the film's extraterrestrial, sound-hunting creatures. Krasinski had never helmed a big-budget studio flick with ambitious special effects, was a stranger to genre filmmaking—particularly horror—and had to figure out how to craft a heartfelt love letter to his own family with virtually no dialogue. (Directing and starring alongside his wife, Emily Blunt, was also a first.)
Between the unexpected success of "A Quiet Place" (he is now penning the sequel!) and Amazon Prime Video's thriller series "Jack Ryan," which Krasinski leads and produces, he is having quite the year. For insights into his inspirations, creative process, and philosophy, listen to his advice-filled podcast interview below.
Listen now on: