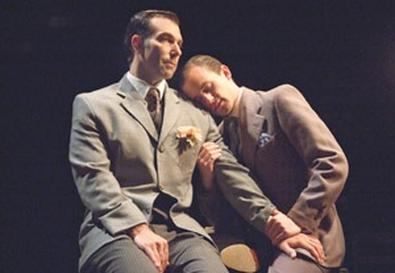 Playwright Tom Jacobson is known for tacking challenging themes, and his latest effort—recounting a scandalous little-known chapter in Southern California history—is among his boldest. Not content to merely relate a fascinating milestone in gay-rights travails, Jacobson sets the stage for two versatile actors to explore multilayered ruminations on sexual identity, institutional corruption, the conscience of civil servants carrying out questionable duties, the mysteries of the acting craft, and more. Director Michael Michetti and first-rate actors Will Bradley and Robert Mammana take us on an illuminating theatrical adventure not likely to be forgotten.
During summer 1914, the city of Long Beach enlisted two actors, W.H. Warren and B.C. Brown, as "vice specialists" to go into public restrooms and other places in attempts to entice gay men toward sexual acts, then arrest them. These were the first recorded incidents in the U.S. of police entrapment of gays, setting the stage for myriad gay-rights violations in the 20th century and beyond. Jacobson's intriguing script shrewdly mixes historical fact and fictionalization.
The inventive play-within-a-play structure begins with two present-day actors meeting in a theater, ostensibly to audition for a film role as a con artist, circa 1914. The competitive actors instantly commence an edgy interchange. The forceful and ruggedly handsome elder actor (Mammana) convinces the reluctant pretty-boy thespian (Bradley) to engage in a series of improvisations. The dicey subject matter is the Long Beach entrapment campaign of 1914. By making split-second shifts in costume accessories, Bradley plays the entrapment agent Brown, the Long Beach police chief, a reporter for the Sacramento Bee, an attorney, and an entrapment victim—a middle-aged Scottish druggist. Making similar instantaneous changes, Mammana portrays the entrapment agent Warren, the editor of the Sacramento Bee, a Minnesota florist, a gay party boy, a Long Beach police officer, a district attorney, and a housewife. On a purely technical level, the actors give virtuoso performances, mastering an astonishing range of characters apiece. Beyond that, their intelligent interpretation of Jacobson's text expertly serves the complexity of the piece, eliciting laugher, shocks, chills, and endless food for thought. The play takes a startling turn at the end, bringing Jacobson's central themes of role-playing, self-deception, and moral responsibility to a shattering conclusion.
Presented by and at the Theatre @ Boston Court, 70 N. Mentor Ave., Pasadena. May 8–June 6. Thu.–Sat., 8 p.m.; Sun., 2 p.m. (626) 683-6883. www.bostoncourt.org.