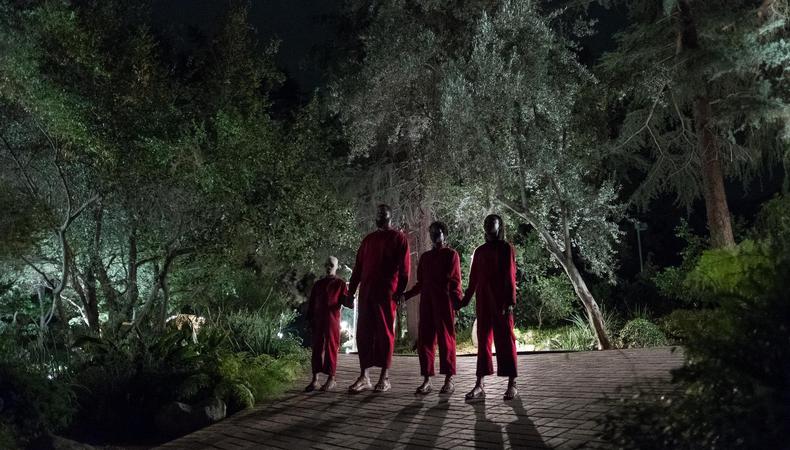 With this Year in Review, we at Backstage have picked through the weeds and found 2019's true gems of the best big- and small-screen ensemble work. And don't worry: We've got you covered with everything else you need to know this awards season right here.
Distributed by: Universal Pictures
Directed by: Jordan Peele
Written by: Jordan Peele
Casting by: Terri Taylor
Cast: Evan Alex, Winston Duke, Tim Heidecker, Shahadi Wright Joseph, Elisabeth Moss, Lupita Nyong'o
"There's a family in our driveway."
With those six words, the world of "Us" curdles. The announcement of a family of doppelgängers in the Wilsons' driveway, interrupting what had been a mostly uneventful Santa Cruz vacation, confirms for the audience that something is very much amiss. Whether or not you had caught its buzzy trailer beforehand, the moment the film reveals itself for the nightmare it is lands like a punch to the gut.
READ: After an Intense Role, Lupita Nyong'o Knows How to Self Care
From then on, buckle up. The highly anticipated follow-up to writer-director Jordan Peele's "Get Out," which won him awards aplenty, including an Oscar for best original screenplay, "Us" dabbles in elements of comedy and satire but plays more emphatically in the horror genre than its predecessor. Peele deliberately includes loving homages to everything from Stanley Kubrick to Michael Jackson's "Thriller" music video, weaving in symbolisms and references that demand a rewatch. It's a modern horror classic: full of the genre's typical jump scares but preoccupied with issues of class and xenophobia, using the former to slip the latter into our subconscious.
And unlike other monster movies, the monsters of "Us" look a lot like the heroes. Oscar winner Lupita Nyong'o, Winston Duke, Shahadi Wright Joseph, and Evan Alex play Adelaide, Gabe, Zora, and Jason Wilson, respectively, but they're also playing the "Tethered" versions of those characters: twisted doppelgänger-clones who rise from underground to sever the bond with their surface counterparts. Each dressed in jumpsuits the color of blood, wielding scissors, and moving with single-minded focus, the Tethered provide a feast for an ensemble who get to imagine and then physically manifest their characters' worst fears and impulses.
With the exception of Red, the only doppelgänger who speaks—"We're Americans," she explains, Nyong'o deploying an unforgettably strangled wheeze—the cast must create these shadow figures without dialogue. Duke, a lovable bear as Gabe, lugs his weight around as Abraham, grunting and at one point bellowing with alarming brutality. Joseph has impeccable timing as both the dryly sarcastic teenager Zora and her shadow Umbrae, whose maniacal grin renders every tilt or turn of the head terrifying.
Elisabeth Moss gives an especially compelling physical performance, proving that dialogue isn't necessary when embodying a full-fledged character. After earning laughs as the droll Kitty Tyler, matriarch of the Wilson family's friends across the lake, she swoops in as the silent, smiling Dahlia, her eyes somehow both vibrant and empty. The Tethered versions of the rest of the Tylers (Tim Heidecker, Cali Sheldon, and Noelle Sheldon) dispatch their aboveground opposites in a sudden spurt of violence that Peele stages to stunning effect, leaving Moss' Dahlia blissfully liberated, gazing into a mirror and dragging lip gloss across her face.
And in as different a role as we've ever seen from her, Nyong'o sears herself into our minds with her dual performances. The "12 Years a Slave" and "Black Panther" star essentially gets to play both heroic leading lady and wacky supporting character, each manifestly different inside and out. Either performance would be worthy of accolades on its own; taken together, Nyong'o belongs at the top of the awards shortlists.
Unlike any other ensemble this year, Nyong'o and her co-stars have the distinction of being able to generate tantalizing chemistry with themselves. The actors in "Us" are in many ways twice as impressive as the rest, considering they're each staring into their own eyes.
This story originally appeared in the Nov. 13 issue of Backstage Magazine. Subscribe here.
Want more? Stay in the loop with everything you need to know this awards season right here!