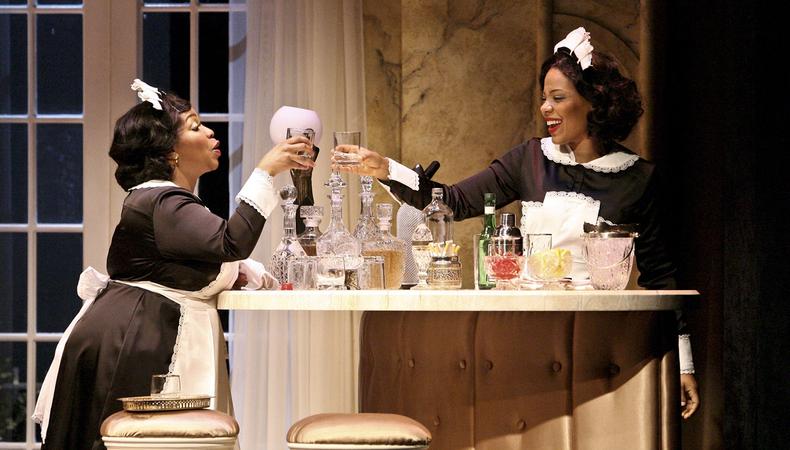 In "By the Way, Meet Vera Stark," playwright Lynn Nottage, a 2009 Pulitzer Prize winner for "Ruined," again turns her incisive eye on the objectification of African-American women. The West Coast premiere of her 2011 satire of racial identity in the Hollywood studio system is an often enjoyable fusion of wry comedy and gritty comment, at least until polemic overtakes the proceedings.
Arriving with much of its Second Stage Theatre production intact—including director Jo Bonney, actors Sanaa Lathan and Kimberly Hébert Gregory, and an expert design team—"Vera Stark" is theoretically ideal for this industry town. We meet the ambitious title character (Lathan in a nuanced, stellar turn) in 1933, running lines with starlet Gloria Mitchell (Amanda Detmer, deliciously over the top). Gloria, known to Depression-era masses as "America's little sweetie pie," desperately seeks the leading role in a forthcoming antebellum epic titled "The Belle of New Orleans." But as soon becomes apparent, Gloria owes her professional survival to the cagey Vera, her maid and ambiguous ally, and nobody perceives the contradictions, both in their relationship and in the dream factory, more than Vera herself.
For there's another plum role in the "Belle" screenplay: Tilly, devoted slave to the property's doomed heroine. It's an opportunity not lost on Vera, nor her roommates Lottie (Gregory, assured and uproarious), a former New York "Blackbird" self-expanded to Mammy proportions to get work, and Anna Mae (a deftly understated Merle Dandridge), a light-skinned beauty negotiating the Tinseltown labyrinth as a Latin American bombshell.
Factor in the Mayer-esque studio head (a droll Spencer Garrett), the film's European wunderkind director (ever-reliable Mather Zickel), and an aspiring musician named Leroy (effective Kevin T. Carroll), and you have the ingredients for a well-researched, imaginative pastiche at once tickling and disturbing. The Act 1 climax, in which Gloria hosts a cocktail fete where Vera and Lottie consciously embrace stereotypes to catch the director's eye, is as hilariously double-edged as anything on the boards.
If "Vera Stark" ended with the priceless film sequence that opens Act 2, it would achieve its aims. However, Nottage thereafter drop-kicks us into a 2003 symposium, with Carroll, Gregory, and Dandridge taking on new roles caricaturing 21st-century archetypes who debate Vera's landmark career and decline. Interspersed with a live-action 1973 talk show, Vera's last known public appearance, the structural shift affords director Bonney and her players the full range of technical virtuosity—especially Lathan, who congeals the lovely Vera into Leslie Uggams' worst nightmare—yet hammers out the play's thesis until its ostensible focus becomes less important than swipes at pretentious academic discourse, '70s tropes, and so forth.
Still, the show looks sumptuous, with designer Neil Patel's sets, ESosa's costumes, Jeff Croiter's lighting, Shawn Sagady's invaluable projections and John Gromada's sound design exuding an elegant, cinematic flow, and even with the Act 2 longueurs, it's certainly entertaining. Nonetheless, "Vera Stark" should leave more of a bittersweet aftertaste than its impact here (think "In Living Color" meets Alice Walker on Cornel West's dime) provides.
Presented by the Geffen Playhouse, in association with Second Stage Theatre, at the Gil Cates Theatre, 10886 Le Conte Ave., Los Angeles. Sept. 26-Oct. 28. (310) 208-5454 or www.geffenplayhouse.com. Casting by Phyllis Schuringa.
Critic's Score: B