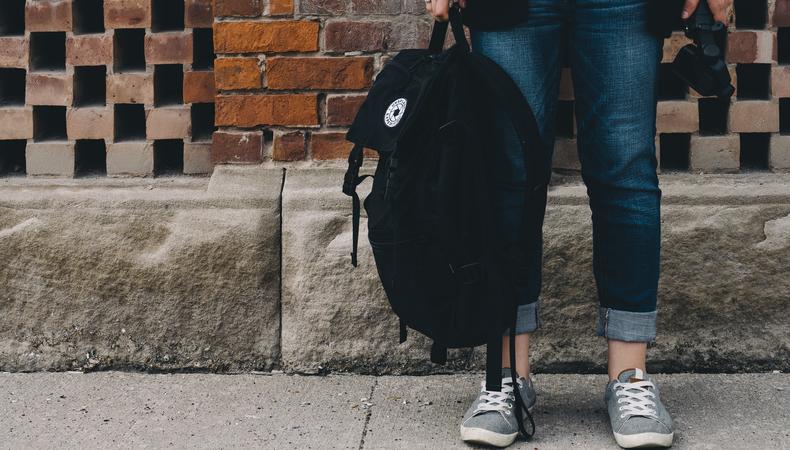 We've covered a bit of ground about deciding if a conservatory education is the right choice, what to look for, and what conservatories look for in their students. So what's next? Today, we're covering what you can expect during your first year as a conservatory student.
You'll develop a survivalist actor brain.
Many students in the first year develop what I call "the survivalist actors brain" in order to make their way in a less coddled environment. Conservatory training is practical, focused, and intensive so you have to keep up and face your fears about how to make your way in acting—and in the world. It's a complicated profession and you have to navigate many variables just to get to the starting line.
The first year in a conservatory starts teaching you to develop the stick-to-itiveness and drive you need to get where you want to go. You can't count on anyone to help you get there, so you'd better know what you want and be prepared to work hard to get there.
Prepare to be in the moment.
When you're in a conservatory, 90 percent of your classes are performance-based or experiential. That can be an adjustment from high school and a big difference from a typical college environment. You're constantly being introduced to new concepts and getting up and putting them into practice, right there, in the moment.
READ: The Best 24 MFA & MA Acting Programs in the U.S. and U.K.
At a conservatory, people will notice if you're not in class and they'll care. In many colleges and universities, you're a name on a roster and you either pass or you don't. That's not the way it works here. Every piece of information you miss has an effect on your growth. You have to make a commitment to yourself in a very serious way. Your mindset should be, "I'm an actor, I deserve the best training and that training deserves the most discipline I can give." A conservatory is for people who put their art before everything else, and you'll start to live that in the first year.
A conservatory approach done well is cohesive, focused, rigorous, and results-based. Faculty at a conservatory are committed to giving you the skills you need, so you need to make sure you care as much about your craft as they do.
The city is your campus.
If you move to a big city to attend school, the first adjustment will be how and where you live. Many conservatories offer housing options, but you may decide to live on your own. In either case, you should be prepared for the challenges of living in a city.
Part of the pleasure of being in a city like New York is living where so many great artists have lived. So much of that is alive; the history of the city is all around you. More than any college campus, it will challenge and infuriate you. Take advantage of all the opportunities a large city affords. It quickly teaches you how to deal with some of the practical discomforts of life actors face.
You're responsible for calling your landlord, cleaning your living space, stocking your kitchen, and getting to class on time no matter if the trains and buses are running on time.
Most conservatories have a typical university schedule, which means you may have one class on Monday, two on Tuesday (with a huge break between them). You must manage your own time. Negotiating the demands of your schedule with the demands of homework and rehearsals and possibly a part-time job will be tough.
It's like fast-forwarding into your life as a professional. A conservatory really pushes you out there.
You'll receive professional training.
You'll be pushed in a particular direction. Most conservatories have chosen a certain pedagogy in which to ground their program. Some programs offer a buffet style approach, encouraging you to try a bit of everything until you decide what works for you. When you choose a conservatory, you choose a way of training and you'll be expected to commit to it.
I hope that after your first year you'll, understand that acting is human problem-solving. One of our goals is to make you a more courageous and curious person. You'll know your instrument and love it when you're working hard. You'll be on your way to creating a body and voice that tells stories well, with flexibility and imagination.
At many conservatories, you must be invited to the second year of training. Your performance matters. If you don't pass a class, you're probably not coming back. Most conservatories put a premium on attendance and professionalism. Because conservatories tend to be feedback-rich environments, if you're listening and taking your instructors' notes, you should have a very good idea of how you're doing all the time.
The views expressed in this article are solely that of the individual(s) providing them,
and do not necessarily reflect the opinions of Backstage or its staff.