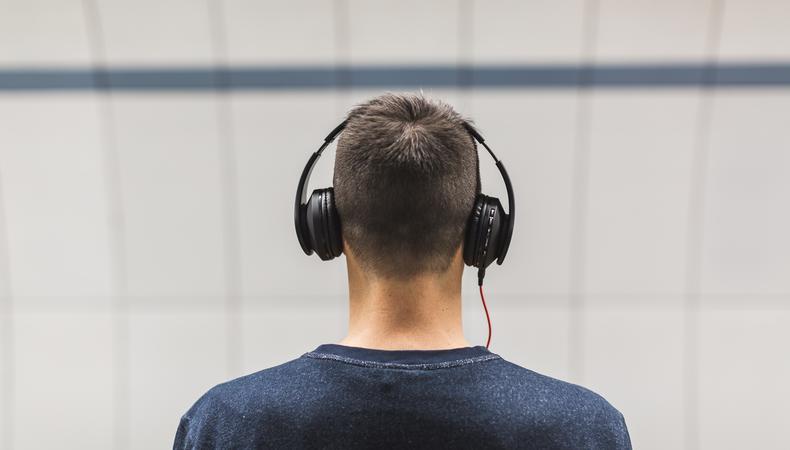 If commercial broadcasting of the 1920s ushered in the Golden Age of Radio, it can certainly be argued that technological advancements of the early aughts ushered in the Golden Age of Podcasts. These intimate audio programs have taken the world by storm with over one million series available for listeners to stream on-demand. The sign of a truly great podcast, though, is its ability to take us back to school. And fortunately, aspiring dramatic writers have a plethora to choose from.
Everything from how a script is structured to how to land an agent can be learned from listening to podcasts. So, in no particular order, here are 10 of the best episodes to put in your ears and help jumpstart your writing career.
The Podcast: "Keep It"
Episode: "Kelly Ripa to Shreds with Tanya Saracho"
"Keep it" is one of the most widely recognized pop culture podcasts—and for good reason. Hosts Ira Madison III, Louis Virtel, and Aida Osman have mastered the art of uncovering the ways our favorite films and television shows relate to politics and society. In this episode, comedian Rae Sanni subs in for Osman, and the trio chat with Tanya Saracho, a working playwright, actor, and artistic director, and the creator-showrunner of "Vida" on Starz. Dramatists of all disciplines will benefit from the conversation, which delves into how Saracho balances her writing worlds while advocating for more equity and diversity in the entertainment industry.
Podcast: "Don't @ Me With Justin Simien"
Episode: "The Dream with Issa Rae"
Justin Simien and Issa Rae know how important it is to invest in one's self; their "big breaks" came by way of their own pen. Simien, known for creating the indie-turned-Netflix dramedy "Dear White People," hosts the show in pursuit of "unfiltered conversations" with some of the most recognizable names working in Hollywood today. This episode with Rae, creator of the Emmy-nominated "Insecure," is no different. While they drop countless gems for emerging TV and screenwriters, they also speak honestly about the pressures of positive representation, knowing when it is time to take a break, and the importance of play.
Podcast: "The Call"
Episode: "Ep. 006 Lena Waithe"
It is almost impossible to be a student of television and not know the name Lena Waithe (and if you don't, you should). The Chicago-born writer and producer has taken the industry by storm with a résumé as long as a CVS receipt: Showtime's "The Chi," romantic crime feature "Queen and Slim," and "Master of None," to name just a few. In this episode of "The Call," hosted by author and entrepreneur Erica Williams Simon, Waithe breaks down every step she took, hustle she landed, and piece of advice she held near in order to make her dreams come true.
Podcast: "In the Envelope"
Episode: Rob McElhenney
It is no secret that Backstage is the No. 1 resource for artists looking to learn more about the entertainment industry (you're here, aren't you?), so it's fitting that our own podcast makes the cut. And in this episode, host and Backstage's awards editor Jack Smart sits down with Rob McElhenney, co-creator of FX's uber-successful "It's Always Sunny in Philadelphia," to discuss the ways he's managed to forge ahead despite never having had any formal training. Instead, he credits learning the craft to watching "hours and hours and hours" of television and advises aspiring TV writers to do the same.
Podcast: "Call and Response"
Episode: "Ep. 44 Living in Color With Jocelyn Bioh"
"Call and Response" is one of the theater industry's most beloved podcasts; host Felicia Fitzpatrick interviews some of the Black performers, designers, directors, administrators, and other theater-makers all paving a lane for themselves on and Off-Broadway. Although guest Jocelyn Bioh is now attached to an array of heavy-hitting projects including the Danai Gurira and Lupita Nyong'o-helmed adaptation of "Americanah," most came to know as the playwright of "School Girls; Or, the African Mean Girls Play," a searing satire of beauty standards around the world. In this episode, Bioh delves into how she found her knack for writing comedy and why she has made it her mission to tell authentic African stories.
Podcast: "Another Round"
EpisodeL "Ep. 68 Two Dollars and a Paper Clip with Ava DuVernay"
Although this formerly Buzzfeed-owned podcast has remained on hiatus since 2017, "Another Round" hasn't lost an ounce of relevance. In over 100 episodes, co-hosts Tracy Clayton, a journalist and audio producer, and Heben Nigatu, a staff writer for "Desus & Mero," covered an array of cultural topics with guests from Lizzo to Lin Manuel Miranda. But Episode 68, featuring director, writer, producer extraordinaire Ava DuVernay is one of their best. Since her life-altering decision to pick up a camera at 32, DuVernay has sent waves throughout the industry and broken almost every record for Black female filmmakers. This episode, however, dwells less on the fancy awards and big figure deals, and more on the joys of creating.
Podcast: "Little Fires Everywhere: The Official Podcast"
Episode: "The Adaptation"
Earlier this year, Hulu's Emmy-nominated drama "Little Fires Everywhere" joined the roster of television shows that produce accompanying podcasts. The official podcast provides a ton of compelling insight on the series, especially this episode featuring Celeste Ng, who authored the novel from which the series was adapted. Wondering just how such a successful book becomes such a successful television show? That and so much more in "The Adaptation," co-hosted by writer Jamie Loftus and showrunner/executive producer Liz Tigelaar.
Podcast: "On the Page"
Episode: "Ep. 197: Like an Escape Room"
"On the Page" has become known for host Pilar Alessandra's knack for getting the most illuminating answers out of her guests. (It surely helps that she has her own decades-long career teaching screenwriting and script analysis to draw from.) This episode, featuring Brian Keith Etheridge, writer of such sitcoms as ABC's "The Goldbergs" and CBS's "Mike and Molly," goes deep on the particular form of sitcom writing and the writers' room: who is there, what they do, and how to break into one.
Podcast: "The Subtext"
Episode: Leah Nanako Winkler and Mark Schultz
Every great actor knows how to play the subtext—and every great writer should, too. Of the several podcasts spawned from American Theatre Magazine, "The Subtext" best breaks down the playwriting process and what makes a great writer tick. Every episode is hosted by Brian James Polak, a playwright himself. In the first half of this episode, Japanese-American writer Leah Nanako Winkler speaks about the development of some of her recent successes and the funny ways real-life can intercept the work. In the second half, Polak is joined by academically-decorated writer Mark Schultz, who speaks on the importance of building a community around a new script.
Podcast: "The Toure Show"
Episode: "Ep. 105 Phillip Youmans"
If you've never heard of Phillip Youmans, it is probably because the 20-year-old (yes, 20!) writer and director just released his first feature film last year on Netflix. That film, "Burning Cane," made history and earned Youmans the title of youngest director to have a film accepted to the Tribeca Film Festival. This conversation, with author and journalist Touré Neblett, explains exactly how he did it all—from expanding the short film to a robust feature script and grassroots fundraising, to entering festivals and receiving praise from Ava DuVernay; a particularly great episode for young screenwriters working on their feature debut.
Looking for remote work? Backstage has got you covered! Click here for auditions you can do from home!