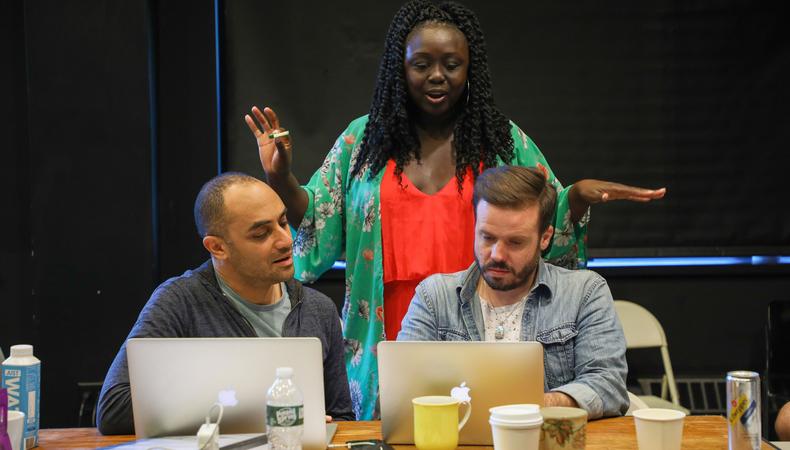 Somewhat surprisingly—their mediums aside—Jocelyn Bioh likens the creation of a new musical much more closely to working on a television show than to working on a straight play. And she certainly would know.
"Playwriting doesn't have to be super collaborative," she explains. "With a musical, we all have to be on the same page about what this moment means, and sometimes we aren't and we have to get there. Similarly with TV, nothing is yours. You write the script and then it goes off and someone else is directing it, those words are in someone else's mouth."
A multi-hyphenate both between disciplines and within them, Bioh is arguably best-known as a playwright for her Ghana-set coming-of-age dramedy "School Girls; or, the African Mean Girls Play" (so popular after its initial 2017 run that it returned the following year for an encore engagement). She's written for television on Netflix lightning rods "Russian Doll" and "She's Gotta Have it," and is also an accomplished actor, returning to the stage this fall in "For Colored Girls" at the Public Theater.
But with "Goddess," an original African musical on which she is collaborating with director Saheem Ali (who conceived the piece), composer Michael Thurber, and lyricist Mkhululi Z. Mabja, Bioh is still going where she hasn't before: the musical libretto.
READ: 29 Broadway Power Players Actors Should Know
"In a lot of ways, you're really trying to solve something," she says on a scorching morning in Poughkeepsie, New York, where "Goddess" received its world premiere at Vassar and New York Stage and Film's Powerhouse Theater late last month. "What I've found, especially with a musical, is you need to make sure the placement of the songs and everything is succinct. That's why you know when a musical is good and when a musical is bad—and we were really trying to avoid it being bad."
"Goddess," based on "The Myth of Marimba," has been through a years-long (and still-ongoing) developmental process, including a nine-month dry-spell wherein the team dispersed to give the piece some breathing room. It was during this time Bioh forayed into writing for the small screen; as it happened, the intermedium transition provided the precise code to crack the story. "I had been in two different writers' rooms for 'She's Gotta Have it' and 'Russian Doll' [when we reconvened] so I was like, 'Let's do this writers' room style,' and we straight-up broke the musical as if we were breaking an episode," she recalls. "We had storyboards and were like, 'This scene happens here, this is the next scene, this song happens here.' "
Throughout the musical's creation, the team has also relied heavily on their actors to illuminate the material at hand, a give-and-take Bioh has relished previously as both actor and playwright. And in that dual perspective, she has also become especially conscious of the opportunities her writing can provide actors, particularly those who are accustomed to performing within certain confines.
"Because I am an actor, too, I have the good fortune of knowing so many actors, and there's a lot of crossover in terms of [non-musical] theater actors I know who happen to know how to sing, and then musical theater actors who are really good actors but who never get to [show it off]," she says. "That's the other thing: As artists of color, rarely are we ever given these opportunities. [With 'Goddess'], we know we're in Mombasa, Kenya, but there's no mention of anybody being black, and that's part of my goal as a writer: to have specificity but also show the universality of our stories. Being able to have this full cast of incredibly talented artists of color do something wild and free—none of the parts are oppressive in any way—is really great."
Bioh is now part of a rich history of actors who are also playwrights (Shakespeare and Pinter come to mind), and it is no mystery as to why; her acting roots, she explains, make her an especially naturalistic playwright.
"Actors understand inherently, I think, dialogue and movement in story and character-driven work because that's what we do. We sit around and memorize these lines and really find a way to deliver the story, and in the case of theater, deliver that story eight times a week," she says. "We got a leg up in that way and I never thought I would be a writer. I took a playwriting course in undergrad to compensate for my theater credits that I wasn't receiving because I wasn't getting cast in anything because they cast a type. I wound up really enjoying it, and that professor was like, 'I think you have a really good ear for dialogue and I think you should continue writing.' Had she never said that, I may never have written again."
Much as that professor encouraged her to simply keep writing, Bioh's advice for the fledgling creator is equally without flourish: Just do it. "You can try and fail, and like, so what? Great playwrights have written crap plays, but they've also written incredible, life-changing work," she says. "The most important thing I share with people who have a desire to write is write. I meet so many people who say, 'I really want to write this,' and I'm like, 'What is stopping you?' Make the time, carve out the space, and write. We live in this big world of opportunity where you don't have to just write or just act. If you have a story to tell that you've never seen before, then you have the responsibility to write that story. Who knows where it will go?"
READ: Playwright Lucas Hnath on His Best Writing Advice
It's that responsibility that is propelling Bioh forward in her creative output, whether it be as an actor or writer, onstage or onscreen; she has a story to tell, and she does not take that duty in vain.
"If it's true that every play, every movie, every TV show is just recycling the same 10 ideas, then I don't think I'm reinventing the wheel, but I'm adding new spokes," she says. "I feel a really incredible responsibility as a first generation Ghanian-American to change people's perceptions of how the African diaspora is reflected in American society. It's a unique opportunity I have as someone who's first generation, whose parents are black but did not grow up in America. If my life's work is to be able to change people's understanding of that, it's a good mission."
Additional reporting for this story provided by Benjamin Lindsay
Want to hear more from the best creators in film, TV, and theater? Get it right here!