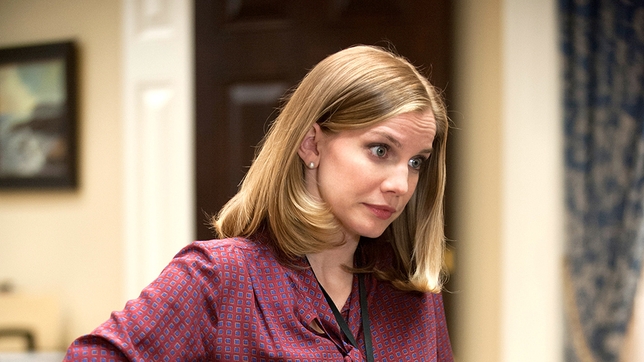 For the Emmy Awards, acting nominees get to submit an episode that they feel best showcases their talent. We'll be looking at the episodes submitted in each category over the next few weeks. Today, we look at the competitive supporting actress in a comedy category.
Picking an episode is a tricky thing—you want something that stands out and showcases your abilities, but also something that can be easily understood if the person watching has never seen the show before. This year, the race is tighter than ever, with seven—count them, seven—nominees. Here's a quick glance at what each actor submitted, and my thoughts on the episode.
Mayim Bialik ("The Big Bang Theory") - "The Fish Guts Displacement"
Amy comes down with a fever and forces a reluctant Sheldon (Jim Parsons) to care for her. Any episode that showcases the socially awkward pair trying to behave like a "normal" couple is solid.
Julie Bowen ("Modern Family") - "My Hero"
Clare tries to avoid her father, who is waiting for her to answer his job offer. A typically fun episode set in a roller skating rink that Clare used to work at. The scene where she returns to run concessions while having an emotional epiphany showcases great physical and verbal timing. As a bonus, she gets some tender moments with her tough dad.
Anna Chlumsky ("Veep") - "First Response"
The typically collected Amy loses it when Selina goes on the tough interview show "First Response" with Janet Ryland. A great showcase for Chlumsky, who starts off as cool and gets to have an epic meltdown. Plus, Janet Ryland is played by guest star Allison Janney and close approximation to Janney is always a bonus. (Read our Emmy interview with Chlumsky here!)
Jane Krakowski ("30 Rock") - "Hogcock/Last Lunch"
In the season finale, Jenna seems okay with the show coming to an end and prepares to take on Broadway. A bit of a cheat, as this is actually two episodes. Krakowski is, as always, brilliant as endlessly selfish Jenna. But there are other episodes that are better showcases, namely, "Unwindulax," where she finds she has a Jimmy Buffet-style following, and "My Whole Life is Thunder," where Jenna is furious Liz got married and took attention from her pending nuptials. Still, seeing Jenna try to steal Alice Ripley's Tony Award is a nice send-off for the character. (Read our Emmy interview with Krakowski here!)
Jane Lynch ("Glee") - "Feud"
When Blaine quits Cheerios, Sue seeks vengeance, culminating in her performing Nicki Minaj in a sing-off. Lynch is one of the only actors alive who could continue to be lovable when doing horrible things--in this case, she ruins Blaine's parents' credit and cements his hair. All that, and she gets a big musical number. Hard to top.
Sofia Vergara ("Modern Family") - "Yard Sale"
Gloria's secret past as a ventriloquist is revealed. To me, Vergara is the unsung hero of "Modern Family." She takes what could have been a one-note role (trophy wife with the wild accent) and creates a fully-fledged character: a mother, a wife, a friend. Watching her try to avoid Mr. Grumpy, her ventriloquist dummy, is hilarious, though sometimes the joke feels a little forced. But the ultimate reveal--that she married a version of Mr. Grumpy in Jay (Ed O'Neill) is wonderful.
Merritt Wever ("Nurse Jackie") - "Teachable Moments"
Zoey tries to make Ike more likable and transcribes a sexual encounter between Cooper and Carrie. Wever has truly emerged as the heart of the show and even after five seasons, she can make seen-it-all Zoey lovably naive.
Final thoughts: If it were based just on episode submissions, I would give "Veep" VIP Chlumsky the edge. Still, it's hard to compete with Lynch's showy ep and two-time winner Bowen's always great work. The most competitve category, all of these talented ladies are so deserving and it's truly anyone's game.