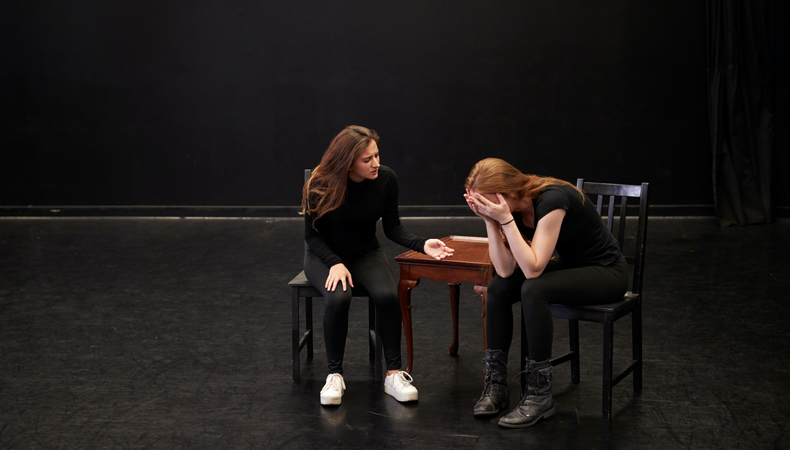 Drama schools play a vital role in launching actors into work. The school year is packed with physical theatre, music lessons and collaborative rehearsals. So how are drama schools coping with Covid-19, and will they reopen just as they were when they closed?
"I say to students that you are now pioneers of a new era. We are where we are, so let's embrace the opportunity. Despite the emotion and the uncertainty, this is exciting," says Sean McNamara, head of the Guildford School of Acting (GSA), and head of the Federation of Drama Schools.
Yet drama schools are in an exceptionally challenging position. Right now, there are few jobs for the graduates to fill, and the physicality and movement-based classes that make drama school such a distinctive and special place to learn are difficult to run, despite the government's partial and tentative easing on social distancing.
As a result of the pandemic, teaching has had to change. As with many higher education institutions, classes have either been postponed until later in the year, or moved online, which has meant a lot of behind-the-scenes work for course tutors.
The biggest challenge in McNamara's view is that everything at drama school is based on "show don't tell." He says: "Drama schools are a simulation of the industry, and productions are important because they represent the professional environment. Students have been disappointed that we've had to move online for teaching and that showcases could only happen virtually, but they understand. Despite understanding, there is still a keen sense of loss of experience and lack of interaction with each other, too."
He pays homage to staff who have worked furiously behind the scenes to create a virtual curriculum, using Teams, Vimeo, Zoom, and YouTube. "Obviously, no-one is fond of it, but students have been hugely adaptable. They've seen the opportunities that exist from working creatively," says McNamara.
"I'm full of admiration for staff who have worked incredibly hard and students for being adaptable. There's been a lot of unseen work at evenings and weekends. A lot of colleagues are balancing personal complexities, childcare, shielding health issues, unstable wifi; and I've heard this recounted across all the schools in the sector. What we're seeing is an incredible coming together and making the best of things."
How have 2020 graduates been impacted?
Lewis Snell, a new graduate from the London College of Music's BA Acting Course, says staff were hugely supportive: "When we heard our showcase was cancelled, we were initially devastated. Staff on the course had the idea to host an online showcase via Zoom. We all still produced amazing work, and if the possibility arises, there's a chance we could have a 'proper' showcase in the new academic year, providing venues open."
Zsara Jaeger studied BA Acting & Theatre-Making at the same school. She tells us: "It's heartbreaking seeing all the current and graduating students from all schools around the UK feeling totally helpless and worried about their future within the industry. That said, it's wonderful that so many industry professionals are offering up their time for Q&As and free classes or words of advice."
Jaeger showers praise on her tutors: "Our final-year production was due to take place at The White Bear Theatre in Kennington, but because of the current climate, the play was rewritten and has been adapted to the situation. Our wonderful course leader Alex Loveless had the brilliant idea to give us the chance to have one last show together as promised. We rehearsed for five weeks from our homes, then filmed the production. As the filmmaker, I took on the mammoth task of editing the production together. It aired on YouTube Premier, and it is the closest thing we can get to a live performance."
What about the next academic year?
While schools have evidently adapted quickly and admirably for their current students, a greater existential threat is the issue of the next intake. Who is going to go to drama school when, potentially, students won't be able to touch, interact, or even perform with each other?
Unsurprisingly, there have been a higher-than-usual number of requests to defer, particularly from the international students that provide a much-needed source of revenue for schools. GSA is trying to get around this is by pushing back the start of postgraduate courses to January, in the hope that the effects of the pandemic will be more settled by then.
And relying on online teaching for overseas students (as well as those from the UK) is far from ideal. Victoria Stretton, head of musical theatre at Trinity Laban Conservatoire of Music and Dance, recently told The Stage that "we have to be realistic about the technology students have available to them and the strength of their internet connection." And logistics aside, it's not just the teaching that students attend drama school for – it's the industry contacts, the peer-group they will grow up with through their careers, and – of course – the all-important final showcase, which serves as a launchpad to their careers, with its hope of snagging agents and casting directors.
Besides, the industry the schools are preparing their students for is changing, and fast. As Sarah Frankcom, head of LAMDA, told The Guardian recently: "I've got no idea what industry we're training them for now." And if theatre's future is in doubt, where does that leave theatre schools?
The government's recent £1.57bn lifeline for the culture sector gives theatre the hope that it is both valued by the country, and that a significant portion of it will survive. That said, at time of writing, there is still no date set for a re-opening of indoor venues.
TV and film, however, now have a roadmap back to production, and if there is a silver lining, it is that demand is stronger than ever for the magic that actors create. That is reason enough to believe that for drama schools, while the short term is going to need flexibility and creativity in abundance, the long-term outlook remains healthy.