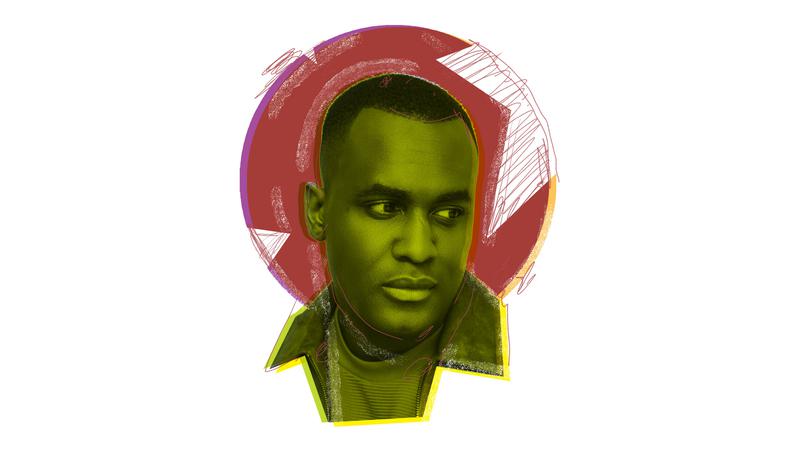 It's already been a great year for Kadiff Kirwan. He's finished his acclaimed stint as Sky Masterson on stage in Guys and Dolls, found himself on the wrong side of a ghost in BBC thriller Inside No. 9, and is in everyone's current Netflix obsession, The Stranger. Completing an all-star cast that includes Richard Armitage and Siobhan Finneran, Kirwan plays Wes, one half of a cop duo chasing leads in a case that begins with a decapitated alpaca and only gets weirder from there. Backstage sat down with Kadiff to find out what drew him to Wes, why he loves the challenges and rewards of theatre, and how bad behaviour and a volcano helped him discover acting.
What was it that drew you The Stranger?
When the script came through, I read three or four episodes in one sitting – it was so binge-able and moreish. There's an alpaca with its head chopped off, a body in a forest; it was weird and addictive at the same time. I guess it was the detective inside me that wanted to know what was going on. Also, I loved the character of Wes. He's an openly gay police officer in a great drama that isn't about him being gay – that was such a draw. And I loved that he was in this flipped version of a male and female detective duo. Where normally there's some sort of sexual tension, here it's a totally different relationship. He's gay, she's about to get divorced, he's the junior, she's in charge – it's brilliant.
What was the biggest challenge of your role?
Getting my head around the lingo and abbreviations police officers use and making their language seem normal to me. Also, finding a sense of fun within it. Just because Wes is a detective, it doesn't mean he's morbid all day! It was about marrying all that up and creating a person that has a sense of humour despite all the stress of his job.
What's the best thing you've learnt from a co-star?
I've learnt so much from Michaela Coel. Her brain works faster than anyone else I know, along with Phoebe Waller-Bridge and Aisling Bea. From Michaela, I've learnt to be fearless and ask forgiveness rather than permission. When it comes to any aspect of your performance, just go for it. Also, be curious. Often, as actors, we feel like our voices won't be heard, so if a word or sentence doesn't feel right we just get on with it. But you're the person on stage or screen – it needs to feel like it's coming from you, so there's no harm in asking questions.
READ: Phoebe Waller-Bridge Shares Some Unlikely Audition Advice
When did you know you wanted to be an actor?
I was bad at school. Like, really bad. And I had a drama teacher who from Year 9 onwards hounded me and told me that my behaviour issues would calm down if I went to drama classes after school. She kept pestering and eventually I went. Suddenly, everything started making sense: I was acting out because I was dealing with being gay and not telling my peers or my family because they're quite religious. And I had been plonked in a new environment because my family and I moved to the UK after escaping a volcano [the Montserrat eruption the late 1990s]. I was going through a lot at the time, and acting was the thing that saved me. It gave me my voice.
What advice would you give your younger self?
Don't be ashamed of performing. I hid it up until we did a school production of Bugsy Malone. None of my mates on the sports team knew I was doing drama and on the opening night I saw all the lads in the back row. I was like: "Oh my God, how do they know I'm in this show?" But at the end of my number they got up and cheered. After the show they were like: "Mate – we're so proud of you, why would you hide this from us?" I missed out on a lot of time that I could have spent sharing that joy with my friends for fear of rejection and ridicule. So, be fearless and be honest.
What is your worst audition story?
I was in LA a few years ago and was taken out on the town by an actor friend of mine, the lovely Tituss Burgess from The Unbreakable Kimmy Schmidt. I had an audition for a TV show the next morning and set off feeling a bit ropey. Anyway, I arrived and was halfway through the monologue before…well. I threw up in my mouth. And I had to swallow it. So, yeah. I did not get that job.
READ: Everything UK Actors Need to Know About Auditions
Is your heart on stage or screen?
I love screen but my heart will always beat for the stage. With TV, the minute they shout cut, that performance isn't yours anymore. There'll be a director, editor, and composer, etcetera. But when you're on stage, when something goes wrong you're able to change it in the next scene or the next performance. You can feel if something's not working with the audience straight away. I love that live electricity. Nothing compares to it.
How do you deal with rejection?
Rejection never really gets easier. It's less painful when you actually get the "no" but often you don't hear back at all, which is awful. If someone's going to present their work to you, the least you can do is let them know. But you have to know it's momentary. You might be out of work for months but something will come along. It's just the nature of the job. Now, if I'm free in any way, I write. It's a passion I can do between acting. But if that falls through, I pull a mean pint.
What movie should every actor see?
This is going to be contentious. Gangs of New York. It's one of my favourite movies and Daniel Day-Lewis is one of the best actors that's ever lived. I'm not sure about his method because, personally, I've never done that. But I can see that whatever he's doing outside of being on set is clearly working. The film itself is a bit sexist and there's some dodgy racial politics, but as a performance-piece between Day-Lewis, Leonardo DiCaprio, Cameron Diaz, and some wonderful British actors like Jim Broadbent, it's majestic.
More for UK actors? Check out the magazine.