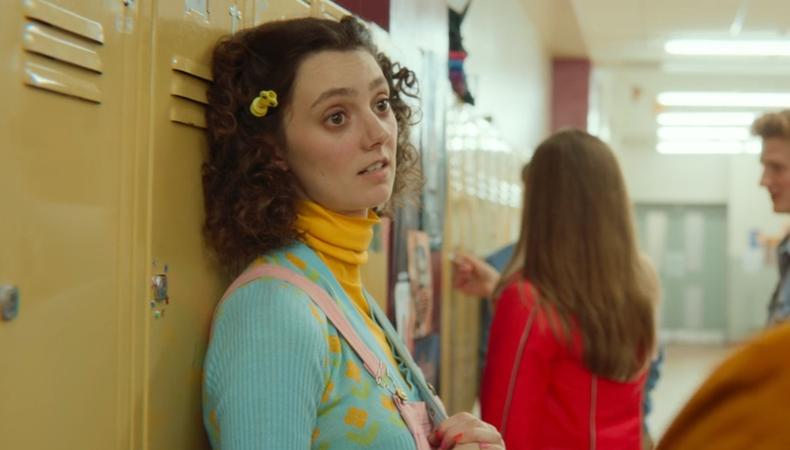 When Netflix's hit series Sex Education dropped last year, it seemed to encapsulate everything the pioneering streamer is doing right: a willingness to take risks, a refusal to dumb down, and an understanding that global entertainment doesn't have to mean homogenous – that it's OK to be idiomatic and niche.
These same qualities could also apply to one of the show's breakout stars, Tanya Reynolds. For those not familiar with Moordale High, Reynolds stars as Lily Iglehart, a clarinet-playing misfit hellbent on losing her virginity, yet struggling to make it happen. Reynolds is, by her own admission, funny-looking, inherently weird, and definitely "not a heroine." Those are the attributes that got her noticed by the casting team for Sex Education, a major critical and commercial success that's now been streamed by over 40 million viewers.
READ: The Audition Trick That Got Asa Butterfield Cast on Netflix's 'Sex Education'
Yet those same attributes nearly killed off Reynolds' acting career before it had begun. Speaking to the Sunday Times, she said: "When we did Bugsy Malone [at school], I auditioned for Tallulah and got Knuckles. In Grease, I auditioned for Rizzo and got the teacher, Miss Lynch. In Alice in Wonderland, I auditioned for Alice and got the Dodo. It's just been the story of my life." And it wasn't just the lead roles that eluded her – a prospective agent once told her she "would struggle to find work in television, because I'm not ordinary-looking enough to play ordinary people."
But it wasn't until she arrived at the Oxford School of Drama that she discovered the insights that would fuel her whole acting career. Reynolds has credited the drama school, which she attended on a full scholarship, for its vital support in opening doors to the industry. Speaking to the Evening Standard, she says: "I don't think drama school is necessary for everyone, but for me personally it was because I just had no other ins."
READ: The Acting Conservatoires UK Actors Should Know
But it also instilled two critical lessons: firstly, that the biggest parts are not necessarily the best; and secondly, "to embrace everything about myself that I thought was flawed, and [to understand] that they are not flaws at all, but incredibly useful tools"; they're also the reason she'll now be starring in Scenes with Girls at the Royal Court in London, and hitting big screens next month as Mrs Elton in a film adaptation of Jane Austen's Emma.
As television continues to level up its sophistication, it seems clear that this celebration of "flaws' – of outlying talent and of the diversification of traditional screen stereotypes – will vindicate Reynolds' self-belief and conviction to continue working at her craft in the face of a sometimes-sceptical industry. And with a boom in screen production and a seemingly inexhaustible demand for quality content, the outlook is bright for actors that, like Reynolds, feel that they were not born to be the heroine.