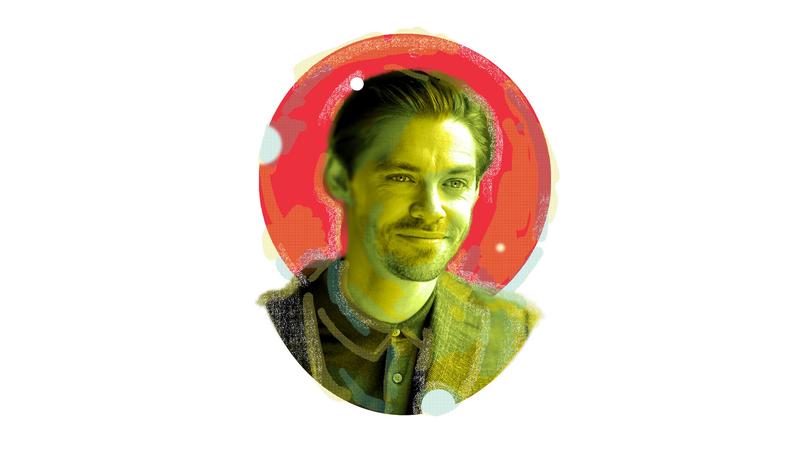 Fans might know Tom Payne as Jesus, the bearded, long-haired martial artist on AMC's "The Walking Dead." Since the British actor's departure from the show last year, Payne has ditched the facial hair and mane, cleaning up to star on Sky Atlantic's new crime drama, "Prodigal Son," on which he plays a criminal profiler whose father (Michael Sheen) is an infamous serial killer. The actor talks auditioning, getting his UK Equity card, and landing in America.
What has this role as Malcolm Bright on "Prodigal Son" added to your acting skills?
I think, primarily, acting is like working out a muscle; the more you get to do it, the bigger that muscle gets. When you're leading a television show and you're working every single day with other brilliant actors, you're on top of your game. When I was on "The Walking Dead," I was working with some great actors, but I wasn't working very much. It wasn't stretching me very much. Whereas on this show, I'm using every trick that I have and it's pushing me in so many different directions. And to work with wonderful actors—Bellamy Young, Michael Sheen, and Lou Diamond Phillips, all these people who are really experienced and have all their tricks and their strengths—it's really fun to get into a room and throw your skills around.
READ: How to Audition for 'The Walking Dead'
What advice would you give your younger self?
As a younger actor, I would've taken advice, but I would've still done what I wanted to do. [Laughs] I was pretty individualistic and went out and did my own thing, but then I got stuck in a rut in my career just before "The Walking Dead," where I had fallen into trying to give the industry what I thought they wanted in auditions and trying to fit into some kind of mould. I had done a movie with Stellan Skarsgård; he had become a bit of a mentor for me, and I went to see him. He brought me back [by saying], "You have to do you. You have to be yourself and you have to try your hardest, but go with the qualities that are you." After that, I did a test for something and then the second thing was "The Walking Dead." Just falling back onto my natural strengths and my natural rhythms and not trying to force myself into something else. Ultimately, it's got to be about trust in yourself. Don't have too much bravado.
Do you take that mindset into auditions? How else do you prepare?
The industry has changed a lot even since I've been doing it. Auditions aren't as prevalent now. I used to love auditioning. I loved going into the room and meeting casting directors. Most of all, I love being redirected; that's where I feel like my strengths come into play. I can play the scene any way you want me to play the scene, and I think it's fun to try scenes in different ways. I'm allergic to coming in with one take on the character. That goes back to my theatre training in London. The way that I learned was you spent four weeks rehearsing and figuring things out, and I still carry that with me in my film and TV career. Right up until the minute before action, I'm trying stuff out, and I'm still trying stuff out in the scene.
For auditions, I would generally go in knowing the words and knowing the character but always being completely prepared to do something else. Self-taping, which is so prevalent now, was a real struggle for me for a long time. First, because I don't want to watch myself and change what I'm doing. I want to come in and do it and go home. I've been fortunate in that I've reached a point in my career that I have enough work behind me, but I will still always go in and read if someone wants me to. I love auditioning; I really enjoy it.
READ: How to Become an Actor in the UK
How did you first get your UK Equity card?
I did one episode of a TV show called "Casualty," which is set in the ER department of a hospital. It's one of those rite-of-passage shows that everyone does at some point. And then I did six months in the West End in a play called "Journey's End." There are these plays that come along that people apprentice in. You come in and casts turn over. We were the fifth cast of "Journey's End." It was a great apprenticeship to do six months of a show with all different ages of actors. And then I did an Off-West End show and then I got started in television with a regular [role] on a TV show. I haven't been back to the theater, mostly for monetary reasons, if I'm being honest. I want to make sure that I'm financially stable in my TV and film career, and I'd love to go back and do some theatre.
What performance should every actor see and why?
Theatre in general—any theatre—is valuable for people to go see, any live performance. It's important to see good stuff and bad stuff and understand what it is you like.
What advice do you have for UK actors looking to come to the U.S.?
That's all changed a lot, too. I came out in 2010. I booked a show on HBO called "Luck," which got me my working visa. I moved out with that and stayed here. The net has spread in a different way now, but I would have never come out to America on a whim. What I actually did was get a career in England. I did a movie called "Miss Pettigrew Lives for a Day," which had Frances McDormand and Amy Adams in it. It was Focus Features, an American company, and I used that as my ticket into America. I would never have come over here just on spec. First of all, because there are hundreds of thousands of actors here, so something has to mark you out. It was important for me to have a calling card when I came. I used that [movie] to come over, and then I met with agents and managers and I started auditioning for American things. The immigration thing is hard. I have a green card now, but you have to work with the whole visa situation. Nowadays, American companies are more reluctant to sponsor visas and green cards, but they'll be more likely to if you come over with something. I'd say work hard at being successful in your own country and then chase the almighty dollar.
What's the wildest thing you've ever done to get a role?
There was a movie called "Lords of Chaos," about this black metal band in Norway, and I dressed up in makeup and did this very dark video. I feel like that stuff doesn't really work. In America, they like you to walk in the room and be the person. The imagination isn't quite there in the same way that in England, they like the transformation. [They like] that you walk in one thing, and between action and cut, you're something else. In America, I started using my American accent all the time. If I go in British in America, they always think they can hear my British accent.
What is your worst audition horror story?
I auditioned for "Boogeyman 3" or something 10 or 12 years ago, and you've got the casting director talking you through a scene where you're crawling through a ventilation shaft. You don't have any lines and you're crawling and they're going, "You're crawling through and it's really creepy and you look left and—Oh, my god, it's the Boogeyman!" You have to react, and it's completely absurd. I went for a vampire audition for a straight-to-DVD thing, as well, where it's like, "Show us your vampire face!" You've got all these actors baring their teeth at the camera.
You do it because you need to eat food. You'd rather be doing that than any other job. One of the main things about being an actor is you do thousands of job interviews—more job interviews than any other profession—and most of the time, you don't get the job. If you look at my résumé, I think there are about 25 jobs on there now and I've been working for 14, 15 years professionally. So that's under two jobs a year. One of them might be two weeks and the other might be four weeks. And the rest of the year you're just hanging around. In order to get those, there's a bit of a cliché: It's a marathon, not a sprint.
This story originally appeared in the Nov. 7 issue of Backstage Magazine and has been updated for the UK premiere of "Prodigal Son," which is out now on Sky Atlantic and available to stream on NOW TV. Subscribe here.
Are you a UK actor looking for work? Check out our auditions!