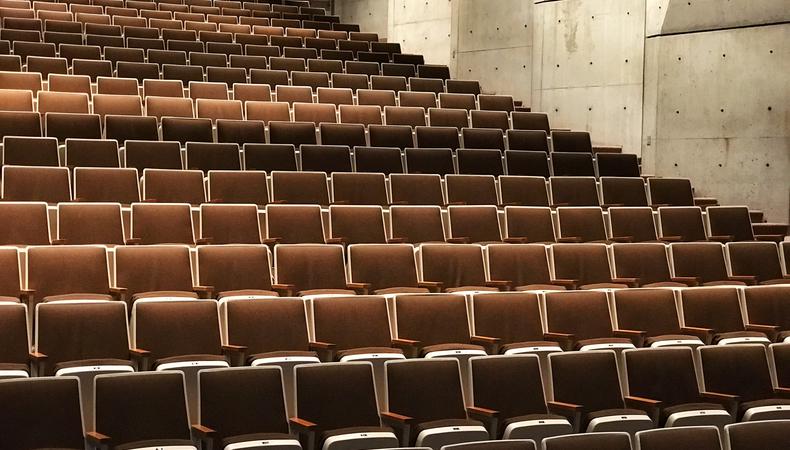 On the evening of the 16th March, theatres across the West End closed their doors as people were advised to distance themselves from each other by the government. Arts venues around the country followed suit. The Society of London Theatres (SOLT) put out a message saying that all London and member theatres will close until the government recommends re-opening.
The situation has also affected fringe theatre, with London's Vault festival – an eight-week celebration of small companies and comics who come together under Waterloo Station to showcase new plays and work – closing early. Regional theatres like Leicester's Curve Theatre are not immune. In fact, there are concerns that audience numbers could be permanently affected and theatres could lose perilous amounts of money.
But there's a silver lining. Despite the frustrating situation, the creative industries are doing what they do best and coming up with creative solutions to the problem.
Coronavirus + the UK Entertainment Industry—the Latest
The fightback begins
SOLT recommends: "If you're looking for ways to show your support to the theatre industry and all its hardworking professionals, please consider purchasing Theatre Tokens, which you can use once our theatres are back up and running. These can be used at over 260 venues across the country and have no expiration date."
And it seems the rest of the performance world is going virtual. Casting directors Sophie Holland and Faye Timby have launched #CastingCrushesCorona to move away from any threat of infection in the rehearsal room. This ensures casting continues and the industry doesn't simply stagnate for when the threat of the virus has passed. Holland tells Backstage: "The response has been overwhelming – thousands of actors have reached out. We had no idea that there would be such an appetite for the one-to-one sessions, or that other casting directors would be so willing to dive in and stand with us in supporting the industry. Those who have families and can't give time to one-to-one sessions are encouraging actors to send over reels, monologues, and self-tapes." She adds: "Faye and I are unbelievably proud of the way the industry has reacted."
The BBC is also doing what it can to support the performing arts, with a series called Culture in Quarantine. As part of this, shows including Emma Rice's Wise Children, which was first shown at the Old Vic, and Mike Bartlett's Albion – filmed at the Almeida – will both be broadcast.
Individuals take charge
Individual actors have also started to direct themselves. Actor Robert Myles is trying to make sure everyone stays focused on their training and has set up a virtual reading group for professional and amateur actors to perform Shakespeare's plays in the order they were written. The first performance is on 19 March, showcasing Shakespeare's first play, The Two Gentlemen of Verona.
A virtual theatre company, the Coronavirus Theatre Company (CTC), has also started up, run by Samantha Neale, Brian Lonsdale and Michael Blair, a group of actors from the north-east. Lonsdale explains how this new company is likely to operate: "We were joking around on Twitter about creating work while in quarantine, and it sort-of snowballed into an idea to link up actors with writers to live stream monologues and short scenes, and by the afternoon we had a WhatsApp group chat in full swing."
He adds: "In less than a day we've amassed over 1,500 followers, so we really think this is resonating with people and they want to get involved."
The plan is to link actors with writers and scripts, and rehearse while CTC builds their platform and audience. "We will then schedule a series of live performances showcasing new writing and actors. People can tune in live, or they can watch later, and this will be available on all social media platforms and available for artists to download for showreels and funding-bid promotional material."
Where Self-Isolating UK Actors Can Get Their Culture Fix Online
Individuals and smaller companies may be particularly at risk from the shutdown, but there's a degree of optimism too, with – as the CTC demonstrates – lots of creative spirit. Director Olivia Munk says she's luckier than most because she wasn't in the middle of rehearsals when the shutdown happened. "All my projects are being cancelled one by one. It's been drip by drip."
Munk explains that she was also taking a show to the Edinburgh Fringe Festival and had put down a £3,500 deposit on accommodation for the summer. "Airbnb is being great, but we don't know what will happen with that now."
Munk adds: "I have to be optimistic about the future. I like to think people will be more than ready to go out and see things and be in rooms with other people. The physical aspect of theatre is the antithesis of today's crisis. They'll be tired of Netflix and Amazon Prime – though thank God for them now. But they'll be reminded of how great live shows can be."
Drama schools
Drama school showcases have been cancelled, with third-year students begging agents on Twitter "not to forget about us later in the year."
That hasn't stopped some casting agencies from trying to help. Pearson Casting asked all drama schools via Twitter to collate their students' showreels, load them onto a single Dropbox link, and then they will help circulate the reels.
The Guildhall School of Music and Drama tells Backstage: "We suspended all face-to-face teaching from Wednesday 18 March. Where possible, teaching will be moved online until the end of the term. This decision has been taken to prioritise the health and wellbeing of our community." They tell us the situation will be reviewed during the Easter holidays in time for the start of next term on 20 April.
Audrey Thayer is the artistic director at the Drayton Arms Theatre. She tells us: "As you can imagine, the majority of our shows are cancelled. I say the majority as a couple may go ahead by live-streaming their show to audiences online. But for the first time in a long time, the theatre will be sitting empty. It's horrible.
"As of now, I still have shows tentatively scheduled for the beginning of May, but they will be preparing to postpone as well if need be," says Thayer. "For me, the health and safety of my companies and my audiences are the most important thing, so while I am devastated, I'm going to do my best to support creatives and hope for the best."
Equity's Coronavirus + Financial Support Advice For Actors
Slivers of hope
But the fact that there are so many things being done across the system shows just how much other performers and artists care about each other. Playwright and performer Bryony Cummings kickstarted a funding campaign called #Gigaid. She posted on Twitter: "Over 4 days we collected £21,000 of donations from artists and art workers to help other artists and art workers who've lost vital income in March. We hope it means 40 people can make rent or buy vital things or pay vital bills. If we need to we shall try again next month."
Thayer from the Drayton Arms says: "As for myself, I am busy managing the damage, but once that's done I'll have a think as to what I can do to support creatives from home. I will certainly be here should anyone want to discuss their concerns for future productions, to bounce ideas off of, to read your script and give some feedback – whatever I can do to help.
"The thing that gives me a sliver of hope is that in the darkest times, when everything else stops, people are turning to artists. They're watching movies and TV, streaming, reading books, and writing. My hope is that in future, art will finally be valued as it deserves to be."
More for UK actors? Click here.