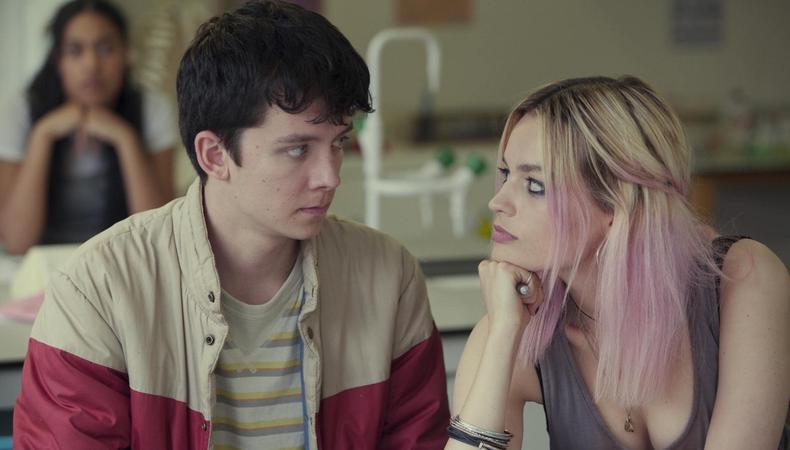 Developments in the business of acting are not always front-of-mind for time-pressed creatives, yet can have a major impact on how their careers develop. That's why we've created The Business, a series to help UK actors and performers stay updated on the key stories that will affect the nuts and bolts of their professional lives. This week, Equity announces an agreement with Netflix, ITV says no to all-male comedy writing teams, a landmark new settlement for West End actors is agreed, and more news from the business of acting in the UK.
Equity secures first deal with Netflix
Equity this week announced the first direct agreement between the union and Netflix, scoring a minimum weekly fee for actors working with the streaming giant. With Netflix growing the number of series and features shooting in the UK and looking for a permanent UK production base – likely to be leased from Pinewood, the deal will secure the rights of the increasing number of actors working on their productions.
The terms see a minimum rate of £715 per week for performers, covering three months of streaming on Netflix as well as securing extra pay for content staying on the site for longer periods. Equity's agreed minimum fee will increase by 2% per year for the duration of the three-year agreement. After saying the union were "delighted" to reach an agreement with Netflix, Equity confirmed it would be continuing discussions on other issues and is also talking to a "range of new streaming platforms that also wish to produce in the UK."
READ: Why Netflix Is so Successful + How to Get Involved in the UK
HMRC's tax guidance 'a complete bodge and a disaster'
HMRC's tactics are "wilfully undermining the incredible success story of the UK's creative industries," according to Equity's general secretary Christine Payne, with far-reaching consequences for performers "across the business." In a statement last week, Payne said that tax officials were making a "grab for revenue" and were guided by forces that "do not understand our sector." Referring to a tax test case involving Robert Glenister, Payne said she was thankful the actor had "put his head above the parapet on behalf of all the members concerned" but warned that more was to come for people across the entertainment industry.
Equity confirmed that new tax guidance created with Society of London Theatre (SOLT) and UK Theatre was due to be signed off with HMRC in 2018, but that "after months of delays by HMRC," the union had received a final draft in April 2019 that was "completely different from what had been agreed." Describing this new draft as a "complete bodge and a disaster," Payne warned: "If this new guidance becomes official, engagers would have no choice but to put [most performers] on to PAYE – not just in film or TV but also in theatre." Equity is to lobby major industry associations and broadcasters to "change this injustice," with Payne calling on all members for support. Read more here.
READ: The Essential Actor's Guide to Paying Tax in the UK
London musical academy investigated over safeguarding concerns
London's Musical Theatre Academy (MTA) is being investigated following concerns about safeguarding and governance at the school. The Charity Commission last week opened a regulatory compliance case to look into practices at the MTA, saying they have been made "aware of concerns." Blogger Carl Woodward responded to the news on Twitter by claiming to "have heard a lot of horror stories about [MTA]". He added that it was "an institution that allegedly mistreats young people by unhelpfully fetishising mental health issues". In a longer post on his blog, Woodward suggest that although investigations of this kind are common, "there is no smoke without fire."
Students and employees past and present have taken to social media to defend the school, which runs a two-year fast-track course in musical theatre. Director Derek Bond argued that MTA is "different to most drama schools" because they "put caring for the mental health and well-being of their students at the heart of everything they do," adding that MTA has "a counsellor on the staff." Opening in 2009, the school has twice been awarded School of the Year by The Stage, has piloted innovations such as self-taped auditions and boasts of securing independent agents for 100% of students ahead of graduation. Jon Harris, chair of MTA's trustees, told The Stage the school is "fully committed to ensuring that we provide a totally safe environment for all our students" and has "complied in full with the Charity Commission's request."
Equity and SOLT West End Agreement a 'huge step forward'
Equity's landmark new West End Agreement has secured a significant rise in basic pay for members alongside improved terms of employment. Under the agreement with umbrella organisation the Society for London Theatre (SOLT), basic pay in the largest West End theatres will rise to more than £700 for the first time, while fees for performers with additional responsibilities like understudies, dance captains and swings will increase by as much as 44% over the next four years. The agreement will also see performers receive Christmas day as a "free day off" without a reduction in salary or holiday entitlement.
In a nod to those calling for opportunities to job share or work flexibly, the new deal sees rights for flexible working incorporated into contracts, with theatre management having to consider requests "carefully and sympathetically." Equity's West End organiser Emmanuel de Lange said that prior to this agreement's implementation, members had to "argue their case for flexible working a number of times." With the new agreement, having flexible working "in black and white in the contract" means performers can talk to managers without fear of negative repercussions.
Elsewhere, the agreement sees clauses improving access to preventative measures for physical shows to reduce the likelihood of injuries, a timely response following auditions, and commitments to better casting opportunities in line with Equity's Manifesto for Casting. De Lange said the deal "takes important steps in reflecting progress in wider society" and that this was a "huge step forward." Read more here.
READ: What Is Equity + Why Should You Care?
ITV will no longer commission shows by all-male writing teams
ITV's head of comedy Saskia Schuster took the step after a survey of her commissions revealed a "significant lack" of women in scripted comedy. Speaking this week, Schuster said that the review into the gender balance of scripts revealed five scripts by men for every one from women. Read more here.
Lenny Henry: BAME workers and creatives are afraid to speak out about the lack of diversity in the TV industry
The actor and comedian argued that people from ethnic minority backgrounds in TV fear "being oppressed or fired" if they raise concerns. Henry called for "safe spaces" in the industry for people to vent their feelings without "fearing the noose," and suggested that financial incentives for diverse productions could also help. Read more here.
Campaign group finds most carers in screen industry feel impact is negative
Raising Films have found that a majority of people with care responsibilities felt it had a negative impact on their careers, with most receiving no financial support while caring for dependents. The results of the We Need To Talk About Caring survey also found that more than a third of respondents earn less than £10,000 per year. The group are now lobbying the screen industry to make a commitment "to start, or to continue, to address the clear desire from carers working in the screen industry for more awareness, flexibility and support." Read more here.
For more from Backstage UK, check out the magazine.