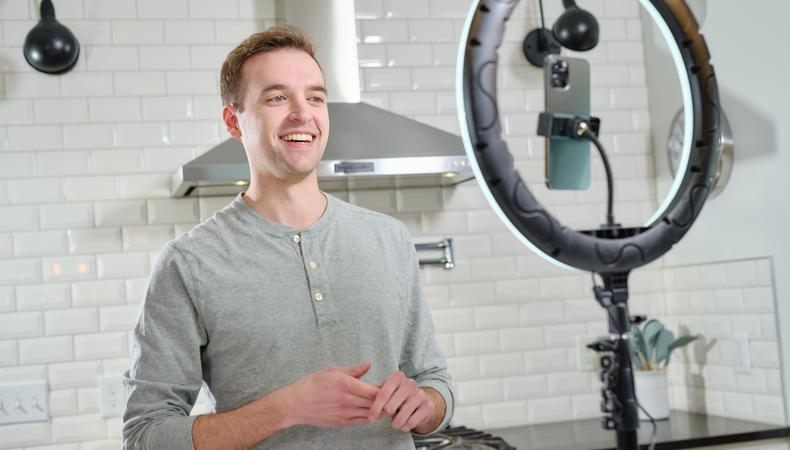 With listings across all experience levels and project types, Backstage provides a wide range of potential opportunities to actors and performers of all kinds, with thousands of new casting calls added each day.
Take advantage of Backstage's tools and resources to make yourself stand out to casting directors, brands, and other creators using our talent marketplace.
Build a complete profile
One of the most crucial ways to stand out in a sea of candidates is to take advantage of our profile building tools to create the most detailed, resource-rich profile possible.
Regardless of your previous experience, a detailed profile with high-impact media helps you get discovered in talent searches. Not all casting directors rely on previous experience to tell the whole story. So make sure your profile details who you are and everything you have to offer.
Ben Mehr, producer and owner of Grand Production Films, recently told us, "We like to let the talent speak for themselves" when it comes to casting, that even if a candidate does not have a lot of previous experience, if they meet the attributes his team is looking for, then the interview and self-audition reels are crucial to finding out who has the raw potential to meet his needs.
Make sure your profile includes:
A clear headshot


Your profile photo is the first thing about you a talent seeker sees. Opt for a headshot that accurately reflects your appearance in real life. Keep in mind key considerations for a stand-out photo, including good lighting, a neutral background, and minimal editing.

Find out more about the essentials of a great headshot.


Up-to-date information


Getting cast starts with a potential employer knowing who you are and what you can do. Use your profile to its full potential by detailing your skills, location, education, union status, credits, and any other relevant attributes. Filmmakers and casting directors may be using filters or keyword searches when looking for talent, and you never know what they might be looking for. Can you ride horses? Speak French? Add it to your profile! A complete profile brings you and talent seekers closer to finding the right fit.




Media assets that show off your skills


Like your headshot, any videos, audio reels, and samples added to your profile should be high quality. Media samples are an easy way for a talent seeker to see and get inspired by what you have to offer. Also consider linking previous projects as part of your profile media library.
A complete profile is your best first step in being found and applying for jobs. Read about more ways to maximize your profile.
Search for jobs with powerful filters
Easily browse job openings on our platform and filter results by casting call requirements, such as gender, location, production type, compensation, and union status. When you find a role that suits you, submit your application with the click of the Apply button or save the listing to revisit later.
Be sure to search often and apply promptly. Busy casting directors are always looking to save time and cast quickly, which means early applicants are much more likely to advance in the casting process.
Pay attention to the details
Being attentive to detail when reading and responding to a casting call ensures applying to a role that's a good fit, smooth communication and scheduling, and demonstrating your interest and enthusiasm.
Including a brief cover letter when applying for a role will demonstrate your suitability and ability to follow directions. Be concise and clear, and provide relevant examples of your work. Your cover letter is your chance to say why you're the ideal fit for the role. Get advice about formatting, language, and more in our cover letter guide.
Also be sure to attach relevant media when applying for a role. Is the role in a comedy or drama? Supply appropriate materials to help the hiring director to envision you in the part. Take the time to ensure your self-tape or audio audition looks and sounds good. Lighting and sound quality, length, shareability, and other factors will all shape the casting person's perception of you. Learn how to make a killer audition tape, with advice from a top director, examples, and best practices.
Show them you're reliable
Following through on prospective jobs is as important as finding them. Check your messages frequently. Respond promptly to invitations and audition requests.
We hear again and again from talent seekers how much they value professionalism and responsiveness. They are often on tight deadlines and want to know from the start whomever they might choose to work with is going to be reliable and committed to the project.
For live or remote interviews or auditions, be punctual and prepared. Demonstrating reliability builds relationships with creators that may very well shape the trajectory of your career. Being professional from the moment you apply to a gig all the way through landing and completing it builds your reputation and the possibility for more and better jobs in the future.
Hone your craft, build your career
Successful performers continuously work at their careers. Here's how you can, too:
Keep up with trends in your industry.

Seek out training to refresh or learn new skills.

Read up on entertainment news.

Sustain and expand your network.

Keep your profile updated with new jobs and skills
Backstage's large repository of articles and guides helps keep you in the know. Don't miss out on new content added every week!
Read on: