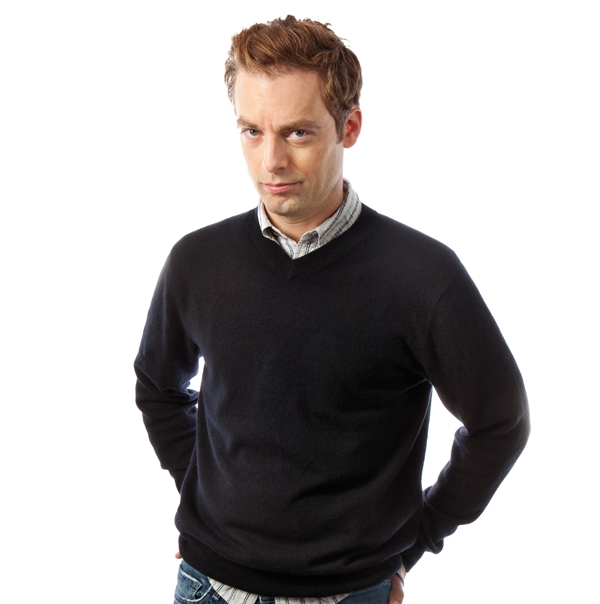 Justin Kirk has to go to the dentist after this. He goes every six months. "Dental hygiene is very important," he says, admonishing me with mock solemnity for my admitted neglect.
He has plenty of reasons to flash his well-manicured chiclets lately. After eight years as eccentric Andy Botwin on Showtime's "Weeds," Kirk is starring on NBC's "Animal Practice," a prime-time comedy that was given an early premiere halfway through the Olympics closing ceremony, sparking negative Twitter fervency. The show will undoubtedly move past the initial #AnimalPractice backlash moment and flourish, because Kirk is downright, hilariously vicious as a cantankerous veterinarian in a fight for control over an animal hospital owned by his ex-girlfriend.
"He's the opposite of Andy Botwin. Andy Botwin loves life, and this guy has a much narrower emotional range," Kirk says. "I feel like we're really taking a big swing with this show; it could fall on its face or it could be something really new and exciting."
"Animal Practice" came to Kirk through a familiar channel. Bob Greenblatt, who had developed "Weeds" when he was the head of Showtime, moved to NBC and reached out to Kirk while programming his fall slate. Shortly after, the show's writers took Kirk out to lunch, and he was sold. "I wasn't planning on doing another series or anything like that, but it was so completely different [from 'Weeds'], it seemed silly not to try it," he says.
Born in Salem, Ore., the 43-year-old Kirk wanted to be an actor from the time he was 3. Having caught the bug, Kirk attended the Children's Theatre Company in Minneapolis, whereupon, after graduation at 17, he hightailed it to Los Angeles. Lasting just six months ("I thought [L.A.] was gross"), Kirk enrolled at the Circle in the Square Conservatory in New York, which led to roles in the Broadway plays "Any Given Day" and "Love! Valour! Compassion!" For the latter's Off-Broadway run, he received an Obie Award. It wasn't until being cast on the WB's "Jack & Jill," his first television show, that Kirk made a permanent move to the City of Angels.
From there, Kirk's portrayal of Prior Walter in Mike Nichols' 2003 HBO miniseries "Angels in America" garnered him critical acclaim and an Emmy nomination. Acting opposite Meryl Streep and Al Pacino, Kirk held his own despite inner turmoil. "I was very overwhelmed and scared during most of it," he says. "I was intimidated by my co-workers and by the material. But I think that fear read in a good way."
Kirk's natural comic energy landed him "Weeds" and has led to the part of a sex-addicted vampire alongside Alicia Silverstone in Amy Heckerling's upcoming "Vamps," and that of Michael Caine's son in "Mr. Morgan's Last Love" opposite Clémence Poésy.
For the most part, Kirk is dry and unflinchingly sarcastic, but he turns serious when speaking about his philosophy toward acting. "I have a theory called 'talent is desire,' [which means] that there's no such thing as talent," he says. "Instead, if you see something that resonates, then you need to figure out what that is, and how to do or be that, and then you find a way. I have to believe that also, because if I thought there was such a thing as talent, then I would have to know that we had a ceiling somehow, and I believe that anyone can be Meryl [Streep] on any given day. Not that we will. But the point is that—whoa, I didn't think we'd get this pretentious!" He laughs before continuing. "But creative energy all exists up here, right? And so whatever talent is, it's not inside of us—it's us tapping into it."
With that, he flashes his pearlies one last time and dashes off to the dentist.