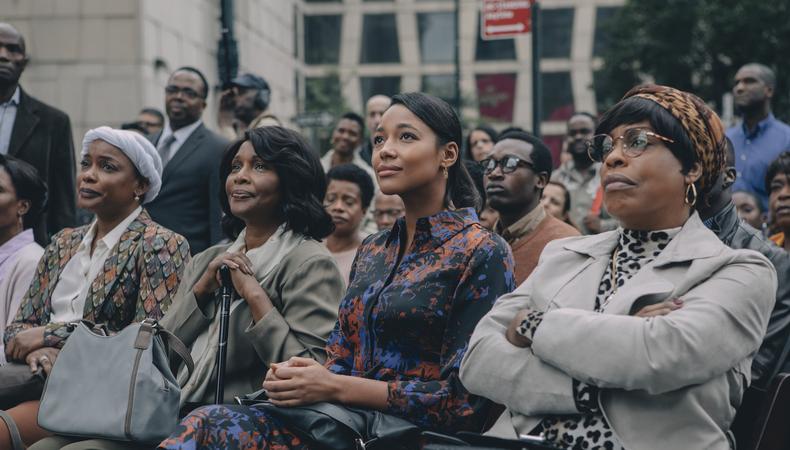 The time has come to crown the very best of television's best. Before the 71st Primetime Emmy Awards on Sept. 22, Backstage is rounding up every nominee in the major acting categories across drama, comedy, and miniseries. Below is a refresher on their stellar performances, how they earned the Television Academy's recognition, and why we couch potatoes on staff can't stop thinking about them. Read on for your 2019 Emmy acting voting guide—and pick your favorites!
OUTSTANDING LEAD ACTOR IN A LIMITED SERIES OR MOVIE
Mahershala Ali, "True Detective"
Yet another in a string of unmissable performances, Ali's detective Wayne Hays further solidifies the actor's status as one of today's brightest stars. Watch the way he moves his eyes as an old man, struggling to remember (or intentionally obfuscating?) the details of a case so disturbing, it unfolds over the course of decades.
Benicio Del Toro, "Escape at Dannemora"
Renowned for a grimace that could turn blood to ice, Del Toro harnesses his effortless aura of intimidation as a convicted killer who, you're convinced, would have no qualms about killing again. In this Showtime miniseries, the actor throws a certain frenzy into the equation; his character's escape from Clinton Correctional Facility is made all the more thrilling because of the uncertainty in Del Toro's face and actions.
Hugh Grant, "A Very English Scandal"
Grant's customary charm is shadowed, ever so slightly, by something menacing in Russell T. Davies and Stephen Frears' adaptation of John Preston's book about Jeremy Thorpe. His parliamentary leader will stop at nothing to silence the threats of his former lover (Ben Whishaw), all while maintaining a sunny, charismatic, distinctly English veneer.
READ: Everything You'd Ever Need to Know About the Emmy Awards
Jared Harris, "Chernobyl"
Fans of Harris are no strangers to the tragic characters he's played, whether it's the doomed King of England or an in-over-his-head ad exec. But his Valery Legasov might top them all. A fierce advocate for safety and truth in the face of a criminal cover-up, Harris acts as the series' guide to truly understanding both the technical and political powers at play in the titular disaster.
Jharrel Jerome, "When They See Us"
Jerome is the only actor to depict the teen and adult versions of a member of the Central Park Five. On top of that achievement, the fourth part of this Ava DuVernay series follows him through the prison system to which he's been unjustly sent. The rising star so vividly captures Korey Wise's pain as he struggles to maintain his innocence, it's impossible to forget.
Sam Rockwell, "Fosse/Verdon"
In depicting one of musical theater's most fascinatingly fabulous collaborations and relationships, "Fosse/Verdon" had to grapple with gender dynamics and the way history remembers men who are deemed geniuses. Part of what made Rockwell's performance as Bob Fosse so refreshing is that he didn't shy away from showing the director's notoriously womanizing ways.
OUTSTANDING LEAD ACTRESS IN A LIMITED SERIES OR MOVIE
Amy Adams, "Sharp Objects"
On this magnetic, horrific, phenomenal HBO limited series, Adams continues a curious trend: movie stars who come to TV and give perhaps the best performances of their careers. Watching her scarred reporter Camille return to her hometown to investigate two mysterious deaths, swigging vodka, blearily glaring about, and deteriorating into an emotional (and, of course, physical) masochism, it doesn't feel sacrilegious to call this Adams' best-ever work.
Patricia Arquette, "Escape at Dannemora"
"I didn't do anything wrong. I mean, not really wrong." Thus Tilly Mitchell reveals her inner reasoning for aiding two convicted murderers in their infamous 2015 upstate New York prison break. As played by Arquette in the schlubbiest of getups, emitting a whine that borders on campy, Tilly makes her questionable decisions with various, and fascinating, levels of shame.
Aunjanue Ellis, "When They See Us"
It's essential for a character to give a commanding, positive voice in a story as gut-wrenching—and true to life—as this one. As Ellis' Sharon Salaam guides her son Yusef through his unearned hardship, she's inspiring and authoritative, her strength helping him (and us) maintain faith.
Joey King, "The Act"
A long résumé can already attest to King's range, but "The Act" will be the defining role that proves her dramatic chops. As the real-life Gypsy Rose Blanchard, King altered her voice and appearance to become the Munchausen by proxy victim, torn between her desire for independence and her devotion to her mother. Both her obedience and deception are chilling; by the end, it's hard to remember King is only pretending.
Niecy Nash, "When They See Us"
When Nash is onscreen, you may forget that this Netflix miniseries has the stories of five teens at its center. Her portrayal of Delores Wise, grieving her son Korey's childhood as he's unfairly tried as an adult, is as heartbreaking as those guilty verdicts. Nash has shown time and again that she can carry a comedy, but her dramatic skills shine under DuVernay's direction.
Michelle Williams, "Fosse/Verdon"
Williams' riveting turn as Gwen Verdon, spanning decades, is an example of studiousness and authenticity; her vocal mannerisms and ease in dancing attest to this actor really doing her homework. But what pushes Williams' spectacular performance over the edge is simple: She's having so much damn fun.
OUTSTANDING SUPPORTING ACTOR IN A LIMITED SERIES OR MOVIE
Asante Blackk, "When They See Us"
It's a lot to expect a first-time actor to carry the weight of a project like "When They See Us," but Blackk does. His portrayal of a defenseless, innocent teen abused by the criminal justice system drives home the unfairness at the center of this story. He captures Kevin Richardson's youth in ways that reiterate how it was stolen from these five boys.
Paul Dano, "Escape at Dannemora"
The dynamics between "Dannemora"'s three central characters shift all the time, making the task facing its stars a steep one; Dano in particular keeps the chemistry electric through the thriller's every twist and turn. We knew Dano could play creepy, and even stupid, but there are glimpses of a dead-eyed, almost transactional aspect to his David Sweat that feels new.
John Leguizamo, "When They See Us"
Trying to be supportive from afar but with grief eating him from the inside, Raymond Santana Sr. is always calling his son in prison. As portrayed by the always wonderful Leguizamo, this man is desperation made manifest. Those wondering how to convey a range of emotions alone, with only a phone as a scene partner, should study him.
Stellan Skarsgård, "Chernobyl"
Skarsgård's Boris Shcherbina would be a curmudgeonly grandfather if "Chernobyl" were a different sort of series. But it's the story of a real disaster—and of a person who endangered millions of lives in the name of patriotism. His journey begs viewers to come around, the same way he does, to the truth. But the actor's portrayal forces audiences to understand what it meant to be a Soviet leader at the time.
Ben Whishaw, "A Very English Scandal"
Norman Scott was a relatively ordinary British man—until his love affair with a member of parliament, who then tried to have him killed. Watching the emotionally and psychologically nimble Whishaw chart that journey is a treat; he's particularly adept at somewhat losing his marbles.
Michael K. Williams, "When They See Us"
Bobby McCray goes through every conceivable emotion when his son Antron is accused of a crime he did not commit. And although he never apologizes with words for his wrongs, thanks to this actor, we see his regret in his face and body. With an actor as stunning as Williams onscreen, what is not said holds infinitely more weight than what is.
OUTSTANDING SUPPORTING ACTRESS IN A LIMITED SERIES OR MOVIE
Patricia Arquette, "The Act"
A 2019 double Emmy nominee, Arquette served TV audiences a double whammy of disturbing characters this year. On Hulu's based-on-a-true-story miniseries, she disappears into the role of Dee Dee Blanchard, a mother suffering from Munchausen by proxy. Her lived-in portrayal of this mental illness can be equal parts agonizing and infuriating for viewers; she'll make your skin crawl.
Marsha Stephanie Blake, "When They See Us"
As Linda McCray, mother to Antron, Blake surely had to draw from her deepest wells of emotion. Vulnerability, determination, hope despite heartbreak—the actor throws herself into the role with as much vigor as McCray herself had while trying to protect her son and hold her family together.
Patricia Clarkson, "Sharp Objects"
Delicate and dangerous. No performance in recent memory has so thoroughly captured the intersection between those two qualities, or so completely reinvented the Southern grande dame as Clarkson's in this Marti Noxon–created, Jean-Marc Vallée–directed series. As Adora Crellin, smothering her daughters in love and pain, her every careful mannerism evokes the likes of Bette Davis and Tallulah Bankhead—although Clarkson clearly belongs in a class of her own.
Vera Farmiga, "When They See Us"
None of Farmiga's natural warmth and trustworthiness are present in her transformation into prosecutor Elizabeth Lederer, who went out of her way to lock up the "Central Park Five" and blatantly ignored evidence that suggested their innocence. As, essentially, one of this series' villains, the actor does not hold back.
Margaret Qualley, "Fosse/Verdon"
It's good that awards voters are now aware of Qualley; they should get used to seeing her name on nomination lists. Her fabulous breakout performance as dance legend Ann Reinking—slinking, strutting, and, of course, seducing Rockwell's Fosse—proves a scene-stealing breakout.
Emily Watson, "Chernobyl"
Watson's whip-smart, no-nonsense Ulana Khomyuk is a positive presence amid the grim landscape of the Chernobyl disaster's aftermath. The actor commands the technical language with ease, while never letting us forget her humanity, instantly earning trust in Khomyuk's heroic mission.
This story originally appeared in the Aug. 15 issue of Backstage Magazine. Subscribe here.