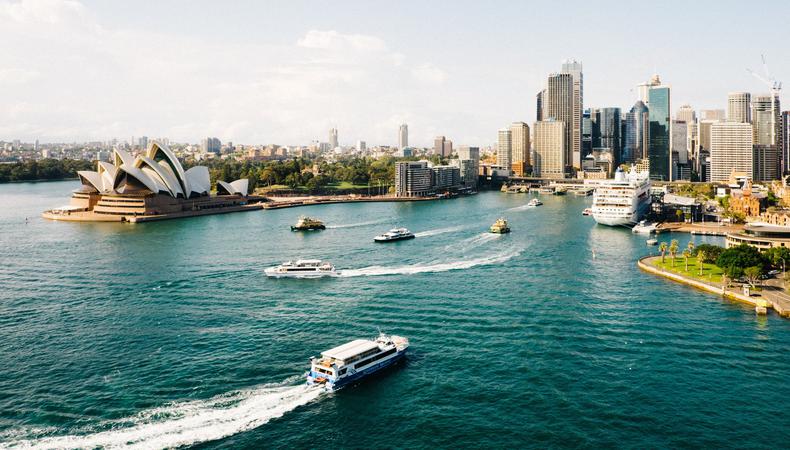 The entertainment industry in Australia may still be comparatively small to that of the U.S. or U.K., but that doesn't mean the country is lacking in talent—or the talent agencies to represent them. From Shanahan Management to Lisa Mann, these are the six agencies every Aussie should know.
But before diving into the best Australian acting agencies, there are a few regional differences in representation worth highlighting. Unlike the majority of actors in the U.S. and UK, Australians tend to be co-represented internationally—for example, they will have both a U.S. manager or agent and an Aussie rep. This gives the actor a better chance of attaining more consistent (and often more varied) work than what the local industry is currently able to support and offer. All of the agencies on this list have strong relationships with their counterparts in the Northern Hemisphere.
Another difference is that referrals aren't as widely "required" in Australia (although they can help separate you from the pack, especially if you're relatively new). But in a tighter-knit industry, a bad reputation can spread remarkably quickly. Aussies are somewhat notorious for a "no divas tolerated" policy. Celebrity isn't quite the get-out-of-jail-free card it might be elsewhere. One Australian agent has even said she'll always pass on "serious talent" if it comes with a "serious attitude."
If you're opting to self-submit, timing can also be significant. Most agencies will be keeping an eye on the graduating classes at WAAPA, NIDA, and VCA towards the end of the year, so sending your enquiries out before August is generally recommended—unless you are a student at one of these drama schools, in which case reaching out in the lead-up to showcase (i.e. around September or October) will work in your favour.
Now that you have the lay of the land, we'll break down the top six Australian acting agencies and their submission policies. The following isn't an exhaustive list—there are a number of wonderful, smaller boutiques around the country, too—but it's important to be aware of the leaders in any market. Moreover, Aussie agencies have historically tended to be more open to hearing from emerging talent than the CAAs and WMEs of the world. Maybe you'll be exactly what one of the "big six" are looking for!
Breakdown: Sydney office. 3 agents, 94 clients.
Notable clients: Katherine Langford ("13 Reasons Why"), Callan McAuliffe ("The Walking Dead"), Eliza Scanlen ("Sharp Objects"), Devon Terrell ("Cursed").
Submission policy: Online contact form via the website (select the "Actor Enquiry" option in the drop-down menu).
Founded in 2014 by Paul Dainty, Theresa Huska, and Tracey Silvester, IMC has cemented its place as a leading acting agency within a very short span of time. Representing both actors and presenters, IMC clients are just as frequently working in the U.S. (or elsewhere overseas) as they are at home.
Both Huska and Silvester are former RGM agents (see below) with a combined 16 years of experience in their roles there, while Dainty is an experienced music and theater producer who's staged Australian tours by Eminem, Miley Cyrus, Michael Bublè, and Kate Perry, amongst many others.
Breakdown: Sydney office. 7 agents, 170 clients.
Notable clients: Yael Stone ("Orange Is the New Black"), Josh Lawson ("Bombshell"), Kat Stewart ("Offspring"), Damon Herriman ("Once Upon a Time… in Hollywood").
Submission policy: Direct email submission with a headshot, CV, and showreel attached.
A high-profile player since 1993, LMCM was established by senior agent, Lisa Mann, and has since represented a wide range of talent, from actors to voices, creatives to corporate speakers.
Of Mann, Kat Stewart, who was taken on as a client before she had "a single TV credit," has said, "I trust Lisa implicitly. She always has my best interests at heart and works from a place of integrity and honesty."
Supported by fellow agents, Belinda Maxwell, Melina McKenna, and Scott Pietriche, as well as assistants, Elly Speer, Gee Singh, and Jenna Curran, it's rare to see a home-grown film, TV series, or stage production without an LMCM client in the mix.
Breakdown: Sydney office. 4 agents, 107 clients.
Notable clients: Phoebe Tonkin ("The Originals"), Myles Pollard ("X-Men Origins: Wolverine"), Rachel Taylor ("Transformers"), Nathaniel Buzolic ("Hacksaw Ridge").
Submission policy: Online contact form via the website (select the "Representation" option in the drop-down menu). A current headshot, CV, and showreel are required.
Established in 2004 and led by company directors David Sheridan and Matt Andrews, Marquee Management's team is rounded out with the addition of agents Emma Langley and Cassandra Moore.
Similar to LMCM, Marquee's clients include actors, voices, and creatives, and are just as committed to fostering emerging talent as they are furthering the career goals of their more seasoned artists.
They also have several musical theater regulars (recently seen in "Rent," "Pippin," and "The Boy from Oz"), so it could be a good option for those all-singing, all-dancing folk.
Breakdown: Sydney office. 6 agents, 137 clients.
Notable clients: Cate Blanchett ("Carol"), Ryan Kwanten ("True Blood"), Rose Byrne ("Bridesmaids"), Anthony LaPaglia ("Without a Trace").
Submission policy: Industry referral only (e.g. from a director, producer, casting director, network executive, film or drama school). Once referred, an email submission (under 5MB) including a headshot, CV, and link to showreel is required.
RGM is an all-encompassing agency representing talent across the spectrum of the entertainment industry. Their clients include actors, directors, producers, cinematographers, authors, voice artists, presenters, and influencers, to name just a few.
On the acting side, Erin O'Connor (partner), El Erdmane, Trent Baker, Aimee Ravek, Brittany Mowday, and Jackie Maurer are behind the seemingly ever-present roster of talent who've been making waves since RGM's inception in 1982.
Breakdown: Sydney office. 7 agents, 164 clients.
Notable clients: Nicole Kidman ("Big Little Lies"), Hugo Weaving ("The Matrix"), Isla Fisher ("The Great Gatsby"), Geoffrey Rush ("The King's Speech").
Submission policy: Direct email submission with a headshot, CV, and showreel attached.
Shanahan's client list can almost read like a "who's who" of the most beloved Aussie talent. And not just in front of the camera—their books of voices, directors, and writers are equally as impressive.
Formed in 1973, Shanahan is currently headed by Ann Churchill-Brown and backed by Simon Whipp, Sarah Nathan, and Alex Culliver, with assistants Amelia Fell, Lachlan Parry, and Jessie Whipp, no doubt expertly aiding to manage the steady demand.
Breakdown: Sydney office. 3 agents, 93 clients.
Notable clients: Elizabeth Debicki ("Widows"), Ben Mendelsohn ("Rogue One: A Star Wars Story"), Toni Collette ("Hereditary"), Brenton Thwaites ("Pirates of the Caribbean: Dead Men Tell No Tales").
Submission policy: Direct email submission with a headshot, CV, and showreel attached.
Set up by two ex-Shanahan Management agents, Natasha Harrison and Lee-Anne Higgins, ex-RGM agent Trish McAskill, and business manager Catherine Handley (also ex-Shanahan), United Management boasts a truly formidable presence despite only coming onto the scene in late 2011.
Focusing their efforts solely on a roster of actors and voices, the three agents have utilised their prior industry experience and connections well, resulting in notably constant work for their artists. In addition, they have a strong track record of finding and supporting unknown talent. "Trish is very much like a mother and best friend," Tilda Cobham-Hervey ("I Am Woman") has said. "She is the leader of our careers and lives!"
If you'd like to explore all your representation options available in the land down under, visit the Media, Entertainment & Arts Alliance (MEAA) website and search for agents in your area on the resources page. These lists are updated regularly and include relevant state legislation guidelines, as well as sample questions deemed worth asking in your interactions and interviews.