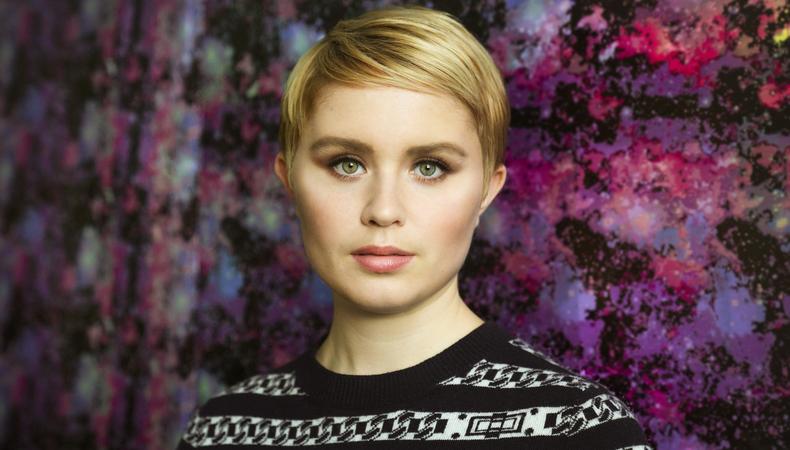 The following Backstage Live was compiled by Backstage readers just like you! Follow us on Twitter (@Backstage) and Instagram (@backstagecast) to stay in the loop on upcoming interviews and to submit questions live on camera.
After her intense breakout role as Amma on HBO's "Sharp Objects," Eliza Scanlen has become one of the industry's buzziest up-and-comers with no signs of slowing down. She made her Broadway debut earlier this month as Mayella in Aaron Sorkin's "To Kill a Mockingbird," and she'll next be seen on the big screen as Beth March in Greta Gerwig's awards-caliber "Little Women" remake. She sat down with Backstage to talk about it all.
7 Pointers From Greta Gerwig on Making a Movie
Gerwig's audition process was unconventionally casual.
"I was with Greta and [casting director] Francine [Maisler]. Greta brought a bunch of her friends to play the other sisters. I don't think they were necessarily actors, they were just her friends. I feel like that explains Greta so well as a person. She wants to make people as comfortable as possible, especially in the audition process. I just remember it was a scene with Jo and Beth, and we were in these office chairs, bawling our eyes out. We were all just totally immersed in the scene and in our love for these characters. It was a really beautiful audition, and usually I hate them. I think because she's an actor, she has a very good understanding of how actors feel most comfortable on a set and what they need. I think it's really important that directors have some kind of understanding of how actors work in order to make the environment as inclusive and safe as it can be."
Scanlen brushed up on her piano skills when preparing to play Beth.
"It was kind of a prerequisite for the role, but I had to know how to play the piano, so I was [practicing] three hours a day…. I'd played since I was a kid, but I stopped when I was in high school. So just to get to the right proficiency, I started doing piano again."
The Fight for 'To Kill a Mockingbird'
She writes character journals for each role.
"I'm beginning to see a pattern with how I prepare for roles. I usually do a lot of writing, so I have a journal for every character that I take on and just sort of write. It's a different process every time, but I usually write about the character and just the general acting stuff…. Some of it sticks, some of it doesn't. It was really important, with this role especially, to be as close with the actors as I could, especially Emma [Watson], and Florence [Pugh], and Saoirse [Ronan]. We had rehearsals beforehand, which was really helpful. We became really close. Saoirse, Florence, and I, we were in the same apartment complex in Boston, so [we were] in each other's pockets all the time."
Research was key when preparing to play Mayella in "Mockingbird."
"It was terrifying to dive into this character, especially knowing that I was going to be doing this show eight times a week and giving that performance again and again and again. I knew it was going to be tiring, so there had to be some way I could sustain it. Again, I have a journal for Mayella. There's a research packet that we have for 'To Kill a Mockingbird' that explains the context of the town and the environment at the time—the political, social environment of the time. That was really helpful. I actually went to an acting coach this time. I went to Larry Moss; he's a renowned acting coach in New York, and we talked about Mayella and how to make her relevant for me in order to sustain the performance. So, a lot of writing, listening to some music, a lot of country music, to get me in the vibe."
Scanlen was a self-starter, even from a young age. Get into class and follow in her footsteps!
"I was very ambitious and just emailed casting directors straight up, even when I didn't have an agent. I was like, 'Please let me audition!' I would recommend getting an agent, but if you don't have enough experience to get an agent yet, I would recommend doing classes. I was doing classes all the time. In my early high school years, it was usually a weekend class where I'd go to NIDA, which is the National Institute of Dramatic Art in Sydney, [Australia,] and it would be a three-hour class on a Saturday. I'd do that every week. Just always learning with various courses and doing school plays. And just really taking—as long as it's safe—any work that you can, even if that means being an extra. I guess people say this all the time, but you kind of do have to start with an agent. That's where you find your feet. I found my first contact in America by doing a course with an Australian company that took me to the States for three weeks, and we just did acting classes. I met the managers I still have today, and they signed me there after we did a showcase. That was how I started auditioning and doing self-tapes. But, you know, it takes time. I auditioned for a lot of stuff, and a lot of it wasn't stuff that I really liked as projects. But that's the reality of being an actor. There's a lot of things that you've got to do that you don't want to do. Fortunately for me, all the stuff I have done I've adored, so I'm very thankful for that."
This story originally appeared in the Nov. 21 issue of Backstage Magazine. Subscribe here.