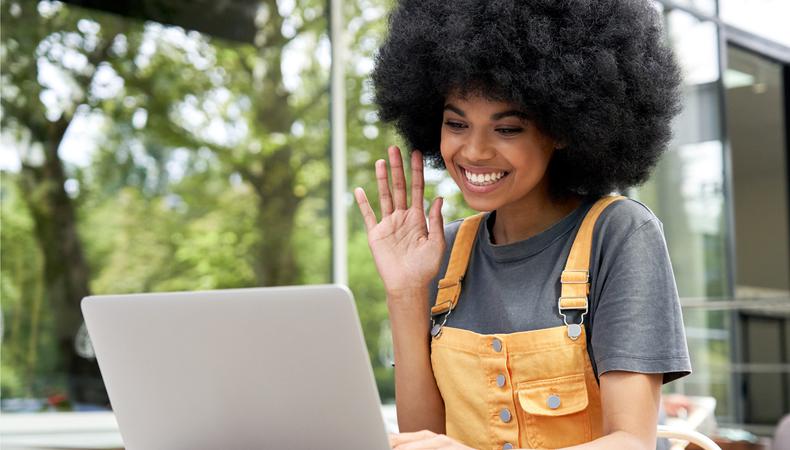 In 2020, actors and casting directors alike had to get used to doing the work of auditioning and acting in isolation. While both sides of the casting process were already familiar with or used to self-taping by the time the world went into quarantine, it's hard to prepare for getting creative with a reader when you can't have someone in your space with you, or designing a video conference audition that resembles the experience in the room. As casting directors settle into their new reality, today expecting it to continue far into the next year, they shared what they have learned and what they want actors to know about the "new normal" of the casting process.
Here's what to expect from a remote audition process.
"In the Zoom situation, I think you have to be prepared to have flexible space. It would happen where people would be perfectly framed, but when it was time to slate, they physically couldn't move. Try to find a flexible space. We're going to have the same kind of conversation that we have before an in-the-room appointment. We've been letting the actor speak first and seeing where they are. You're going to feel different if you're in your New York City apartment than if you're in your childhood bedroom. We want to make a place where people can briefly share during this time how they're feeling or what they might be going through. And then we get into the work. There will be two of us with you: One of us is going to run the camera, and one of us is there to read and interact with you." —Maribeth Fox
"Sometimes actors feel they can't practice auditioning unless they're in an audition, and I don't think that's true. There are so many opportunities now to expand your actor villages."
"Everything was done online. I never met a producer in person; I never met an actor in person. The callbacks, the screen tests, it was wild. I released the breakdown like we normally would and got thousands of submissions per role, like we normally would. The difference is, I'm not able to give redirection. That's a little bit of an unfortunate situation, because you could see an actor would be so close. In the room, you could give them a really simple note that allowed them to do that thing that you need in the scene. We did callbacks, but in real life, we'd have more time for those. Everything was different, and everything was also the same. We weren't in an office, so it felt like people—agents, reps, studio, network—had access to me all the time. The turnaround time was unlike anything else. My phone blowing up did not change. It felt really special, too, because we were moving so quickly, and we were in constant communication that entire time with the showrunners to make sure that I was on track. It was wild." —Sara Isaacson
It's not CDs' typical way of working, but there are advantages to the new practice.
"We're so used to seeing self-tapes now. We say to actors all the time, 'If you can't come in, even put it on your iPhone, just so we can see something.' We hire from self-tapes more than I think we ever have before. It doesn't mean you have less of a shot because you've self-taped and you're not in the room live with us, because typically in pilot season, half of the auditions we're seeing are from New York, Toronto, Vancouver, and Chicago." —Collin Daniel
"Contradictory to my personal preference to be in the room with actors, the ability to cast an entire project from anywhere was a positive. I was lucky enough to have the opportunity to cast one of the only projects shooting in Massachusetts mid-pandemic, and I did every single speaking role from my home office in Los Angeles. It was a very new experience for me. Still, I got to work with agents, managers, and actors in NYC and start many new relationships I probably wouldn't have been afforded under different circumstances. I'm also seeing some great content coming out of the pandemic; I have three beautiful scripts in the early stages of development borne out of this moment in time." —Russell Boast
"I miss being in the room with actors, but being able to audition people from anywhere was freeing." —MF
"I was able to give far more appointments out because I'm watching them from the comfort of my home; I'm not working with an actor in the room for 10 minutes during each audition. I get to see many more actors with self-tapes because you don't have to talk in the room, and you don't have people stopping and starting and wanting to do another take." —SI
Without their usual resources, CDs have found new ways to seek out unknown talent.
"With time on their hands, many casting directors have been doing general meetings again. For those who have been casting virtually, a meeting with our director has become increasingly important. They replace those human moments before and after the audition when we get to know each other. We've learned a lot about technology [and] what we can do and, I assume, will continue to do online moving forward." —RB
"It's really hard not to have theater as a resource. We've made adjustments to attend online showcases of kids graduating. The advantage of being in a global pandemic is that most of our staff has made it all the way through the streaming services. Everybody is on the forefront of what's happening in the industry because we have the time to be." —MF
"Because there has been no theater, I've substituted my storytelling fix with every platform that's out there, really. By the end of the summer, I thought I was really caught up." —Mark Saks
"This is a great time to absorb content. So many actors don't watch enough content. Start reading everything...immerse yourself in the business and industry every day."
Productions are making the most of the situation.
"We had to make sure that we'd created an ensemble of actors who were game for how they were going to shoot the show. Production was providing the camera, lights, and sound. Some actors had pieces sent to them from production. One person had to paint a wall. Other actors had to put up curtains. There were myriad things the actors had to be game for. The show alternates between FaceTime and Zoom, so when we see these actors, they are in a version of their homes. There has been a lot of moving stuff around or things being added or taken down to have them make sense for each of their characters' homes, but they are all responsible for hitting record. There's a whole team of people that have prepped all the actors; they get a full tutorial from production." —SI
"There is a lot of production; there are jobs. There is a lot of work in television and film right now. I don't think younger actors realize that. I think they think everything is still shut down, so they are staying in Texas and Seattle and Colorado and Montana. Part of the reason they're staying there is because of this misinformation. I think the other part of it is because they can't get survival jobs in city yet. It's very difficult to hire a young actor who's sitting in Michigan in their parents' house because of the COVID-19 protocols in place. Financially, it's also not worth them taking a small job on a television show, because they have to fly themselves in and put themselves up." —MS
Just because the entertainment world looks different right now doesn't mean there aren't ways to be productive.
"Put yourself on tape on your iPhone with new sides at least twice a week to see how you look, see what your camera angles are, [learn] how you approach different types of material, and understand what your prep time might be. When things do open up, not only is your acting muscle flexed, but your audition muscle can be flexed. Sometimes actors feel they can't practice auditioning unless they're in an audition, and I don't think that's true. There are so many opportunities now to expand your actor villages and try to find a community around making something—or at least exercise that muscle. You don't want to come out of it and [think], What did I just do with all of that time? Stay creative, and then, if you need a week to just be in your bed and feel the feelings, I think that's totally acceptable." —MF
"The actor needs to do their homework in this new phase that we're entering, which is to have your self-taping space be dedicated to self-taping. Make it so that you're the person that stands out and not something in the background. Not only do I have the performance that I need to watch and redirect or tweak, but if a technical glitch comes from a self-tape, I have to ask you to do it again because the sound wasn't good or the lighting was bad or there was too much background noise or I can't see you clearly. Actors really need to bring their A-game, technically. Get a light so that you're not beholden to natural light. Invest in a device that records you with utmost quality, and then know that the Zoom audition is the new normal, so you have to find a reader. You have to find ways to be creative to read the scene opposite someone else. If you're really in a pinch, you can pre-record yourself reading opposite, but it's not ideal. I want to see your body language, so I like to have you slate a little bit and tell me how tall you are and where you are based, because people are all over the place. It's just a simple "Hey, how do you do?" and then cutting and then going into the scene. Get the technical and creative part of taping yourself down so it feels as natural as can be." —Julia Kim
"We're so used to seeing self-tapes now. We say to actors all the time, 'If you can't come in, even put it on your iPhone, just so we can see something.' We hire from self-tapes more than I think we ever have before."
"There are so many platforms where people can create their own content and get discovered in a way. When we're casting, we're watching these videos people create probably in their apartments. Creating your own content can really make a difference now, especially at a time when you can't go into a room to meet a casting director." —CD
"Make yourself easy to find. Have a website and put an email address on it. I can't tell you how many times I've skipped an actor because they have one of those contact pages that makes it difficult to email them when I'm sending out lots of messages. And if you don't have a website, have a public Instagram [account] with an email address listed." —Kate Antognini
"I think actors can take the time to really discover the time of day the sun hits their apartment just right to self-tape. I think there is a lot of time now to practice. Educate yourself on recording a reader who is not in the room with you, using an external mic for your iPhone, and the technical side of self-tapes. Maybe invest in a tripod. It's a lot to ask. I'm not a sound engineer; I'm not a DP; and yet, somehow, we're asking these actors to learn the material—perhaps be off-book, depending on the situation—and also be responsible for a reader who can't be in the same room. Know that it's always changing and we're all in this together and no one has the answers. We're all trying to figure it out. We're all wanting to go back to work, and it's hard for everyone." —SI
"This is a great time to absorb content. So many actors don't watch enough content. Start reading everything—Backstage, Deadline, Gold Derby; immerse yourself in the business and industry every day. It doesn't take a lot to just look at pieces of shows on YouTube. I feel like actors don't do enough homework, and this is a great time to do that homework. My heart really breaks for the people who graduated in 2020 and [those who] are about to graduate in 2021, because they're just not here. A lot of people are walking around unsigned. It's been very difficult. My message is: Establish yourself, move, find a way to make it work. You can't have a career in New York self-taping in the middle of Nebraska." —MS
Looking for remote work? Backstage has got you covered! Click here for auditions you can do from home!