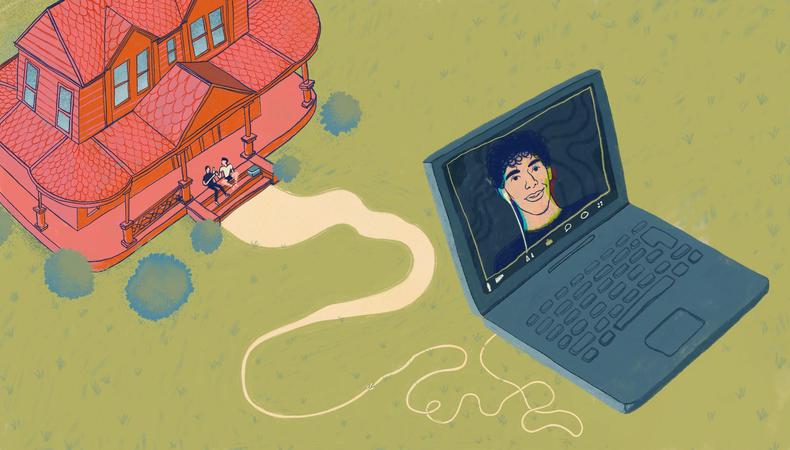 There aren't a lot of casting firsts left for Maribeth Fox. The casting director, who works in Laura Rosenthal's New York City office, has cast dozens of film and TV projects, and has worked with Ed Burns, who created "Bridge and Tunnel," for more than a decade. But the Epix series officially marks her first project assembled entirely in quarantine via Zoom audition. Fox learned that not everything is different about the casting process when it's done online, and that building a cast of talented young actors is possible whether she's in the room with them or not. She shares what to expect in her physical or virtual room, and what actors can do to stay creative through it all.
Describe the casting process for "Bridge and Tunnel."
I had a choice: Do you want self-tapes, or do you want to try this Zoom audition thing? I thought, This is going to be a technical nightmare, but I'm going to do a Zoom audition. And it was a real joy. I miss being in the room with actors, but being able to audition people from anywhere was freeing. One of the real joys about working with Eddie [Burns] is he's always willing to take a chance on folks who haven't worked a ton in TV and film, or maybe come from other worlds. His eyes are really open to finding new and exciting young talent, and I think that's what we've done with the show.
What were you looking for in that young talent?
Eddie's worlds are usually pretty specific, so I'm always looking for someone who can handle the pace of his dialogue. I was looking for people who really felt like they could be from Long Island in the '80s to be believable for the story. The other thing that comes along, even within the innocence of some of the characters that he's written, is a real experience of that time of life and trying to figure yourself out: Will I go to school? Can I manage a more creative endeavor? It's something that I think Eddie has captured so beautifully.
"I had a choice: Do you want self-tapes, or do you want to try this Zoom audition thing? I thought, This is going to be a technical nightmare, but I'm going to do a Zoom audition. And it was a real joy."
What was different about casting this project?
Certainly, casting in the middle of a global pandemic was the first thing. But also, what we were asking of these people was different. The [actors] you would normally bring in for, like, two days and then send them home weren't the same this time around; they had to stick around and stay committed to the job because of COVID-19 protocols. Also, whenever I work with Eddie, I get to audition leads, which is actually a rare experience—because normally, we have to deal with offers before getting to the auditions. Everybody's really right for their role because they had to prove themselves. I got to cast folks that I've been watching for a while. That doesn't always happen.
Where do you discover new talent?
Any casting director in New York City will tell you theater, obviously. But beyond theater, places like Upright Citizens Brigade were such wild, fun places to see people. It's really hard not to have theater as a resource. We've made adjustments to attend online showcases of kids graduating. The advantage of being in a global pandemic is most of our staff has made it all the way through the streaming services. Everybody is on the forefront of what's happening in the industry because we have the time to be.
READ: How to Audition for a Pilot,
According to Laura Rosenthal
What advice do you have for actors, especially during quarantine?
This time is so hard for everyone; it's important to find little ways to remain creative. People have started little classes with friends, and they swap sides and give each other feedback for on-camera work. Put yourself on tape with new sides on your iPhone at least twice a week to see how you look, see what your camera angles are [and] how you approach different types of material, and [to] understand what your prep time might be. When things do open up, not only is your acting muscle flexed, but your audition muscle can be flexed. Sometimes actors feel they can't practice auditioning unless they're in an audition, and I don't think that's true. There are so many opportunities now to expand your actor villages and try to find a community around making something—or at least exercising that muscle. You don't want to come out of it and [think], What did I just do with all of that time? Stay creative, and then, if you need a week to just be in your bed and feel the feelings, I think that's totally acceptable.
"Everybody's really right for their role because they had to prove themselves. I got to cast folks that I've been watching for a while. That doesn't always happen"
What can an actor expect from your audition room?
In the good old days, you'd be greeted by a very friendly intern who can make you feel comfortable, show you where the bathroom is, and make a person feel warm and welcome. We try to keep our wait times down as much as possible, because I think adrenaline changes when somebody sits in the lobby for too long. Anyone in our office should feel warm and welcoming and make good eye contact with you. On Zoom, there will be two of us with you. One of us is going to run the camera, and one of us is there to read and interact with you. In the Zoom situation, I think you have to be prepared to have flexible space. It would happen where people would be perfectly framed, but when it was time to slate, they physically couldn't move. Try to find a flexible space. We're going to have the same kind of conversation that we have before an in-the-room appointment. We've been letting the actor speak first and seeing where they are. You're going to feel different if you're in your New York City apartment than if you're in your childhood bedroom. We want to make a place where people can briefly share during this time how they're feeling or what they might be going through. And then we get into the work.
What makes an actor memorable to you?
Obviously, we're always looking for great craft. We want an actor who's got craft behind them and who's got the skill to handle different types of roles. We want someone who is confident, even if they're faking it till they make it. The other thing that we're really looking for, especially with film and television, is: You've got to have a good idea of what will set you apart from other people that goes beyond the craft. So much of film and television is looks-based, whether people like it or not. Do you have a sense of what look you are going for? Can I look at you in an audition or while performing and say, "That person really knows who they are; they're confident in what they can do"? Maybe you only do a certain thing right now; but one of the great joys of casting is looking at an actor at a certain place in their career and going, I bet in a few years, they're going to be able to do A, B, and C. To keep trying them and expanding how we think about somebody is a true joy. If you've been auditioning actors long enough, you start to know people sometimes as children, in their 20s, and into their 30s. Some people really do a great job of figuring out where they fit and what their type is and where they might stand, but it's OK not to. It should feel like a marathon, not a sprint.
What don't actors know about what you do as a CD?
No. 1 is that we are flexible. We are always looking for you to come in and change our mind about who a character might be. Especially during this time, we've all kind of discovered that we have to give each other a lot of grace right now. I think that's something that maybe people don't see in casting directors because there's a power dynamic that does exist. The last thing I think is that a lot of actors think that they can do something very wrong in an audition room. An actor leaves and thinks, Wow, I really screwed that up. There's so much more nuance to it than that, especially in television and film. If you're in our office, you're probably a good enough actor with a nice-looking résumé, but often it's not about that. As much as nobody wants to hear this, actors are in the business of gambling. It's not just about being good enough—it's about fitting into the world of the project. I think actors are far too tough on themselves, which can create some really negative audition experiences, unfortunately.
This story originally appeared in the March 4 issue of Backstage Magazine. Subscribe here.
Looking for remote work? Backstage has got you covered! Click here for auditions you can do from home!