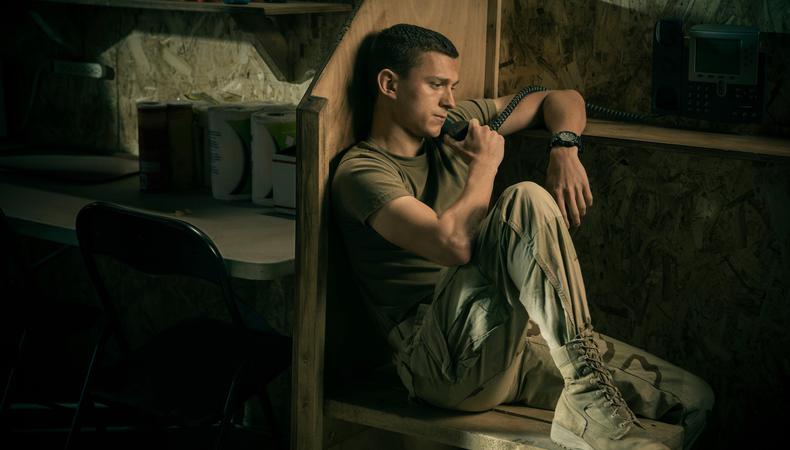 While 2020–21 may not be remembered as a great time for the film industry, this last year has all but skimped on awards-worthy films and performances. That's especially true of the titles below, each arriving later in the season yet no less worthy of the Screen Actors Guild Awards' top prize for Outstanding Performance by a Cast in a Motion Picture. For your consideration: the heart-breaking, inspiring, collectively cohesive acting in the following films. Don't miss them!
"Cherry"
Tom Holland, an actor of stage and screen now for half of his 24 years, has long been showing us that there's nothing he can't do, from "Billy Elliott" to "The Impossible" to "Onward." But what the young "Spider-Man" star delivers in Apple TV+'s "Cherry" (directed again by "Avengers" masterminds the Russo brothers) is the kind of showcase that could, for the first time, notch him major awards gold. Playing a student-turned-lover-turned-soldier-turned-junkie-turned-thief, Holland stars as the titular Cherry, a PTSD-addled army vet feeding a heroin addiction—by robbing banks. There's a lot the actor must calibrate emotionally, psychologically, and even morally, and by not missing a beat, he proves more than ready for prestige drama.
Holding his hand through it all is Emily, played by Ciara Bravo, an official Backstage star to watch in 2021. From her very first frame, the raw nerve of her performance showcases the loss of innocence that the opioid epidemic continues to incite across the U.S. And as the drug-dealing enabler keeping the young couple hooked, Jack Reynor takes the sleaze he honed to perfection in "Midsommar" and dials it to 11, playing a guy with neither a moral compass nor a pair of brain cells to rub together. Casting directors Deborah Aquila, Sophie Holland, and Tricia Wood pieced together a young Hollywood cast with surprising heft, certainly one of the year's strongest.
"French Exit"
Imagine "Schitt's Creek" written by Edward Albee, and you're nearing the tonal balance struck in director Azazel Jacobs' Sony Pictures Classics venture "French Exit," adapted by Patrick deWitt from his 2018 novel of the same name. Michelle Pfeiffer stars as Frances Price, an aging Manhattanite whose acerbic reputation precedes her. But when her husband's death and a tightening wallet force her to leave her socialite society behind, she moves with her son Malcolm (Lucas Hedges) to Paris to begin a new, and downsized, life.
Pfeiffer's performance is, to say the least, a return to form for the three-time Oscar nominee; it's so flawless and fun that we're left feeling like the actor we know and love never really left the screen. It's the kind of turn that serves a delicious three-course-meal of acting in one bite.
Countering her mark for mark is an ensemble of delightful oddballs. Veteran character actor Valerie Mahaffey is a special standout as the charmingly coy Madame Reynard, doing the job of a quintessential scene-stealer: being just left-of-center enough to captivate while playing off of Pfeiffer and bringing out her darkly comedic best. And Hedges, as he's proven again and again, is a marvel at watching and listening to those around him. As the docile but perceptive Malcolm, he knows his mother's heart behind her cool facade—and helps audiences see it, too.
"The Little Things"
The title of this John Lee Hancock thriller from Warner Bros. refers to the details a detective can find in a crime scene, and it becomes a mantra of sorts for Denzel Washington's Joe "Deke" Deacon, a deputy sheriff who left his SoCal precinct for a position up north under unusual circumstances. But when he's pulled back to Los Angeles on the line of duty, Deke gets ensnared in an open serial killer investigation alongside the precinct's new wunderkind sergeant, Rami Malek's Jim Baxter. Butting heads ensue, which, as any discerning filmgoer of the last 40 years knows, means the two-time Oscar-winning Washington is right in his sweet spot. He reminds us yet again that there are few other actors whose natural, compelling choices can both propel a story forward and anchor it emotionally. Plus, is there anything more intimidating than watching him lean in close, stare his scene partner dead in the eye, and whisper so only they can hear?
Malek is all nerves and territorial brawn, a man who's both put off by and reluctantly reliant on his predecessor's involvement in the case. Watching him in thought is a lesson in making the smallest facial tic convey vast meaning. And Jared Leto, as their lead suspect, has a blast sinking his teeth into the creepy and manipulative Albert Sparma, who keeps you guessing through the film's final, unexpected moments.
"The Mauritanian"
Whenever a Hollywood retelling of actual events reveals its stars' real-life counterparts, usually at the film's conclusion, it can provide quite a shock to the system. Kevin Macdonald's STX Entertainment thriller "The Mauritanian" is a perfect example: As footage rolls footage of Guantanamo Bay captive Mohamedou Ould Slahi, you're struck by this story's relevance and reminded firsthand how systemic injustice impacts individual people.
You're also struck, retrospectively, by Tahar Rahim's prowess as an actor. From his shy demeanor to the exact inflections of his voice (Slahi speaks multiple languages, and it's clear Rahim does too), the star's ability to both dramatize and recreate is impeccable. Throughout his unconscionable 14-year captivity in Cuba—never once charged with a crime—Rahim slowly but surely fills in this portrait of Slahi, endearing us to him and avoiding sentimentality, particularly opposite Jodie Foster's tough-as-nails Nancy Hollander. Foster, who makes a relentless pursuit of justice this criminal defense lawyer's driving force, is better than ever.
Also supporting "The Mauritanian" are Shailene Woodley as Hollander's fellow attorney Teri Duncan, Benedict Cumberbatch as the doubting military prosecutor Stuart Couch, and Zachary Levi as the disingenuous Neil Buckland. Each delivers fully lived-in figures, aware of both their place in the American legal system and how their every move ripples outward to affect those at its mercy.
"News of the World"
"News of the World" will sweep you up in its epic depiction of the wild American South and tug on your heartstrings thanks largely to its tapestry of unforgettable performances from some of today's most magnetic stars.
Tom Hanks proves once again in the Paul Greengrass and Universal Pictures feature why he's one of Hollywood's most reliable leading men: The emotional arcs he creates are his films' backbones, yet he listens and responds beautifully to every co-star. As Captain Jefferson Kyle Kidd, traveling town to town and reading the titular newspaper stories in the wake of the Civil War, he's alternately charming and wary, with subtle hints of grief. There's also fear, considering the perils of his cross-country journey—the stakes of which heighten with the arrival of Helena Zengel's young Johanna, a fiercely stoic orphan adopted by the Kiowa tribe.
Zengel's rising star status is confirmed in the way she stares down Hanks and the film's other supporting stars: a loathsome Thomas Francis Murphy, a welcoming Ray McKinnon and Mare Winningham, a no-nonsense Elizabeth Marvel, a bone-chilling Michael Covino, and more. "News of the World" features gorgeous cinematography and music, but it's the actors who keep us on the edge of our seats. It's an awards contender through and through, one of those movies that reminds us why we love movies.
"Our Friend"
Bringing to the screen writer Matthew Teague's 2015 essay "The Friend," detailing his wife's struggle with cancer and their family friend's invaluable support, must have been a daunting task. Screenwriter Brad Ingelsby and director Gabriela Cowperthwaite certainly had their work cut out for them with such sensitive and personal material. How should they walk the line between grief and humor, for one? But the real challenge was for the Gravitas Ventures film's cast, charged with infusing grand concepts of love and death into their depiction of an ordinary, real-life family.
Casey Affleck as Matthew, Dakota Johnson as Nicole, and Jason Segel as the titular friend, Dane, more than rise to the occasion. Although stars in their own right, there's an easy authenticity to their performances, a sense that if the cameras stopped rolling, these people would continue going about their day rather than revert to their actorly selves. The film's chronology is shuffled, so information about these three and their evolving relationships with each other unfolds over time. But from the film's first scene, in which a bedridden Nicole plans with Matthew to tell their kids (Isabella Rice and Violet McGraw) of her diagnosis while Dane entertains them just outside, we instinctively feel their years of history together. Without its actors' tight-knit vibe, "Our Friend" probably wouldn't be one of this year's most affecting stories of heartbreak and hope.
"The Prom"
"One thing you've taught me is how much people enjoy a show," sings Emma Nolan, the big-hearted lesbian teen—played by newcomer Jo Ellen Pellman—at the center of "The Prom." That the lyric comes at the end of this film, after we've spent two hours being wowed by some of today's greatest living entertainers, renders it one of this movie musical's cheekier winks at the very biz it (lovingly) lampoons.
Ryan Murphy has turned this 2018 Broadway hit into a Netflix smash, and it's no wonder he saw literal stars in his eyes when he did. In fact, he started with the shiniest one: Meryl Streep, who, as Broadway veteran Dee Dee Allen, gives one of the most convincing performances of her career as a diva actor. It's Dee Dee who leads a group of musical theater misfits from the bright lights of the Great White Way to Emma's homophobic Indiana town, where they don't exactly blend in.
There's also real Broadway hoofer James Corden as the show-stopping Barry Glickman, Nicole Kidman (and Nicole Kidman's legs) as a zazz-doling choir girl, Tony nominees Andrew Rannells and Ariana DeBose showing off all three of their triple threats, and Kerry Washington, who it turns out has a lovely singing voice to go with her acting chops. Thank goodness that, until live theater returns, we can attend "The Prom" anytime.
"Sound of Metal"
A gifted verbal communicator, Emmy-winning actor and Swet Shop Boys rapper Riz Ahmed told Backstage earlier this year that the biggest challenge to Amazon Studios' "Sound of Metal" was taking away the "crutches" of the spoken word, which "took me out of my comfort zone, put me off balance, but also opened me up." As Ruben, a heavy metal drummer and recovering addict who discovers he's losing his hearing, the multihyphenate talent overcomes those performance challenges capably. Underscored by the film's brilliant sound design, Ahmed paints a devastating portrait of dependency in all its forms, as visceral as it is tragic.
And it's not his efforts alone that make this Darius Marder film so impactful. Paul Raci will take your breath away as Joe, the counselor who runs the deaf community rehabilitation center in which Ruben finds himself forced to stay. And as his girlfriend and bandmate Lou, British talent Olivia Cooke embodies a woman who, while supportive, is as scared and unknowing as Ruben is entering their new chapter. Fleshed out by casting directors Lisa Lobel and Susan Shopmaker, much of the rest of Ruben's world is inhabited by real-life deaf and hard-of-hearing performers, including Lauren Ridloff and Chelsea Lee, who nonverbally provide some of the film's most lively and affecting scenes.
This story originally appeared in the Jan. 26 issue of Backstage Magazine. Subscribe here.
Looking for remote work? Backstage has got you covered! Click here for auditions you can do from home!