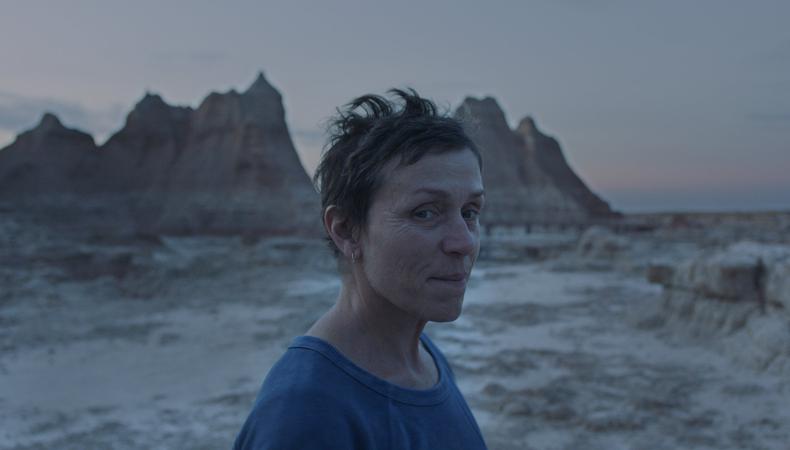 Want the inside scoop on all things awards? Welcome to Letter From the Awards Editor, our series in which Backstage's Jack Smart takes a look at the latest film and television news, industry trends, and awards projections that matter to today's working actor.
Dear Backstage awards enthusiast,
Working as an awards editor through what is probably the entertainment industry's most disruptive era has felt a bit like watching a movie—a thriller, full of twists, jump scares, and too much dramatic irony for its own good. I wish I could say I've been feasting on popcorn throughout, but my hands have been too busy covering my eyes.
Yet while the pandemic, our sociopolitical landscape, and the ensuing changes in Hollywood continue to be stranger than fiction, great art thrives. If anything, projects that premiered during the mayhem of 2020 have taken on a fascinating array of new contexts. Aaron Sorkin began writing "The Trial of the Chicago 7," which recreates the police crackdown at the 1968 Democratic National Convention protests, 13 years before its release amid a nationwide outcry against unjust police brutality. Elisabeth Moss could never have known that her two 2020 films, "The Invisible Man" and "Shirley," would come to symbolize fear of an invisible virus and agoraphobic seclusion, respectively. Heck, Andy Samberg's "Palm Springs," about an inescapable, infinite time loop, echoes the mundanity of life in quarantine.
Looking back at this seemingly decades-long year and ahead at a film awards season extended all the way to the 93rd Academy Awards on April 25, 2021, what are the takeaways? What should future students of film history know about this moment?
First things first: You can't talk about the year in film without considering the still-unknown fate of movie theaters. Major studios including Paramount, Universal, and Disney delayed big-screen spectacles until 2021 and beyond, waiting and wishing for the day when audiences can go to the cinema safely. In June, the country's top-grossing film director was Steven Spielberg—not for his upcoming "West Side Story" remake, but for "Jurassic Park" and "Jaws," which were among the only movies screened this summer. There's plenty to discuss in a future letter, but suffice it to say that 2020 was not a good year for distributors operating without a streaming option.
As a result, the 2021 Oscar race is missing the popcorn fare, letting more intimate, smaller-budget contenders shine. I'll remember this as a stellar year for two-hander stories (Rashida Jones and Bill Murray in "On the Rocks," Colin Firth and Stanley Tucci in "Supernova," Anthony Hopkins and Olivia Colman in "The Father") and indie highlights from the Sundance Film Festival and Gotham Award nominations (Eliza Hittman's "Never Rarely Sometimes Always," Radha Blank's "The Forty-Year Old Version," Lee Isaac Chung's "Minari"). This was also the year we lost Chadwick Boseman, right when he seemed to be creating his best, most essential work ("Da 5 Bloods," "Ma Rainey's Black Bottom").
What else might end up on Oscar voters' shortlists? In a year of uncertainty, there remained guarantees. Festivals still proved a crucial part of the filmmaking ecosystem, with Venice and Toronto adjusting course admirably, allowing prestigious features to generate autumn buzz. Chloé Zhao's "Nomadland" and Regina King's "One Night in Miami" both emerged as favorites, thereby inviting the Academy to make good on its promises of inclusivity. (A nonwhite woman has never been Oscar-nominated for directing, a 92-year streak that could finally end in 2021.)
And you can always count on character turns from beloved entertainers, like Tom Hanks in "News of the World" and Carey Mulligan in "Promising Young Woman." David Fincher's ode to Hollywood, "Mank," is a Venn diagram of technical mastery, political resonance, and gorgeous nostalgia, all of which typically catch Oscar attention.
In truth, Netflix is poised to make inroads in the awards race like never before. After claiming directing and foreign film Oscars for "Roma" two years ago and clinching its first acting win last year with Laura Dern for "Marriage Story," the streaming service has a mind-boggling amount of 2021 contenders; December alone has seen the releases of "Mank," "The Prom," "Ma Rainey," and "The Midnight Sky." Netflix has so many horses in some races that they could end up jockeying themselves out.
But you'll never hear me complain about too many worthy contenders. Whatever 2021 may bring, Hollywood will respond as only Hollywood can. I look forward to it—and not just because I can't stand to look back.
Happy New Year!
Jack
This story originally appeared in the Dec. 31 issue of Backstage Magazine. Subscribe here.
Looking for remote work? Backstage has got you covered! Click here for auditions you can do from home!