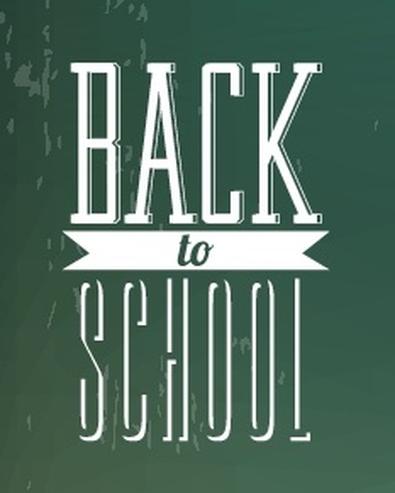 Robert Cohen, author of various acting books including "Acting Power: The 21st Century Edition," says when he's watching an actor, he takes into consideration "their command of a role, their ability to show both great confidence and great confusion, and, of course, their experience, training, discipline, and how these all go together." When walking into an audition room, this list can feel rather daunting for any young actor. How can you obtain all of these attributes on your own? The answer is simple: You don't need to. Once you commit to this career path, the next step is to seek out help by getting serious about training. The right teacher can make all the difference in your process, and can also provide valuable contacts and skills that will help along the way. The following is a brief introduction to the types of classes you may want to consider.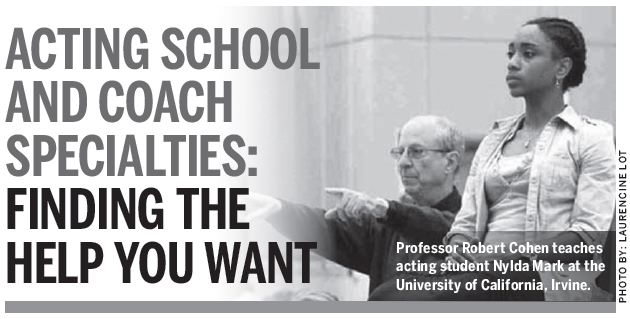 Scene Study. These classes are helpful when an actor wants to learn how to analyze text. Most performers work from a script that has already been written. In order for an actor to convey the meaning of this text to his or her audience, he or she must be able to understand the meaning of the text on a number of levels. Once you have learned to listen and respond to your fellow actors, you must learn how to clearly communicate the meaning behind your given response. Scene study classes teach actors how to read and analyze a script so that he or she can derive what aspect of the text is the most important or meaningful in each scene. It is important to know what each character is aiming for with each cue, either verbal or physical. These classes will give an actor the tools needed to uncover which emotions and situations actually drive a scene forward with urgency and help the actor answer the question, "Why must my character say these words now?"
Acting Technique. At some point, you may want to begin seeking out acting classes and coaches that are based in specific acting techniques. It is important to remember that these techniques, while they may sometimes seem old-fashioned, are not for use only onstage. Many film and television actors look back to classical techniques to help them enrich their performances. It is also important to remember that not every aspect of one technique may work for you. Many actors find it helpful to pick and choose different aspects of different techniques that work for their process, and may also use different techniques depending on the type of material on which they are working. This is why it is beneficial to get experience in a number of techniques. To help you choose where to start, we have included a brief run-down of the most popular Stanislavsky-based techniques on the following pages. Since most American realistic acting stems from the theories of Stanislavsky, we start with him, and follow the branches of his most popular students throughout the years. A brief list of non-Stanislavsky-based techniques is also included with this article as a guide. Many of these names and theories are referenced by schools on our list, so make sure to highlight the ones that may work for you.
On-Camera, Commercial, and Shakespeare. Once you have mastered the art of communicating and understanding the meaning of text and have found a few acting techniques that work for you, you may want to explore the difference between stage acting and camera acting. While the basic skills of communicating still apply in both situations, the two industries have completely different jargon, different processes, and even different personnel with which you must be familiar. At this point, it may be helpful to take classes based in commercial and on-camera technique to find out which industry is best for you. If you lean more toward stage acting, try taking a Shakespeare class or one that focuses on more stylized movement techniques.
Auditioning and Cold Reading. After you have strengthened your acting skills, it's time to focus on the audition. This is where an audition or cold reading classis essential, not only for the skills they develop but for the moral support and encouragement they provide. According to Dr. Keith Fowler, an acting and directing professor at the University of California, Irvine, the single most valuable skill an actor can learn in this area is persistence. According to Fowler, "Persistence means networking with those agents and directors who can hire you. It means learning roles and practicing scenes and auditioning as often as you can. Persistence is a difficult trait to practice, but it is the one quality that guarantees career recognition. It is a natural filter; when you have some success, you'll find it easy to stay in touch with agents and directors, but if your talent is small, you'll find it harder to keep going—and that of course is when you must keep at it." Classes that focus on audition technique and cold reading skills help actors become more confident in their ability to think on the fly and put their best foot forward in what can be an intimidating situation.
Singing, Musical Theater, Voice, Dialects, and Accent Reduction. An actor must use every aspect of his or her instrument to its fullest capability. With this in mind, it is important to remember that vocal training is not only for actors who sing. Learning how to appropriately speak, enunciate, and project without harming one's voice is an important skill for actors to know. Voice, dialect, and accent reduction classes can also help actors adjust their natural voices to better fit that of the characters they are playing. Singing and musical theater classes are geared more toward singing technique and performance.
The Business of Acting and Career Coaching. In order for an actor to be successful, he or she needs to have the skills necessary to navigate his or her career. These classes help actors set realistic goals, create networking opportunities, understand unions and contracts, and find ways to incorporate the challenges of an acting career into their busy lives.
Private Coaching. During any part of your process, it may be helpful to find time where you can focus on your own specific process, situation, and growth. Once you have gathered all of the tools in your toolbox, you may want to hire someone for a few sessions of private coaching. Private acting coaches are able to give very specific notes and help you home in on career goals and personal tendencies. They may help prepare you for a specific audition you are worried about, or help you overcome challenges with a particular role. Choosing a private coach is a very selective process, and you should make sure that the person you choose can relate to your personal style.
Other Classical Techniques:
Vsevolod Meyerhold drew from the stylized traditions of commedia dell'arte and kabuki to help actors find emotion through placing themselves in different physical positions to communicate the targeted emotion.
Bertolt Brecht believed that to help an audience objectively evaluate the social implications of a play, an actor must not embody the character completely but instead use exaggerated or repetitive actions to emphasize their emotional distance from the characters.
Vocal Techniques:
Kristin Linklater Technique: Liberates the "natural function of the vocal mechanism" by asking an actor to find his or her individual voice and utilize/explore its full expressive capacity.
Catherine Fitzmaurice Technique: Communicates intention and feeling without excess effort placed on the voice. Methods include what is known as "destructuring" through Tremorwork® to promote free breathing before "restructuring" to economize effort in speaking.
Improvisation Technique:
Viola Spolin created an improv technique based on theater games, which became the foundational bedrock of the famous Second City in Chicago in the 1950s.
Physical Techniques:
Frederick Matthias Alexander taught people how to stop using unnecessary levels of muscular and mental tension in order to unlearn maladaptive physical habits and realign their body to its natural state.
Viewpoints, originally created by Mary Overlie and later elaborated on and adapted by directors Anne Bogart and Tina Landau, is atechnique that provides a useful vocabulary with which to examine, analyze, and create performance.
Jacques Lecoq placed emphasis on the use of masks, which aid in the awareness of the actor's physical mannerisms and movements.
Jerzy Grotowski aimed to uphold the value of physical traditions in performance and erase customary divisions between the audience and performers.
---
Konstantin Stanislavsky (1863–1938)
Stanislavsky's acting techniques evolved over time, and his work influenced numerous influential teachers, including those listed below.
Stanislavsky's Early Work: Actors use specific actions to draw up emotional or "affective" memories, and then use these emotions to portray their current role.
Stanislavsky's Later Work: Actors develop the character's thoughts and feelings through physical action, a concentrated use of the imagination, and a belief in the "given circumstances" of the text.
Richard Boleslawski (1889–1937): In addition to using affective memories to create (not imitate) emotion, he believed in "identifying the spine," or main dramatic action, of each character.
Harold Clurman (1901–1980): Known more for his directing style, he wanted theater to relate more to our society. He believed that all the elements of a show (text, acting, lighting, scenery, and direction, etc.) needed to work together to convey a unified message. Asked his actors to find "active verbs."
Lee Strasberg (1901–1982): Known as the father of "American Method Acting." Later became the director of the Actors Studio in NYC. Based strongly in Stanislavsky's system, this method puts further emphasis on improvisation and affective memory, also known as substitution.
Uta Hagen (1919–2004): Coined the term "transference," stating that while an actor should use feelings and circumstances from his own life to portray characters, he must also use these feelings to instigate actions in the moment.
Milton George Katsalas (1933–2008): Founder of the Beverly Hills Playhouse, he based his technique on the areas of "acting, attitude, and administration." Did not utilize one particular school of acting thought, but drew from a variety of concepts and ideas. He was, however, deeply influenced by Lee Strasberg and particularly Elia Kazan at the Actor's Studio.
Stella Adler (1901–1992): Originally studied the affective memory technique under Boleslawski, but later went to Paris and studied directly with Stanislavsky himself. During this time, she learned of Stanislavsky's revised theories. Upon her return to the U.S., she broke away from the use of affective memory, and instead focused on using the actor's imagination, along with mastering the characters' physical and vocal characteristics.
Michael Chekhov (1891–1955): This technique attempts to tap into the actor's creative imagination through more physical, non-analytical means. The idea is that by first finding the physical core of a character, that emotional core will follow. One of the most famous terms used is the "psychological gesture."
Robert Lewis (1909–1997): Lewis focused on applying Stanislvasky's system to acting styles outside of realism. He felt that actors needed to rely not only on personal emotional expression, but also on transformation into characters by using external and physical techniques.
Sanford Meisner (1905–1997): Originally a close friend and colleague of Clurman and Strasberg, Meisner later resisted affective memory, and began to instead focus on building reactions and subtext as responses to current situations. This technique does not ask for emotional recall, but instead asks an actor to be extremely present in the moment.
Charles E. Conrad (1925–2009): Conrad asked actors to repeat words of the text until they were memorized rote, without actions or feelings. Then, the text can only come alive in reactions to one's scene partner. His teachings are primarily used in film and television, as two cameras are employed for most exercises.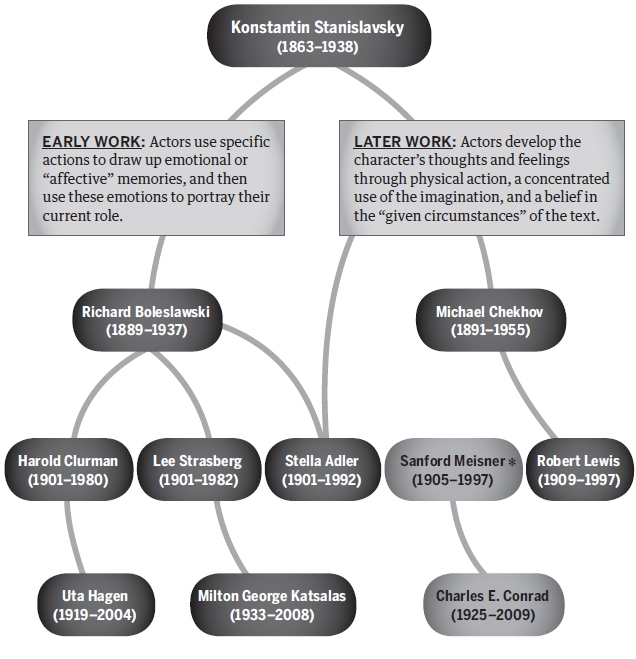 * While Meisner's formal study was at the Theatre Guild of Acting, he acted under Strasberg's direction in his early years, and later performed along side Strasberg at the Theatre Guild. When Strasberg, Clurman, and Cheryl Crawford formed the Group Theatre in 1931, they invited Meisner to join them, along with Stella Adler and Robert Lewis, among others. It was through these relationships that he was introduced to Stanislavsky's theories. When Adler returned from her trip to Paris and announced her findings, Meisner began to focus on Stanislavsky's newer methods.
Now that you have a better idea of the variety of classes that are available and have looked at our list of techniques that may fit your process, go through our full list of Acting Schools and Coaches in the Los Angeles and New York areas to find the class that's right for you!
And check out our advice article on training, "Colleges, Conservatories, and Classes...Oh My!"