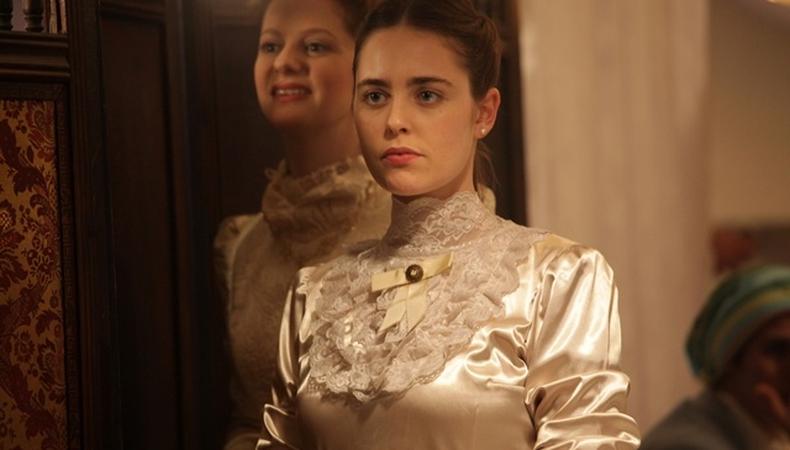 "It's like a pause in your life," says Hadas Yaron of the time she spent serving in the Israeli army following high school. Having been acting since she was a child, Yaron was anxious to get back to acting when she returned and quickly landed the leading role in "Fill the Void." Yaron was working at a coffee shop when the film premiered in Venice, but after winning Best Actress at the Venice Film Festival, Yaron's coffee shop days came to an end.
Yaron plays the sweetly innocent Shira, who finds her life changing when her sister passes away. "She is much more naïve at 18 than I was when I was 18, and there was something so special about that and it was like going back to the basics," says Yaron. But, she admits she was afraid before she shot the film. She shares what she's learned from the experience.
Fear nothing.
"This is what ruins everything: fear," says Yaron. She acknowledges that auditioning is nerve-wracking; after all, "you are walking into a room and they are going to look at you and examine you and you feel very vulnerable in a way because you're very exposed," she says. To overcome the fear, Yaron started looking at each audition not as a situation where she was being judged, but as an opportunity to perform. "I said to myself, 'they are giving you an opportunity to read lines and to act,' so that helped me in a lot of auditions," she says.
Do your homework.
"Fill the Void" focuses on the lifestyle and culture of Orthodox Hasidic Jews, but Yaron was not familiar with the religion prior to the film. "I didn't know anyone religious in person and I actually learned a lot about it during rehearsals because we had to go to all these events," she says. Director Rama Burshtein had the cast go to all the events that take place in the film. So they went to a wedding, a circumcision, and even met a rabbi to make sure that nothing felt foreign or unfamiliar to the cast. Yaron says attending the events really helped her to understand the character. "[At the wedding] it was so intense and [the bride] was crying and she was really in it and I felt like she was my sister because I'm going to be like her in a while," says Yaron. "So it was really helpful to experience all these things and to see how it is and to feel a part of it actually."
Get into character.
"I started learning by heart the blessings that they have," says Yaron, adding that this practice helped her step into Shira's life. "There's something so beautiful about it because you're being so grateful all the time for everything you do and hoping that everything works out okay and I started doing those blessings every day and it sounds silly but it helps you feel that you are closer to the character," she says. Yaron also tried to imagine how she would feel in one of Shira's situations. One challengeing scene was when she's talking to her deceased sister's husband, and he is saying beautiful things to her. "I said to myself, 'OK, this is not working,' because I was trying to figure out who could say that to me that would make me feel like 'Oh my god, how could you say that?' And then I started to imagine that he's my cousin's husband," says Yaron. Finding that way to connect Shira's situation to her own life helped Yaron find the moment in the scene.
Read between the lines.
One challenge that Yaron faced in both auditioning and filming was understanding the subtext. "That was the beautiful part of the script and it was also the most frightening part of the script because I had to understand what she's trying to say all the time without saying that," she explains. At one of her first auditions, Yaron says she didn't really understand the audition scene even though she'd prepared. "And then Rama told me that when she says this, she really means I love you and when she says that she really means like something completely different," says Yaron. "This really helped me understand that there is a lot more to a scene than what it seems to be. And now I read much more carefully into scenes." She also notes that just being exposed and vulnerable in a scene is one of the most powerful things an actor can do. Yaron's favorite scene - one she's not in - is between Yochay (Shira's brother-in-law) and Shira's mother, and it relies heavily on subtext. "I think it's because there is so much pain there; it touches you the most when people feel something and try to hide it and you see it," says Yaron.