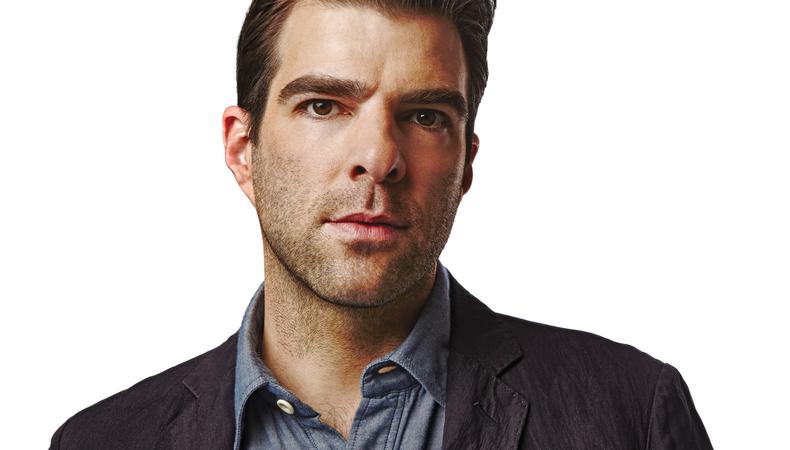 Zachary Quinto is enjoying a rare moment of downtime, relaxing near the pool like many people in Los Angeles on this sunny day.
But it's a brief respite; tomorrow begins a whirlwind tour that includes stops in Moscow, Tokyo, and Australia. The travel is to promote a little film called "Star Trek Into Darkness," the sequel to the 2009 reboot of the franchise in which Quinto starred as half-Vulcan Spock. That film proved to be a worldwide hit and solidified Quinto's seemingly meteoric rise from TV to movie star.
In many ways, Quinto was the perfect choice to play Spock—and not just because of the eyebrows. The actor is calm, intelligent, and yes, logical. Take his decision to move to Los Angeles instead of New York on graduation from Carnegie Mellon University in 1999. "I always thought I would live in New York; I never thought I would live in L.A.," he says. "But we did showcases on both coasts before graduation, and L.A. just provided more interest. To be honest, I moved here because a bunch of people told me to." Or his choice to jump into producing, forming the production company Before the Door with two friends from Carnegie Mellon and choosing as their first project the Oscar-nominated "Margin Call." Says Quinto, "I recognized an opportunity when I got 'Star Trek' that I knew would not last forever. It was a window, and I needed to do something in that window to set up an infrastructure that allows me to harness its power to make work—whether for myself or other people."
Even the choice to pursue the role of Spock, despite his not really being a fan of the original "Star Trek" series, was a combination of media savvy and common sense. When word got out that J.J. Abrams was making the film, Quinto was riding high as bad guy Sylar on NBC's "Heroes," and websites began tossing around his name as the perfect choice to fill Leonard Nimoy's pointy ears. "It made a lot of sense to me when I heard that," he says. "I'd just started 'Heroes,' I was doing a lot of press, and I was getting asked about my dream project. I said I would love to play Spock, and it took on a bit of an energy of its own. I don't know what possessed me—that usually doesn't work." It was enough for Abrams' casting director, April Webster, to call Quinto in for an audition before official casting began, on his only day off from "Heroes." According to Webster, Quinto was asked to do many more takes than is typical. "He was the very first person we saw, and we didn't know how human or Vulcan he was supposed to be, so we had him do it all these different ways," she notes. "But it was so clear. First of all, he looks so much like Leonard. But his range is remarkable. He could play the aloofness of the Vulcan part, but when the human part came through you saw the humanity. It's not an easy part to play." Webster adds that she attended Comic-Con with both Quinto and Nimoy when the casting of Spock was announced. "Susan, Leonard's wife, was backstage waiting for them to go on, and she noticed that even when they laugh, they have a similar kind of laugh. It was an amazing moment."
Landing the part capped a fantastic year for Quinto, who says he had been in a dark place after struggling for years as an actor. He'd endured his share of disappointments since deciding at age 10 to be an actor; his first role was a Munchkin in "The Wizard of Oz," and he says, "I remember being devastated I didn't get cast as the mayor of the Munchkins." After three months in L.A., he landed his first pilot, "American Soap," opposite Jonathan Taylor Thomas. But it didn't go, and Quinto was back to waiting tables. Though he landed regular gigs on shows like "24" and "So noTORIous," he found himself in a lull in which he didn't work for six months. "I was 28 and really asking myself what I was doing with my life," he says. "I was in a long-standing fog of depression about my career at that time. However, when the audition came for 'Heroes,' I think it's partly why I was able to access what was necessary for Sylar because I was really, really in the depths."
The day of Quinto's audition for Sylar was the same day as the show's premiere; between his initial read and his callback, he knew he was signing on to a bona fide hit. He credits his age with his ability to deal with the onslaught of attention. "The key is, it happened when I was 28, not when I was 18," he says. "You could look at the situation and not realize I had been working towards this level of opportunity for almost a decade by then. It might have looked meteoric, but I had been working at it. And I feel like I did have a foundation, personally and professionally, that allowed me to handle it."
After "Heroes" left the air, Quinto continued to take on a wide range of projects, from starring in an Off-Broadway revival of "Angels in America" to playing diabolical Dr. Oliver Thredson on "American Horror Story: Asylum." He'll also star on Broadway this year opposite Cherry Jones in a revival of Tennessee Williams' "The Glass Menagerie." And he's happy to be returning to the role of Spock, even though he can't reveal anything about the new film. "I really think it's going to speak for itself" is all he will allow.
But he is startlingly open about other aspects of his life; after coming out in an interview with New York magazine in 2011, Quinto says he never worried that it would affect his ability to land leading-man roles. "I have gotten to do amazing work before people knew that I was gay, and I've gotten to do amazing work since they've known," he says. "And I think the only difference I can really measure is the number of people that have come up to me and told me how much their lives have changed because I did that. So if people want to restrict my opportunities creatively, I don't want to have anything to do with those people anyway."
He cites "Star Trek Into Darkness" as proof of how the culture has changed. "I'm excited for this movie because it's happening after I came out," he says. "I have this giant tent-pole movie with an openly gay co-lead. It's exciting to me, and I want young people to be able to look at this film and see that being gay doesn't have to diminish or undermine one's masculinity and one's connection to what it is to be a man."