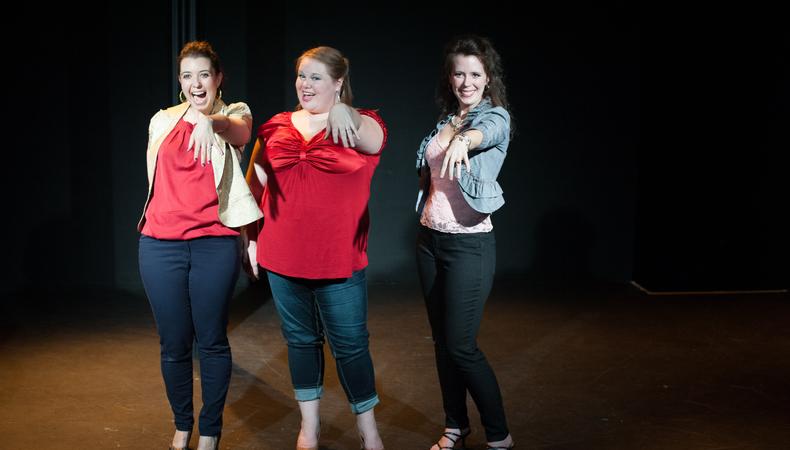 The drunk scene is a staple of comedy, from the Vitameatavegamin episode of "I Love Lucy" to the bar-pickup scene in "Promises, Promises." Adam Bock's contribution to the genre, "The Drunken City," about a bachelorette party gone awry, is a whole inebriated play rather than a single scene. It was first performed to decent if not enchanted reviews at Playwrights Horizons in 2008, a year before the launch of "Jersey Shore" on MTV, whose characters seem similar, and the release of the movie "The Hangover," which has much the same premise. Although "The Drunken City" is sweeter, far less vulgar, and less chaotic than those offerings, it's not as memorable.
In this new no-budget production at the WorkShop Theatre (the uncredited set consists of a bench and an occasional sign), Marnie (Samantha Payne Garland) has gone into "the city," presumably New York but never specified, from the suburbs. She is going on a bar-hopping party with two of her best friends, Melissa (Jen Ponton) and Linda (Kelly Strandemo), in celebration of her pending nuptials. Linda is also engaged, and Melissa was as well, but she abruptly broke up with her fiancé when she found out he was two-timing her.
The women, all in their 20s and already wobbly from drink and killer heels, stumble upon two men of the same age whom they recognize as coming from their hometown, though they don't know them. Eddie (Tyrone Davis Jr.), a dentist who loves to tap-dance, has dragged his friend, a bank clerk named Frank (Nicholas Cocchetto), out for a night on the town to help him get over his breakup with a girlfriend. In a flash, Marnie and Frank are playfully then passionately kissing one another. Their friends are shocked and call their friend and employer, a baker named Bob (David Marshall), for reinforcements. Bob and Eddie are drawn to one another.
Director Misti B. Wills has assembled an appealing cast and injected some nice flourishes: There are a few brief interludes of abstract dancing that give us a sense of the characters swimming through a series of discos. There is also a funny, well-executed scene of Marnie and Frank retreating to an empty church that's open all night, where Frank tries to make out with Marnie while she tries to discuss the doubts she is having about her fiancé. But many of the performers seem too intelligent for their characters, who call each other "stupid" with suspicious frequency and rarely finish a sentence. These are motor mouths whose hearts the playwright clearly respects, though not their brains. Too often Wills sets an almost Beckett-like pace for Bock's "Jersey Shore" dialogue, adding an extra 10 minutes to what at Playwrights Horizons ran a swift 80.
Bock has moved on since "The Drunken City" to plays with more depth and drama, such as "A Small Fire," about a family's reaction to a woman's deteriorating illness. But though thin, "The Drunken City" still offers an entertaining take on love, liquor, and friendship.
Presented by Jump for Joy Productions at the WorkShop Theatre, 312 W. 36th St., 4th floor, NYC. Dec. 1–16. (800) 838-3006 or www.brownpapertickets.com.
Critic's Score: C+