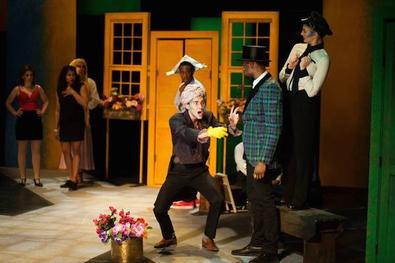 Think you have to be out of high school to learn from some of the country's most esteemed acting conservatories? Think again. This summer, thousands of rising high school juniors and seniors are packing up and moving into campuses across the country for pre-college theatrical training. Whether you're dead-set on a dream school or trying to determine the training that's right for you, here are 15 amazing pre-college training programs where you (or the young person in your life) can go to learn and thrive.
University of Michigan - MPulse Performing Arts Institutes (Ann Arbor, Mich.)
A lucky 200 students per year enroll in these summer sessions from the highly respected University of Michigan School of Music, Theatre, and Dance. Rising juniors and seniors learn from renowned U-M faculty in the Theatre & Drama Academy, and the Musical Theatre Workshop, and classes mimic those of BFA students. Admission is by video audition, written application, and personal recommendation, and is highly competitive.
Northwestern University - The Cherubs (Chicago, Ill.)
Students seeking a five-week conservatory experience are in luck with Northwestern's Cherubs, a special program for passionate young actors, designers, and musical theater performers. Long days of core classes, electives, and rehearsals culminate in professional-quality public performances, and musical theater students stay on for an extra two weeks to gain valuable training in all areas.
University of North Carolina School of the Arts - Drama Summer Intensive (Winston-Salem, N.C.)
UNCSA's summer session for high school drama students uses a multi-disciplinary, process-focused approach to train young actors of all levels. The intensive curriculum is based off of UNCSA's highly-respected four-year BFA program, offering young people the opportunity to learn acting, movement, and voice from the school's esteemed faculty.
The Boston Conservatory - Musical Theater Dance Intensive (Boston, Mass.)
One of the country's best training grounds for musical theater performers, high school–aged triple threats can hone their movement skills with BoCo's summer programs. The Summer Dance Intensive gives students and young professionals the chance to study contemporary dance with university faculty and esteemed guest artists, while the Musical Theater Dance Intensive (MTDI) targets that training towards the Great White Way.
University of Southern California - Summer Theatre Conservatory: Acting Intensive (Los Angeles, Calif.)
Summer at USC with this intensive program, and learn voice, speech, on-camera technique, theater history, and more from esteemed members of USC's year-round faculty. The four-week conservatory prepares students to seek out and audition for top-level college theater programs (including USC's own), and takes place at the university's state-of-the-art Los Angeles facilities.
NYU's Tisch School of the Arts - Summer High School, Drama (New York, N.Y.)
Much like NYU's degree-granting programs, the Summer High School combines academic classes with specialized course loads from a variety of acting studios. Aspiring students can apply to the Experimental Theatre Workshop, the New Studio Summer Music Theatre Program, the Meisner Summer Intensive, or the Stonestreet Screen Acting Workshop, and will spend 28 hours/week in-studio once admitted. Weekly "New York Theatre" workshops acclimate young actors to the city, and include field trips to some of the best live performances in the city.
Yale University - Summer Conservatory for Actors (New Haven, Conn.)
The university known for training greats like Meryl Streep, Christopher Durang, and (recently) Lupita Nyong'o extends that top-notch schooling to passionate young artists each summer. Five-week sessions are based on the Stanislavski approach to acting, and rising juniors and seniors take a variety of courses including play analysis, scene study, improvisation, and mask work. Lab-based and focused on process over performance, Yale's Summer Conservatory aims for "personal and professional growth."
Boston University - Summer Theatre Institute (Boston, Mass.)
Modeled after a four-year BFA program, this five-week "conservatory experience" gives young people professional-level training while preparing them for the challenges (and joys) of a future in the arts. Performers take acting, stage combat, voice, design, and more, and can even earn college credits for all their hard work.
The University of the Arts - Summer Institute: Theater (Philadephia, Pa.)
High-schoolers contemplating a theater degree should look no further than this summer program from UArts, which imitates the content, style, and pace of collegiate theatrical training while preparing students to apply and audition for their universities of choice. The four-week program includes a full course load, Broadway master classes, and field trips to surrounding Philadelphia-area theaters, and incorporates a live showcase at the school's 220-seat Arts Bank Theater.
Brown University - TheatreBridge (Providence, R.I.)
A "connecting link between high school and college," Brown's six-week TheatreBridge program immerses young thespians in a variety of acting techniques (think Meisner, Ann Bogart, Linklater, and more), following the model of four-year conservatory training. Intensive classes run from 9 a.m. to 11 p.m. daily, and consist of technique training with Brown's renowned faculty as well as specialized workshops and evening rehearsals.
Carnegie Mellon University - School of Drama Summer Pre-College (Pittsburgh, Pa.)
Aspiring acting, musical theater, production, and design students gather at Carnegie Mellon to experience this summer crash course in BFA training. Aimed towards rising high school juniors and seniors, the program includes top-level training at CMU's state-of-the-art facilities, mentorship from School of Drama faculty, and audition coaching for admission to the country's best BFA programs—including CMU's own.
SUNY Purchase - Precollege Programs in the Arts: Acting Intensive (Purchase, N.Y.)
Head to the hills an hour outside of NYC for this four-week conservatory-style program aimed at grades 9–12. Students study Stanislavski technique, improv, script analysis, and more as part of SUNY Purchase's immersive training, and practice audition technique in preparation for BFA admissions. Other pre-college programs for theater-loving high schoolers? Try the Shakespeare Workshop, Songwriting Workshop, or the Vocal Intensive.
Emerson College - Acting and Musical Theatre Pre-College Studio Programs (Boston, Mass.)
These five-week intensives at Emerson's Boston campus expose rising high-school juniors and seniors to collegiate training, and prepare them for professional auditions as well as BFA and BA admissions. Students are familiarized with Emerson's immersive theatrical training, and rising seniors may officially audition for the Emerson's own (respected) BFA program at the end of their course. The Acting Studio includes voice, movement, ensemble theater training, and more, while the Musical Theatre Studio encourages triple threats with a mixture of dance, singing, and acting classes.
Rutgers University - Summer Acting Conservatory (New Brunswick, N.J.)
This intimate (and competitive) four-week program immerses 38 lucky high schoolers in Rutgers' conservatory training. Proximity to New York draws in guest artists from Broadway and Off-Broadway theaters and television shows, and regular field trips expose students to the city's vibrant theatrical culture. Acting and musical theater tracks offer intensive training with RU faculty, guest workshops, and a final showcase performance.
UCLA - Summer Acting and Performance Institute (Los Angeles, Calif.)
At UCLA's summer program, teens experience six weeks of intensive training on the school's beautiful campus, earning college credits and preparing for the demands of a four-year university theater program. Starting off with tai chi training in the mornings, high school-aged actors take a full day's conservatory-style course load, including daily rehearsal and performance workshops.
Inspired by this post? Check out our audition listings!