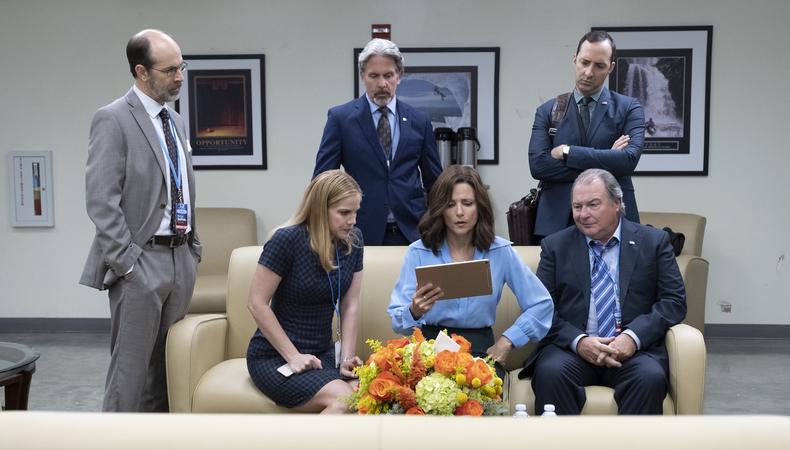 "[Comedy is] all about buildup and anticipation, playing with expectations, and then undermining those expectations," says Armando Iannucci, the decorated satirist and filmmaker behind "In the Loop" (for which he received an Oscar nomination), last year's "The Death of Stalin," and HBO's beloved, long-running "Veep."
While Iannucci departed the latter series as showrunner after Season 4, his insight on building a repertory of actors, creating political satire, and playing to the truth of a character rings true today no matter the project. After all, you don't create a seven season–running, Emmys record–breaking series without building a strong foundation from the get-go.
"Veep" wrapped its seventh and final season earlier this year, and it's going into the 2019 awards season as the half-hour comedy to beat. Itself a three-time Emmy winner for outstanding comedy series and led by Julia Louis-Dreyfus, who holds the record for most Emmy wins for the same role (Selina Meyer) with six consecutive wins, the sitcom would be nothing without its stacked ensemble cast, among them Tony Hale, Anna Chlumsky, Reid Scott, Timothy Simons, and Matt Walsh, all of whom have been playing within the series' fictional West Wing since Day 1.
READ: How Tony Hale Built His Acting Career
In conversation with Backstage, Iannucci reflects on his process for building a cast. Particularly when it comes to navigating the ins and outs of politically tinged humor onscreen, he neither requires nor expects his actors to come to set with much real-world knowledge. Instead, he's looking for realism. The characters his actors play need to be as comfortable and believable performing scripted jokes about, say, the electoral college or gerrymandering as they are ad-libbing about the weather or what they ate for lunch that day. He tests the waters of this lived-in comedy sensibility as early as the audition room.
"In the audition process, at the end of a scene, I say, 'Let's put the papers down, and just stay in character and let's talk. Don't worry about trying to be funny or trying to come up with some new, fantastic, amazing, funny speech—we've got writers who will do that for you,' " he says. "I just want to see that they are comfortable in the skin of the character despite what's thrown at them."
Iannucci likes to nail down his casts early in the creative process, "so while we're doing rewrites, we're writing knowing who's actually going to be performing the part," he says. And then on the day of shooting, those rewrites are still up for interpretation and retooling: "I encourage everyone to change the lines slightly, just so that it doesn't look rehearsed and it doesn't look like everyone's [just] following each other's cues beautifully. I'd rather people mixed it up slightly."
The orchestration of his scripts and that off-the-cuff improvisation, however, must cohere. It's a style that serves his fast-paced, dialogue-driven, at times chaotic, madcap set pieces across film and TV—but it also requires actors to think on their feet and read between the lines.
"It's important that in every scene, you've thought of every moment. Is it leading to something funny, is it developing something funny, or is it funny in itself? Very often, the line that contains information can feel very bald and raw and just there to reveal an element of the story," he says. "I always try to bury that moment in something funny at the same time, so that you're subliminally taking in the new information but it doesn't feel like you're obviously told by the storyteller what the next crucial thing is you need to know."
This story originally appeared in the Aug. 1 issue of Backstage Magazine. Subscribe here.
Additional reporting by Rawaan Alkhatib.