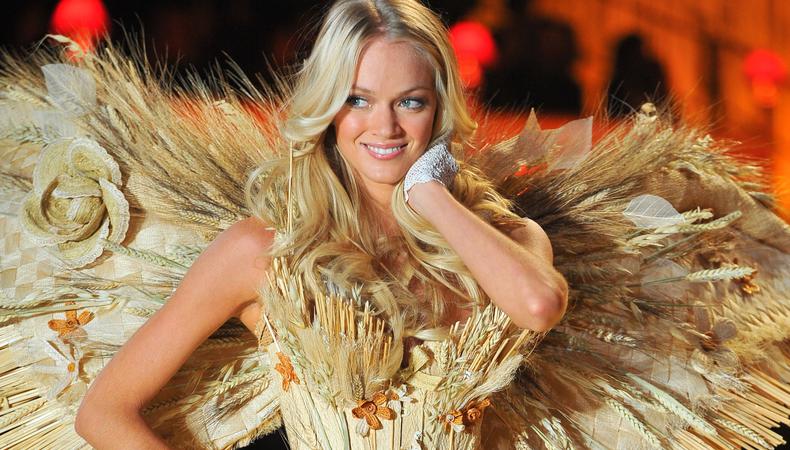 Each year, hundreds of professional models around the world vie for a spot in the televised Victoria's Secret Fashion Show. But even some of the most exquisite beauties on the planet don't make the cut. In a behind-the-scenes look at the casting process, casting director John Pfeiffer says he receives well over 500 model submissions for consideration. Then, through the in-person casting process, he sees 300 initially before narrowing it down to 100 for the callbacks. There are currently just 14 Victoria's Secret Angels—nabbing a spot is the dream of many, but the reality of few.
"You have to just encourage them that this is just not their time, but that doesn't mean 'no' forever," Lisa Benson of IMG Models says in the video.
Are you interested in becoming a model and one day wearing the coveted Victoria's Secret Angel wings? They don't grow overnight, but every angel has to start somewhere. Below are a 10 steps to getting yourself signed to an agency and becoming that much closer to realizing your Victoria's Secret dreams.
1. Familiarize yourself with Victoria's Secret.
You have to do more than be a buyer of the brand in this case. Before setting your sights on Victoria's Secret, get to know the company's history and get to know its major players. Edward Razek, for one, is a man you will want to know if you find yourself in the running to become an angel. As the juggernaut fashion brand's senior creative, he has one of the final says in who makes the cut and who doesn't.
2. Know the qualities that make the perfect angel.
To work in fashion and consumer modeling—not to mention the lingerie and swimwear industries—physique and beauty of course play a role in the casting process. All 500 women sent through agencies for angel consideration are beautiful. But the right angel needs to have something special. "We're interested in appealing to women because women do 99 percent of the shopping in Victoria's Secret," Razek told Forbes in a September 2015 interview. "All of these women would be the best looking girl any guy had ever seen—guys are easy. Women have to say, 'I want to look like that. I want to have that spirit or that confidence and strength.' " That means casting angels who are positive, who smile often, who support other women, and who are as beautiful inside as they are out.
3. Know your type.
Just like acting, there is a variety of types a model can fit. Are you fashion? Editorial? Runway? Print? Commercial? You know what a Victoria's Secret Angel looks like. Do you fit that type? These are questions that you may be able to answer on your own. You can ask your friends, family, and colleagues, as well. How are you perceived? What "type" do they see you physically fitting into? Same goes for personality. Modeling agents want to see your personality shine through—Victoria's Secret angels are friendly and approachable. "If you have a quirky personality, we want to know that," MSA Models' Los Angeles agency director Francis Arden told Backstage earlier this month. "You're not just a pretty face. We want to know who this person that we're sitting in front of is. Yes, she's got the right measurements, but what's in there? What's her purpose? What drives her?"
4. Practice your walk.
The catwalk can be a Victoria's Secret angel's secret weapon or downfall, so you better know how to work it! Even if you don't have the means of professional training at this point in your career, learning from the best is just a YouTube search away. Pro tip: Take notes on runway legends like Pat Cleveland, Shalom Harlow, and Naomi Campbell. And especially since you're interested in Victoria's Secret, watch clips of the brand's famous fashion shows from years' past. You will get a taste of how to walk, how to look, and how to better present yourself.
5. Get (and stay) Victoria's Secret-level fit.
Hitting the gym and staying in shape is essential for any working model today, but especially if you are showcasing your body and the Victoria's Secret product. For general fitness, Mark Fisher of Mark Fisher Fitness recommends resistance training, mindful amounts of exertion, and plenty of rest for those who want to stay lean.
6. Be mindful of what you put in your body.
With fitness expectations in mind, models also have to pay attention to their diets. Think you can eat whatever you want just because you're burning calories at the gym? If only! "Regardless of your goal, nutrition plays a large part in fitness," Fisher also writes. "What we eat determines how we look, feel, and perform. By focusing on a wide variety of non-processed foods, you'll be off to a great start."
7. Get a modeling headshot.
A headshot is one of the most important tools for an aspiring model. It's the first thing agencies will see on a prospect's book and composite card, so it must be eye-catching and make them want to see more. There are some similarities between acting and modeling headshots, but one difference is that with modeling, headshots don't have to be as tight on the face. Waist-up or bust line-up are commonplace in the industry—something that's artistic and flatters the subject.
8. Get a Backstage subscription.
Now you're off to that great start! But now what? Where should you take this physical health and fashion passion? To Backstage, of course! You can save up to 41 percent off cover price right now by signing up for the most trusted name in casting since 1960. Not only will a Backstage subscription give you the opportunity to audition and apply for the latest modeling gigs, but you'll also get invaluable industry insight from professional actors, trainers, casting directors, agents, and the knowledgeable staff at Backstage and Backstage.com.
9. Research modeling agencies in your area—and apply!
Getting hired as a Victoria's Secret angel doesn't come without three things: hard work, time, and an agent. It's something to work up to. Razek himself says in his verified Instagram bio that all model inquiries must come through an agent. This is where Backstage can help! Another great benefit of having a Backstage subscription is our Call Sheet resource, which can help you find a headshot photographer, an agent, and more with one quick search. Filtering search results for New York City print, fashion, and runway modeling agents, for instance, currently pulls up 61 companies such as DNA Models Management, Flaunt Model Management, Inc., and IMG Models. Backstage also lists head personnel, submission policies, and more.
10. Persevere, persevere, persevere.
Modeling is not just about standing still and looking pretty. It takes a lot of time, patience, and work. Just like acting, a modeling career isn't something that comes overnight. "Passion is definitely one of the key deciding factors because that motivates the individual to want to do what it takes to pursue it," Jack Maiden, director at Mavrick Models, told Backstage. "If they want to pursue it, they've gotta get out there and find out if there's an agency that suits them. They've gotta go for it."