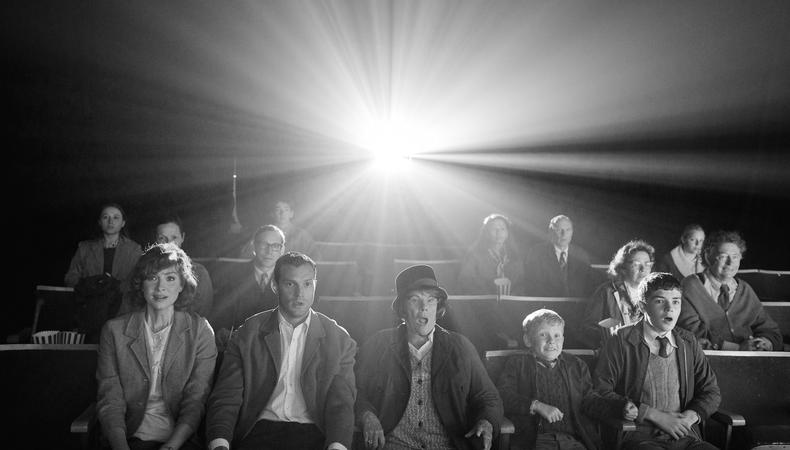 As we prepare for the 28th Screen Actors Guild Awards, Backstage is breaking down this year's film and television ensemble work for your consideration. For more voting guides and roundups, we've got you covered here.
Main cast: Caitríona Balfe, Judi Dench, Jamie Dornan, Jude Hill, Ciarán Hinds, Colin Morgan
Casting by: Lucy Bevan and Emily Brockmann
Directed by: Kenneth Branagh
Written by: Kenneth Branagh
Distributed by: Focus Features
"Belfast" is both a coming-of-age story and a slice of politically resonant history. The film is set in the titular Northern Irish town in the late 1960s, as seen through the eyes of young Buddy (played by a precocious Jude Hill). Writer-director Kenneth Branagh has called it his most personal film yet; it's also one of the year's best.
Woven into the movie's fabric is that most awe-inspiring of childlike wonders: the magic of the performing arts. Buddy and his family visit the cinema, turn on the telly, or watch "A Christmas Carol" onstage and are transfixed by what they see. As the black-and-white film's only color moments, these flashes of entertainment evoke cherished childhood memories and remind us why we go to movies like this one. Connecting his specific story to the audience's own desire for escapism allows Branagh to lean into cinematic flourishes even while creating a biographical piece.
Likewise, his actors get the best of both worlds. They immerse themselves in precise period details and take a near-documentarian approach to their characters' real-world counterparts, but they also shine like the charismatic movie stars they are. As Buddy's parents, Caitríona Balfe and Jamie Dornan are this story's heroes—and they look the part. Rather than dimming her classic screen-siren looks or his square-jawed visage, Branagh lets their beauty dazzle us.
Dornan has never been better, playing a tough-yet-adoring father; every scene opposite his onscreen sons, played by Hill and Lewis McAskie, is a study in fierce protectiveness. Given that the film is set amid the 1969 Troubles, a moment late in the story when Dornan grabs a mic and sings feels all the more uplifting and powerful. As ideological and then literal battle lines are drawn between Protestants and Catholics, the film's tight-knit family are our way into understanding this town as their home—and how its escalating violence is tarnishing such purity.
Balfe's ability to make heavy emotions feel genuine rather than melodramatic is put to note-perfect use. She avoids "worrying mother" cliches as the family matriarch, painting a three-dimensional portrait of a woman preoccupied with a question that resonates with immigrant families to this day: Stay or flee? Her answer, in the form of a tour de force monologue directed at Dornan, is what guides us through this story.
Two of today's most accomplished character actors, meanwhile, bring Buddy's grandparents to life. Judi Dench proves again that she's the quintessential supporting performer, delivering the film's most poignant line. "You can't get to Shangri-La from Belfast," she mutters, partly to herself, partly to her grandson, and partly to us, her enraptured audience. As Buddy's grandfather, Ciarán Hinds is all gruff warmth and cheekiness, a persona he inhabits brilliantly. What takes his delivery to the next level is the way he hangs on every word from Dench, broadcasting so clearly that she is the love of his life. It's a lesson on how to act in the moment.
Watching such an ensemble convey a communal upbringing and a sense of belonging to their city's streets, you get the sense that these actors are bringing their personal histories to their performances. Branagh has enabled this with the film's specific-yet-universal conceit: His actors can project their own experiences with their own families in their own homes onto the screen. The same goes for audiences, sitting in a dark movie theater, transported away from today's troubles through the magic of storytelling.
Want more? Stay in the loop with everything you need to know this awards season right here!