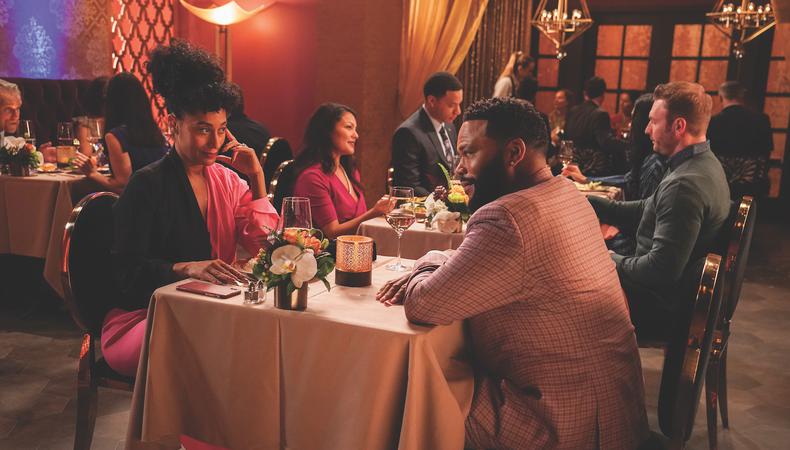 As we look back at 2020, we at Backstage have pinpointed the year's best big- and small-screen ensemble work for your SAG Awards consideration and beyond. For more voting guides and roundups, we've got you covered here.
MAIN CAST: Anthony Anderson, Miles Brown, Deon Cole, Laurence Fishburne, August Gross, Berlin Gross, Jenifer Lewis, Peter Mackenzie, Marsai Martin, Jeff Meacham, Tracee Ellis Ross, Yara Shahidi, Marcus Scribner, Wanda Sykes
CASTING BY: Alexis Frank Koczara
CREATED BY: Kenya Barris
DISTRIBUTED BY: ABC
For a family sitcom on a traditional network, ABC's "Black-ish" manages to cover an impressive amount of ground. It tackles hot-button sociopolitical issues facing Americans—especially Black Americans—today without coming off as didactic. It endears us to the Johnsons, who are as charming yet flawed as any real-life family. And the series never sacrifices comedy; perhaps most impressive of all is the show's ability to keep pulling the rug out from under a highly amused audience tuning in every week for the laughs.
Creator Kenya Barris (who has since handed the showrunner reins to off to Courtney Lilly) and the writing team have constructed a playground in which to explore and toy with modern trends and questions. "Black-ish" is going seven seasons strong and has launched spinoff comedies including Freefrom's "Grown-ish" and ABC's "Mixed-ish," plus forthcoming "Old-ish." Yet it's still finding original, wacky-yet-true ways to tell stories thanks in large part to the players. Led by Anthony Anderson as Dre and Tracee Ellis Ross as Bow, this ensemble cast ably takes on slapstick, satire, and tear-jerking drama as needed.
With Zoey off at college (Yara Shahidi, leading "Grown-ish"), the remaining Johnson family offspring are maturing—or at least, changing—in ways that most American parents in 2021 would recognize. Junior (the unabashedly funny Marcus Scribner) finally goes off to college, only to move back home to quarantine. Scribner walks the line between childhood and adulthood, mentoring his siblings yet maintaining an air of playfulness. Jack and Diane (teenage superstars Miles Brown and Marsai Martin) remain goofy and sassy, respectively, while dealing with the pitfalls of trying to maintain social hierarchies in lockdown.
Then there's Deon Cole, Jeff Meacham, Wanda Sykes, and Peter Mackenzie, all providing different shades of comic relief as Dre's coworkers. Jenifer Lewis continues to slay as Dre's mother, Ruby; her reaction shots and invocations of "Black Jesus" alone are award-worthy. Laurence Fishburne plays the family's steadfast (and stubborn) rock as "Pops," and Anna Deavere Smith, Daveed Diggs, and Rashida Jones make up Bow's family. They're just some of the spectacular guest stars on "Black-ish"—a growing list that keeps on giving: Tyra Banks, Zendaya, Mary J. Blige, and Ross' former "Girlfriends" stars Golden Brooks, Jill Marie Jones, and Persia White have all appeared on the show.
In fact, part of what makes "Black-ish" so successful is the way it folds off-screen inspiration into its subplots. Barris, who, like Dre, has a large family with his wife Rainbow, has called the show "a mixture of life imitating art and art imitating life." Dre is a swaggering goofball, sure, but he's also a vessel that the series' team of writers can use to explore distinctly 21st-century philosophies and weave in issues facing their own families, careers, and marriages. Watching the show, you get the sense that Dre's monologues about Black history, or arguments with Bow about police brutality, are dramatizations of conversations real Americans are having today. "Black-ish" has educational, and even highbrow, aspirations (case in point: its zany, informative, partially animated 2020 election special); but it's always in the guise of the sitcom, a traditionally facile mode of storytelling whose boundaries it continues to push.
It's a show that resonates because everything, from the writing to the consistently stellar acting, feels personal. And because their stories stem from specificity, the Johnsons feel universal.
This story originally appeared in the Jan. 20 issue of Backstage Magazine. Subscribe here.