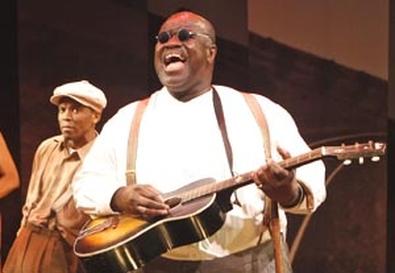 Halfway between a revue and a full-fledged biography, "Blind Lemon Blues" satisfies musical cravings but leaves one hungry for narrative or at least a few more details. In a return engagement by the York Theatre Company after a brief run in 2007, this pastiche offers a sketchy picture of Blind Lemon Jefferson, the legendary blues singer and guitarist who went from performing with a tin cup on the streets of Dallas to being the first commercially successful African-American male musical artist. Creators Alan Govenar and Akin Babatunde, who also directs, choreographs, and plays Jefferson, skim over their subject's fascinating life story to concentrate on his music. The show is stuffed with numbers—there are more than 60 listed in the program—boldly performed and staged with brio and vibrancy on the tiny stage. The mood easily shifts from rollicking and rowdy to reverent and reflective and back again. But the star of the show remains a mysterious and unknowable figure.

Govenar and Babatunde have chosen to tell the story from the point of view of Huddie Ledbetter, better known as the beloved musician Lead Belly. The action commences at Lead Belly's last recording session, in 1948. He proceeds to reminisce about his fellow performer, so we get a secondhand view of Jefferson. What follows is mostly an "Ain't Misbehavin' "–style patchwork, with Lead Belly and Jefferson backed by four ensemble members playing multiple roles. There are occasional dramatic scenes depicting Jefferson's travails in the racist South and conflicts with record executives, but these are fleeting. More information on his career and his influence on future musicians would have been welcome. One successful sequence combining facts and music pits Jefferson against Blind Willie Johnson, another sightless street-corner bluesman, who performs with a more gospel-flavored sound. Their battle of guitars and vocals is thrilling and advances the biography.

Yet despite the lack of a solid story line, the show is no lemon. Babatunde creates a larger-than-life icon. He captures the pain, joy, and earthy humor of Jefferson's country style. He caresses the raw lyrics and infuses them with a universe of subtext. He can give "Sometimes I Feel Like a Motherless Child" a sweet, heartbreaking falsetto or rip into "Peach Orchard Mama" with a bawdy blast. As Lead Belly, Cavin Yarbrough handles the narrator duties with panache and grit. Inga Ballard, Carmen Ruby Floyd, Alisa Peoples Yarbrough, and Timothy Parham shine in solo and group numbers. Russell Parkman created the evocative set, which suggests the endless railroad trips Jefferson made, and Steve Woods' lighting creates memorable effects.

Presented by the York Theatre Company and Documentary Arts in association with Central Track Productions at the Theatre at Saint Peter's, 619 Lexington Ave., NYC. Sept. 8–Oct. 4. Tue.–Sat., 8 p.m.; Sat. and Sun., 2:30 p.m. (212) 935-5820 or www.yorktheatre.org.