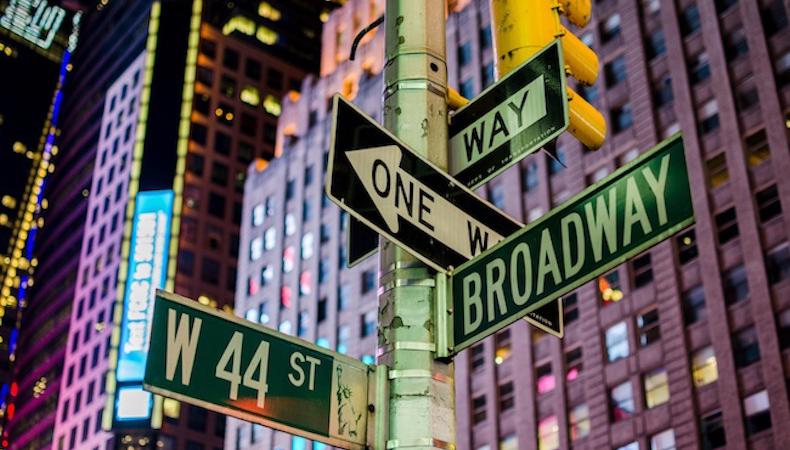 Everything's coming up roses on Broadway. This year saw an increase in the number of people buying tickets to shows on the Great White Way, according to new findings released by the Broadway League—a legion of producers and theater owners.
According to the report, attendance was up 3.9 percent in the 2017–2018 Broadway season—13,792,614 audience members total. Gross profits were also up significantly by 17.1 percent, and playing weeks increased by 2.8 percent.
All of these increases indicate positive momentum for actors who hope to tread (or are already gracing) the boards of America's commercial theaters.
"It's been a remarkably diverse season with a wide variety of outstanding musicals and plays on Broadway that have attracted a record number of theatregoers proving once again that there really is something for everyone on Broadway in a wide range of price points," said Charlotte St. Martin, president of the League. "Over 80 percent of the shows on Broadway had an average paid admission of under $130 and more than half of the shows that played this season (60 percent) had an average paid admission of less than $101."
Such high attendance has solidified Broadway as one of the most potent and popular cultural forces in the nation's biggest city, with attendance in the past season topping that of the 10 pro sports teams in New York and New Jersey combined.
As technology and digital entertainment have become more universally accessible, it is easy to understand why cultural bearers of live theater have been concerned about the theater's relevance—and hawkishly analyzing statistics. However, with more Broadway musicals being spun off from popular culture touchstones—like "SpongeBob SquarePants," "Mean Girls," and "Harry Potter"—and with the continued sensation of "Hamilton," it seems Broadway is experiencing a renaissance.
READ: How Broadway Has Changed for Women—and the Work That Still Needs to Be Done
This season, there were a total of 30 Broadway productions that opened in NYC. Of those 30, 10 were musicals. Seven were first-time premieres, and three were revival productions.
There were double that amount of plays on Broadway—split evenly between premieres and revivals, at 10 each. Additionally, this season there were three special engagements (concerts, limited runs, or time-limited production events).
All of this news comes as the Broadway League and the American Theatre Wing prepare for the annual Tony Awards on June 10. This is the 72nd year for the annual ceremony where the nation sings an ode to the shows of Broadway—broadcast live from Radio City Music Hall on CBS. This year's Tonys event will be hosted by Josh Groban and Sara Bareilles, both of whom have recently used their star power to light up some Broadway marquees (and pack the houses) in "Natasha, Pierre & the Great Comet of 1812" and "Waitress," respectively.
Check out Backstage's Broadway audition listings!