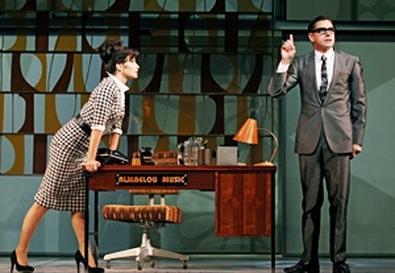 As I settled into my seat in the nicely proportioned brand-new Henry Miller's Theatre, I felt a great sense of anticipation. Though "Bye Bye Birdie" is one of my favorite musical comedies, I have never seen a successful production. Now here was the show's first Broadway revival in nearly 50 years. Conductor David Holcenberg tore into that iconic overture, and all seemed right with the world: Jonathan Tunick's reduced orchestration lovingly preserved the essence of his mentor Robert "Red" Ginzler's brilliant original. Then the show happened, and my "Birdie" virginity remained sadly intact.
Director-choreographer Robert Longbottom's production seems calculated to decimate the material. Number after number implodes, whether due to clueless direction, fussy and unfocused choreography, or incompetent singing and dancing. Joke after joke dies on the vine. Longbottom appears not to understand that "Birdie" is a satire. It needs to be played within quotation marks. Its roots are in American vaudeville and the sketch comedy that book writer Michael Stewart and songwriters Charles Strouse and Lee Adams perfected creating Catskill revues. The outrageous one-liners and comically quick emotional reversals cannot be played naturalistically. When they are, as happens here (with one glaring exception), they die.
It doesn't help that this tale of drafted 1960s rock star Conrad Birdie causing hysteria in the nation's teenagers has been so ineptly cast. Stars John Stamos and Gina Gershon, as Conrad's manager Albert Petersen and Albert's secretary and longtime squeeze Rose Alvarez, are out of their skill sets. To begin, in roles built on the talents and personalities of Dick Van Dyke and Chita Rivera, they can't dance, which sends crucial numbers such as "Put on a Happy Face" and "Spanish Rose" right up the spout. He has a pleasant but thin voice with pitch problems. She's an actor who can stay on pitch but can't really sing. He plays Albert on a single note of geniality, which might work if he were hosting a game show. Gershon, so terrific in "Boeing-Boeing," seems bewildered as Rose. She knows the laughs are there but hasn't a clue how to get them. Their romantic chemistry is zip.
Nolan Gerard Funk's Birdie comes across as a refugee from a 1980s boy band and no older or more worldly than the kids who worship him. As Kim McAfee, the girl Conrad comes to Sweet Apple, Ohio to kiss goodbye on national TV, Allie Trimm, so good in "13," is bland. "Birdie" makes a comic statement on all its characters, including the teenagers. Trimm's Kim is just a sweet kid. Matt Doyle as Kim's steady, Hugo, and Brynn Williams as her best friend, Ursula, register as ingénues, which is unfortunate for supporting comic roles. Jake Evan Schwenke, as Randolph, Kim's 10-year-old loudmouth brother, has been directed to be just an average kid, eviscerating the reason for his character's existence.
The supporting adults fare no better. Jayne Houdyshell, as Albert's overbearing Jewish mother, gets it but can't deliver it, because the production she's in can't contain it. Most of her one-liners disparaging her son's paramour get gasps instead of laughs. Dee Hoty is wasted in the small role of Mrs. McAfee. As her husband, Bill Irwin provides the above-mentioned exception to naturalism. His highly affected turn seems driven by the desperate desire not to be Paul Lynde, who memorably created the role. It's full of painfully quirky line readings and over-the-top physical antics that leave you wondering if Mr. McAfee has neurological problems.
Andrew Jackness' cheap-looking set, built on sliding plastic panels, places far too much confidence in the apposition of lateral and vertical movements. Gregg Barnes' color-coded costumes (each family has its own color) seem like a failed attempt to provide the stylization Longbottom's direction lacks. Ken Billington's professional lighting job is fine.
All I can say is, the great Stewart, Strouse, and Adams didn't deserve this.

Presented by Roundabout Theatre Company at the Henry Miller's Theatre, 124 W. 43rd St., NYC. Oct. 15–April 25. Tue.–Sat., 8 p.m.; Wed., Sat., and Sun., 2 p.m. (212) 239-6200, (800) 432-7250, or www.telecharge.com. Casting by Jim Carnahan and Kate Boka.