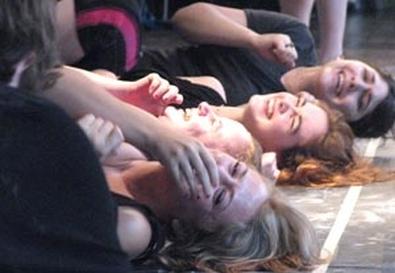 There are more than 800 performing and creative arts camps in the United States, reports the American Camp Association. Though they vary in size, curriculum, and philosophy, many of them stage showcases or full productions, often inviting industry professionals to attend. Back Stage recently spoke to alumni and employees of three summer theater camps, as well as two acting schools that offer summer programs for kids and teens.

Countless Choices

Ron Schaefer, a former public-school music teacher, founded French Woods Festival of the Performing Arts, located in New York's Catskill Mountains, in 1970. "He wanted to run a summer camp where every kid chose their own interests," says camp director Michael Knauf. Each camper makes a schedule filled with activities such as theater, magic, and circus. No audition is necessary, and roughly 2,500 kids between 7 and 17 years old attend each summer.

There are four three-week sessions, each featuring several musical and dramatic productions. "There are kids that may never be professional actors but can still be in our shows, because we want our campers to have fun," Knauf says. "We want the kids to get something more than a résumé line."

Last August, alumnus Max Schneider was photographed with Madonna for Dolce & Gabbana's fall-winter campaign, and he just shot a supporting role in the independent film "The Art of Love." Schneider attributes his success to the "nurturing environment" of French Woods. "I was originally looking for a sleep-away camp, not a theater camp, but French Woods was perfect because I could have both worlds," he says. "When I tried new experiences, like circus, it made me appreciate my artistic passions and open my mind to other possible talents."

"I came to French Woods thinking I would just do theater, but I soon realized there's so more to the art world than stage," says Eamon Foley. The 17-year-old recently appeared in "Everyday Rapture" on Broadway. Foley attributes his love of directing and choreographing to the six summers he spent at the camp: "French Woods gave me my first opportunity to create and see my work on a stage." He adds, "Through the circus program, I found my passion for aerial arts," which he hopes to use in his musical theater choreography. This summer he will be a French Woods counselor and choreographer.

Florida native Sean Patrick Doyle went to French Woods for three years, starting when he was 14. He's currently playing Chantal in the Broadway revival of "La Cage aux Folles" and has a supporting role in the upcoming film "The Sitter." At the camp, "I received invaluable exposure to the American musical theater canon," Doyle says. "I didn't realize what a huge benefit that was until I started choosing material for auditions." He also attributes his independence and confidence to French Woods: "It was a safe and fun place to be creative without judgment, so I could explore my skills."

Personal Support

Conductor David Katz founded New York's Long Lake Camp for the Arts with his wife in 1969. "Their goal was to create a magical environment for campers to thrive away from the pressures of the real world," says Geoff Burnett, one of the camp's directors. No audition is required to attend, but "we usually fill up and turn away about 100 families a year," Burnett notes. "Being a smaller camp means we get to know every camper and can be very flexible to their needs."

Located in the Adirondacks, Long Lake offers "a noncompetitive philosophy, to help campers of all abilities grow personally and within their chosen craft," Burnett says. "We are a summer camp, so we have bonfires, cookouts, as well as having one-on-one audition training." But the camp does not allow industry scouts to watch performances. "Many film companies and agents ask, but we feel it is not the place or time," he says. "Even though our campers have gone on to work on Broadway and in Hollywood because of camp, it is something we keep pretty low-key."

Yale freshman Michael Rosen was recently seen as Federico in the Broadway revival of "West Side Story." He started attending the School of American Ballet at the age of 9, but he wanted to explore other performing arts. "I was so in love with Broadway," he says, "and Long Lake gave me the opportunity to study and perform musical theater for the first time." Rosen adds that acting in Long Lake productions gave him the confidence to audition for musicals, including "West Side Story."

Last spring, Jeannine Frumess made her Off-Broadway debut in "The Kid," but the Queens, N.Y., native initially didn't want to go to Long Lake. The camp won her over because "the kids were really accepting and I felt respected," she says. When she suffered from bronchitis her second year, the staff nevertheless encouraged her to audition for the lead in the camp's production of "Annie." "They had faith in me," she says, "and I got the role despite being sick." At Vassar College, Frumess began a student-run musical theater group to help "give students the same supportive environment" that Long Lake gave to her.

Growing Confidence

Located in Loch Sheldrake, N.Y., Stagedoor Manor has trained thousands of young performers over the past 35 years. Every summer, 12 full-scale dramatic or musical shows are performed in each of the camp's three three-week sessions. Almost 300 campers, ages 10 to 18, attend each session, which costs $5,145.

"Putting on a full-scale musical in two and a half weeks taught me an unparalleled work ethic," says Sarah Amengual, who played Maria in Broadway's recent revival of "West Side Story." Aside from teaching her diligence, she thanks Stagedoor for a more personal reason: When she was 15, Amengual met her future husband, actor Philip de la Cal, at the camp.

One of Amengual's friends, Etai BenShlomo, also fondly remembers Stagedoor. The actor, currently appearing as Boq in Broadway's "Wicked," says, "My family didn't have a lot of money, but a Stagedoor director helped me get a scholarship, which changed my life. While at the camp, I discovered I wanted to pursue theater as a career." Beyond the skills it taught him, he says, "Stagedoor gave me confidence as a performer that I couldn't have gained anywhere else."

Adds Noah Robbins, "The camp showed me I had something to be proud of and should pursue." The Columbia University freshman, now appearing in the Broadway revival of "Arcadia," spent four summers at Stagedoor and feels that "each session made me more aware of my abilities as an actor, so I could continue to grow."

But theater camp isn't just for aspiring actors. Stagedoor production director Konnie Kittrell began her career at the camp 29 years ago, originally as a costume designer. "Two designers who came to me as kids at Stagedoor worked as my assistants for over 15 years," she says. "I constantly tell young designers this is a great place to stretch your artistic muscles and get six shows in your portfolio in nine weeks."

Larry Nye, the head of Stagedoor's dance department, agrees: "The success of Stagedoor helped my employers understand the camp's significance, helping me attain my current position as associate professor of theater and dance at Southern Connecticut State University." He adds, "It is a great place for young actors and for new directors, designers, technicians, and more to build a résumé quickly and, most importantly, grow."

On-Camera Courses

Established in 1978 and located in New York City, ACTeen is "the nation's first on-camera acting training program developed for teens and young adults," says ACTeen director Rita Litton. It offers four summer sessions as well as spring and fall programs, workshops, and Saturday classes year-round. The reason for offering courses in both stage and film acting, she explains, is because the "disciplines complement each other."

Though ACTeen has always incorporated Meisner exercises in its classes, Litton says, "I was exposed to a variety of training in drama school, so I lean towards the 'mutt' school of acting, where ultimately actors develop a mix, or a way of working that best suits them." To better prepare her students, she emphasizes the competitive nature of show business, but she also stresses that "the disappointment of not getting a role can be productive if used as a motivating force to improve."

"When I started acting, I never watched myself doing it. Then ACTeen put me on tape," says former ACTeen student Daniella Alonso, who stars in the NBC pilot "S.I.L.A." "I saw I moved around and stared too much, so I corrected those things." She adds, "After starting ACTeen, little by little I was getting callbacks.... I was just listening in class every week." Alonso believes that Litton "slowly helps you develop into the person you're supposed to be."

Sixteen-year-old Jillian Mueller, a current ACTeen student, is also learning about acting in front of a camera. She had a role in the recent Broadway revival of "Bye Bye Birdie" and has an upcoming national radio ad for the quiz show "Jeopardy!" "I was a theater kid, so being filmed was a big transition for me," Mueller says. "I never would have known how to handle myself on camera without the classes. ACTeen taught me acting skills for real-world situations, preparing me for any kind of audition."

"You can take a million acting classes, but once you're on camera, it changes everything," says Elizabeth Masucci, another former ACTeen student. The Fordham University graduate, who appears in the upcoming feature film "Shame," credits the program with starting her career: "I had two scenes in a showcase. Rita told us agents were coming, but I didn't understand the significance of that. After the show, Abrams Artists Agency approached me. A few months later, I signed with them. I felt so lucky. My first audition with Abrams, I booked a commercial with Natalie Portman.... ACTeen and Abrams opened a lot of doors for me."

A Physical Approach

In the early 1970s, Loyd Williamson founded what is now known as the Actors Movement Studio, which teaches his comprehensive physical approach to acting. The studio, located in Manhattan, also specializes in teaching character development and period style, from the Elizabethan through the Edwardian eras. Janice Orlandi, who became the studio's artistic director in 2002, wants her students to understand that "the life of the body is an actor's treasure and an abundant source of true artistic expression, which is a doorway into their imagination and humanity," she says. "The Williamson technique is relevant to all mediums, including stage, film, and TV."

In 2007, Orlandi began the studio's Teen Shakespeare Summer Conservatory, a professional-level program for actors 14–18 who are interested in a physical approach to Shakespeare. In addition to providing a curriculum involving "rasaboxes" (a physical theater system developed by Richard Schechner in the 1990s), mask work, and Shakespearean language training, Orlandi encourages her students outside the classroom by offering group trips to Shakespeare in the Park, Broadway and Off-Broadway shows, and more.

Former Orlandi student Micah Alberti says the Actors Movement Studio "is where I learned the beauty of the technical aspects of acting." While performing in the ABC Family series "Wildfire" and the upcoming Hallmark Channel movie "Rock the House," he utilized his training, he says. "At AMS, we start with literally groundwork, lying on your back for five to 10 minutes doing nothing," which Alberti does before auditioning or performing. Even though he practiced gymnastics for 15 years, he says, through the studio "I became aware of ways to use my body in performances and truly embody my character."

Will Thompson, another program alumnus, says Orlandi has been involved in "almost every great thing that has happened in my acting career." After Thompson performed for the first time in a high school play, his drama teacher recommended Orlandi's program. "I loved learning there how to free my body, which was hard for an insecure teenager," the actor says. Now a junior at Philadelphia's University of the Arts, he is starring in the school's production of "The Crucible" and credits Orlandi for "showing me what I'm capable of and giving me something to aspire to."